Escape from Gringotts Ride Video Footage and Details!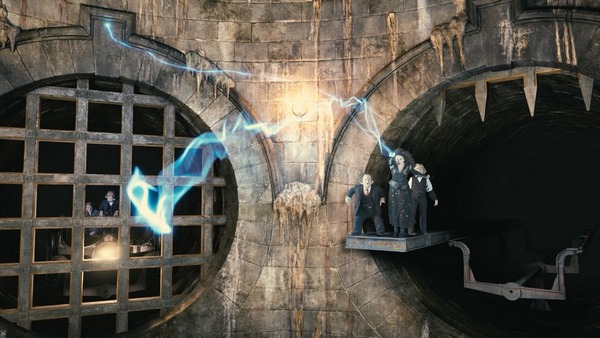 Just days after Universal Studios shared a teaser featuring the amazingly detailed goblins you will encounter on Harry Potter and the Escape from Gringotts ride, a second video has been released. More details, more footage and more characters from the Wizarding World surface in the 2 minute clip.
*I'm labeling this as slightly spoiler-ish for those who want to be completely surprised on their first ride.*
Thierry Coup, senior vice president of Universal Creative, explains the ride will begin with fans entering the bank where the 60-foot Ukrainian Ironbelly dragon will be breathing fire overhead. Goblins, which we featured yesterday, will be asking passengers if they want to open an account. Then, 2 carts carrying 12 passengers, will head underground to the vaults on a twisting track that turns before running into the middle of a battle!
Riders are on the track just as Harry, Hermione, Ron and Griphook are tossed off the cart after going through the Thief's Downfall. Bellatrix Lestrange and a few Death Eaters will be there launching spells in a fight, but riders get in the way and are sent plunging down in the depths of the bank where security trolls attack and the dragon, trying to escape, spits fire as he claws his way out. Then…the Dark Lord himself shows up for an "intense" moment! Rupert Grint (Ron), also reveals your meeting with Voldemort will be in 3-D.
The goal of the ride is to make fans feel like they are in the middle of the fight that happens in the book/film. The perspective will be intense and give fans a taste of the adventure via the "groundbreaking, multi-dimensional" ride.
As for the "fear factor" – it will be intense, but focus on the thrills versus fear. The ride has a few drops and moments of being launched and shaken. However, unlike the Hogsmeade ride – Harry Potter and the Forbidden Journey -, there will NOT be a weight restriction. A lap bar will be used to secure guests. The team also attempted to create smoother ride by "taming down the amount of abrupt motion" for those with sensitive stomachs.
UPDATE: Riders must at least 42 inches tall.