New Wizarding World of Harry Potter Diagon Alley Images and Video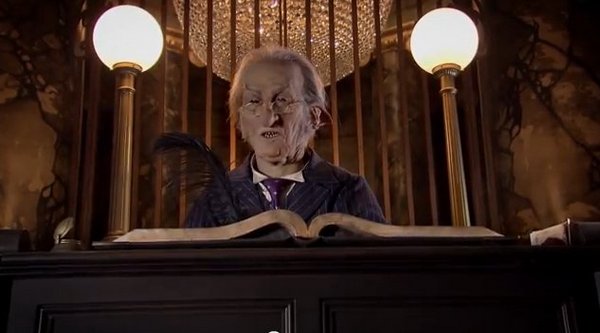 Earlier this week, Universal Studios shared an amazing, albeit brief, look inside Gringotts Bank in the Wizarding World of Harry Potter, Diagon Alley. The expansion will include another ground-breaking ride that will impress fans and thrill-seekers alike – Harry Potter and the Escape from Gringotts.
Universal released a 27-second clip showing off a small peek inside Gringotts Bank. Immaculately detailed goblins give riders their signature glare before a bespectacled creature states, "Here to open an account? Very well."
There is still no official opening date, but as we reported a few weeks ago, Comcast CFO Michael Angelakis, revealed that Diagon Alley will open in the "second quarter" of this year. Being that June will cap off the end of the quarter, it should be very soon! The Today Show was rumored to be announcing the date last month, but a live broadcast scheduled for April 25th was, curiously, cancelled last minute.
Also, note that the chairman of Loews Hotels, Jonathan Tisch, confirmed (possibly on accident) that the Diagon Alley expansion was due to open mid-June during an interview Fox Business..
"With our partners at NBC Universal, we just opened our fourth hotel. It is called the Cabana Bay Beach Resort – eighteen-hundred rooms. It is the largest hotel to be built in the world outside China. Phase one opened, 600 rooms about a month ago; the rest will open when Harry Potter II opens in mid-June."
Another clip the studio released promises fans even more details will be revealed on May 13th, 2014. Rest assured, we will be covering those developments!
A Hogwarts Express teaser, released back in March, has also been updated with fresh images to whet your Potter appetite.(You can see the stills in the gallery below.) We do know that the Today Show will be running a contest from May 13-19 in which fans can win a trip to the Grand Opening Celebration of Diagon Alley.
Finally, another surge of WWoHP photos hit the net when some concept art flooded photographer Emanuel Paige's Instagram. Universal Creative Team has clarified (via Mugglenet.com) that the images are "over a year old" and no longer considered accurate to the finished expansion.
Stay tuned for those upcoming details!