Harry Potter-Themed Hotel Opens in London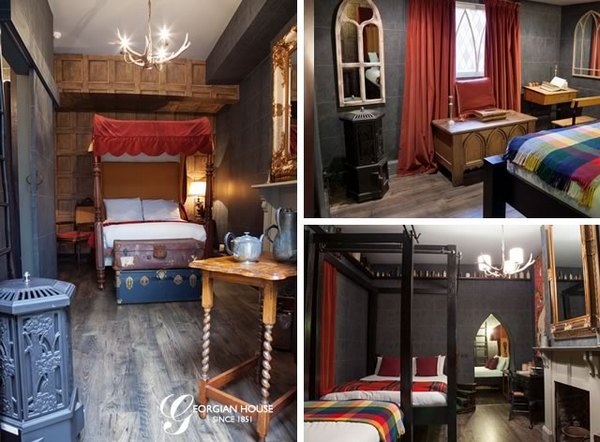 The heart palpitations have finally slowed to a pace I can function at and I am thrilled to share some news that will make Harry Potter fans rejoice!
The Georgian House Hotel, near London's Victoria Station, has turned part of their accommodations into a Harry Potter-themed hotel. Guests can curl up in a four-poster bed, enjoy the decor that includes potion bottles and cauldron, and enjoy a few other surprise "wizardly details". You can choose your preferred Hogwarts house, Gryffindor, Slytherin, Hufflepuff or Ravenclaw.
Two different tours are offered in conjunction with the room packages…
The Muggle Walking Tour covers the landmark sights where scenes from the Harry Potter movies were filmed. Their guides will also give you loads of facts about the area.
The Warner Brothers Studio Tour– The Making of Harry Potter explores Leavesden, where the bulk of the films were made. Guests get to see The Great Hall, see other iconic sets, original props and costumes, and have a cup of Butterbeer.
Prepare to visit your Gringotts vault for this opportunity.
*For two people to enjoy 1 night in the Wizard Chambers, with an English breakfast and Muggle Tour Tickets, it will cost £249.00 ($402.38).
*For two people to stay 1 night in the Wizard Chambers, with an English breakfast, Muggle Tour Tickets and Studio Tour tickets (including the branded bus transport from Victoria), it will set you back £363 ($586).
*For two guests, with breakfast, but no additional tours, the cost is £209 ($337).
Georgian House Hotel partner Serena von der Heyde told The Mirror, "The Georgian House Hotel places great emphasis on welcoming families and I really wanted to create something fun for young visitors."
The family-friendly adventure has now entered my bucket list! For other Harry Potter experiences you can't miss, check out all our coverage of The Wizarding World of Harry Potter including in-depth reviews, news, and photos.
Images Via Georgian House Hotel