Homemade Butterbeer Latte Recipe – #HarryPotter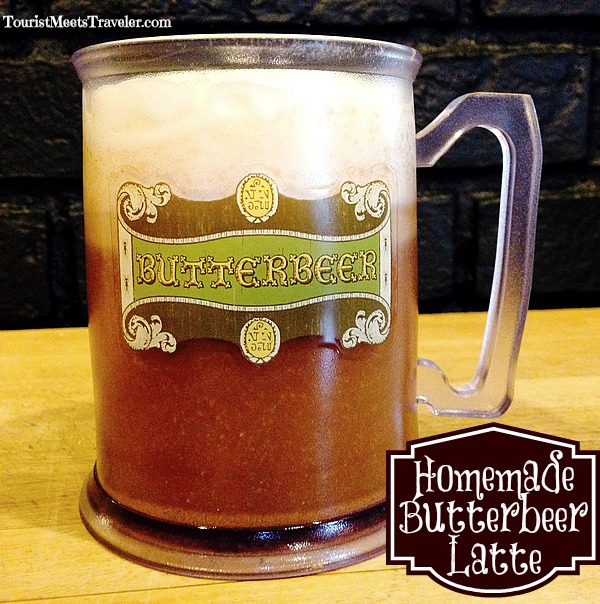 My trip to explore Diagon Alley in Universal Orlando, the ultimate vacation destination, is so close I can taste it. Part of my coverage will include an in-depth report on the Harry Potter inspired food. As an avid and adventurous foodie and Potter enthusiast, I will share the delicious details on the breakfast offered at The Leaky Cauldron, available to those guests who book the exclusive Wizarding World of Harry Potter vacation package. Samplings of newest treats, ranging from Gillywater to the fun flavors of Florean Fortescue's Ice Cream Parlour, will all be covered.
New drinks were plucked from the pages of J.K. Rowling's wizarding world and brought to life by culinary magicians. The result is amazing beverages you can only get at Universal. Butterbeer and pumpkin juice aren't short on flavor or sweetness and legions of fans have been trying to replicate the drinks at home. A large coffee chain even has a "secret menu" item that savvy patrons can order to get a fix. Personally, I think it's far too syrup-laden for my taste, so I have created a Butterbeer Latte Recipe that you can serve hot or cold.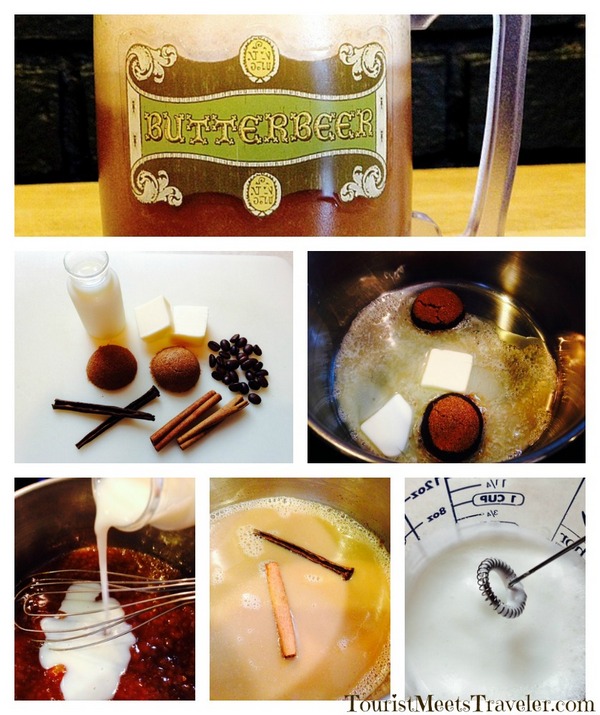 You Will Need:
Equal parts of Brown Sugar and Butter – 2 Tablespoons for 1 large mug
Cinnamon Stick
Vanilla Bean
*Milk – Customize to taste, using at least 1/3 cup for every large mug
Brewed Espresso
Butterscotch Schnapps – Optional
To Make Your Own Butterbeer Latte:
Melt brown sugar and butter together in a pan and let it caramelize.
Pour in milk, stirring slowly as you pour
Split vanilla pod and scrape the bean into the milk, butter/sugar mixture.
Place the cinnamon stick and vanilla bean pod into the mixture and simmer for 2-3 minutes, occasionally stirring.
Pour the decadent and rich milk into your espresso or strong coffee.
Optional: Spike your drink with a bit of butterscotch schnapps for an amazing zing.
Use a milk frother (you can find these on Amazon or at IKEA) to whip up a fluffy topping. Simply pour 2 tablespoons of milk into a mixing cup and froth.
*I used skim milk and this worked well and saved on fat and calories. You can also chill the milk mixture and add to cold coffee for an icy treat.
Click HERE to check out our test kitchen's Homemade Pumpkin Juice Recipe…