Museum in New York – 6 Square Feet of Modern-Day Artifacts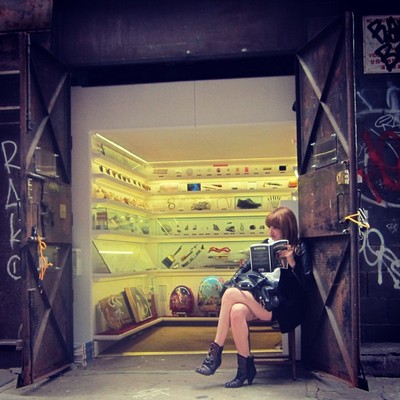 I am in the middle of scouting out unique and fun things to do in New York. There isn't a shortage by any means, but one trove of treasures stood out to me.
I love fresh ideas, new concepts and indulging in once in a lifetime experiences. Maybe that is why a 6 square foot exhibit filled with oddities captured my attention. Tucked away in an old elevator shaft, the museum, aptly and simply named Museum, is a tiny vault of items that just radiate a the attachment of a fun story.
It's not your average stuffy establishment filled with lines to see some old clay pots. It waves goodbye to the beaten path of the typical exhibit packed venue and brings a new and easy way to experience something unique that can be done during your lunch hour.
Three filmmakers, Alex Kalman and brothers Josh and Benny Safdie, created the attraction after recollections of their traveling adventures were met with demands of proof. Josh explained to NPR, "So we would be like, 'I saw these fake Sharpies and they are called Shupays.' And it was like, 'No you didn't.' … So we started this collection of stuff."

You find things like Children's Disney Bullet Proof Backpacks, Objects Made by Prisoners of for Prisoners, New York City Tip Jars and even Fake Vomit from Around the World. Each is lovingly described like a fine piece of art or sacred object with an interesting back-story. A collection of "modern-day artifacts" collected over a decade of globe trotting has permanent residence, but new objects show up on a timely basis.
I love the idea – modern artifacts! It makes you wonder what people will be thinking about our current culture, society and trends in hundreds of years. Will someone blow the dust off a lost and forgotten iPod or try to decipher lolspeak?
Call it a pop-up or a refreshing trend that I like to think of as a shot of culture when you don't have time for the entire bottle. It's unique, fun and growing. You can find it nestled in Cortlandt Alley between Franklin St and White Street with the ability to see it 24 hours a day, 7 days a week through viewing windows. If you want to get a closer look, you will have to check it out on the weekends or follow "Mmuseumm" on Twitter for day by day plans.
The experience is free, but Museum's future depends on tax-deductible donations.
[Images Via Atlas Obscura and Museum]