National Geographic Kid Book Reviews: Amazing Gifts of Fun and Learning #HolidayGiftGuide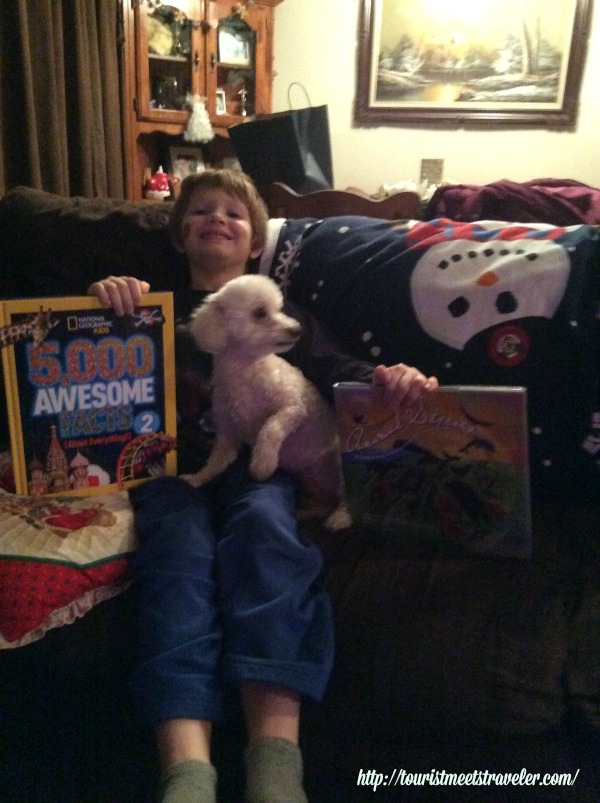 Stuck buying your child, nephew, or niece a Christmas present? Never fear, for we have found the perfect Christmas gift for you. National Geographic has two fantastic books for young children, including 5000 Awesome Facts [About Everything] and 'National Geographic Animal Stories.  National Geographic's Animal Stories is particularly fascinating for younger kids, because it features heartwarming and emotional stories about animals, but illustrated in the most beautifully detailed manner. We know about Smoky The Bear [or many children do], but we also hear about the Alaskan Sled Dog, World War II's passenger pigeon, and many others in the same vein.
The book is for all ages, creating a wonderful learning tool for everyone. In fact, most of the stories have wonderful morals, teach kids a great lesson, and are wonderfully illustrated. The pictures are colorful and pay a great deal of attention to detail, and the animals are always the focus of the story. However, just like any other folklore book, the stories involving the animals almost always contain a 'moral of the week' scenario. Kids are impressionable, and it's a good thing to provide them with tools that teach them to be good to animals, especially in a world where human-to-animal interaction is dwindling for human-to-smart phone interaction.
The book is only $24.99 on the National Geographic site, and I'd say that you should hurry up and snatch a copy [especially at the discounted price] before someone else grabs it from you. Christmas holiday shopping has never been easier, since everything is now at the tip of my hands – Thanks Internet!
There is another book that could also be a great companion and/or alternative to National Geographic's Animal Stories: 5000 Awesome Facts About Everything 2. This is one of those books that doesn't have a specific topic, so it could definitely be a hit or miss for kids. Usually, it's a hit – as it was with my nephew Jayden – largely because his wandering attention span was never bored. This book contains the most ridiculously random topics about underwear, amusement parks, marsupials, Ancient Egypt, and dessert, just to name a few. The title, after all, is 5000 Awesome Facts About 'Everything'.
My 7-year-old nephew, Jayden, loved both books. We've been keeping him on the National Geographic books subscription for a long time, and it's definitely starting to pay off. His analytical skills have gone through the roof, and he's much more aware of world events than he used to be. Plus, there are facts in both books that even I have never heard of, so the books aren't purely for kids! Honestly, they are fantastic bonding experiences with a child and their parent/grandparent/great-aunt/any other family. Jayden and I were able to spend a ton of time together going over both books, and in addition to being educational, the books are fun, easy to read, and quite funny in the right context.
Both books are available from the National Geographic websites. I'm taking full advantage of the holiday discounts and doing the same, and you should too! We already know that our kids/nephews/nieces/etc are going to love it, so there's no need to waste time in excessive shopping. Use your magic powers to forgo Christmas shopping if you don't have it in you, and until then, happy hunting!
Disclaimer: Tourist Meets Traveler did not receive compensation for this review. Any and all opinions expressed are our own. Product was provided for review purposes as Brand Ambassadors for National Geographic Kids.