Time Travel: Historical Vacation Experiences
When I was a kid, Oregon Trail was the game to play on those computers that were just becoming accessible at our school. Johnny was always getting lost and I managed to die of cholera most of the time, but it was still fun.
Now, you can live similar adventures in reality! These educational adventures are waiting for you…
Historic Trails West – Arrive in Casper, WY ready to experience a time travel. Hit the road in a covered wagon or take the Pony Express. You will also cook over an open fire, sleep in an Indian lodge and ride the actual trails that pioneers used. The experience can range from just a 2 hour jaunt to a 5 day adventure.
Genesee Country Village and Museum Pioneer House Experience – Get ready for a weekend of living in New York circa 1800. Guests stay in a Hetchler log house and spend their days tackling the daily chores necessary for your family's survival. Your kids will appreciate their current lifestyle after fetching water to working the fields and gardens, caring for the farm animals and cooking your meals over an open hearth. A guide will help you navigate the new life during the day and you spend the evenings on your own.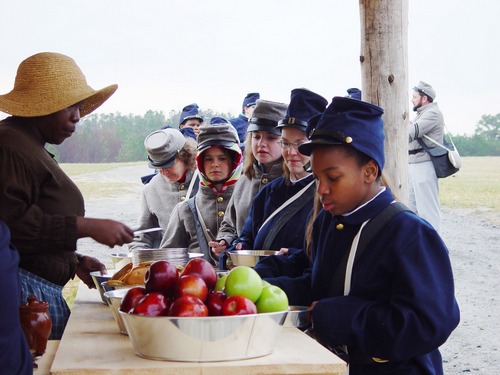 Civil War Adventure Camp – If you are into the 1860's and heading to Petersburg, VA, then this rally is for you. Live the life of a newly enlisted arm private. You will don your uniform, shoulder your musket and march off to a hands-on adventure. Patrons select their side, Union or Confederate, and drill in the way soldiers fought, eat the food soldiers ate, understand the hardships soldiers endured. Families will also participate in a number of specifically designed programs that transform history into reality. There are three options to cater to your desires – choose between a 5, 18 or 24 hour experience.
Colonial Education Site – Here, you can sleep in the 17th Century at Plimoth Plantation or stay on Mayflower II in Plymouth Harbor! The homes on the Education site were originally built by the Museum's skilled artisans at a location on the coast of Maine, for the PBS-TV reality series 'Colonial House.' After the series ended, they were dismantled and reconstructed. Both adventures will have you writing with a quill, surviving on skills you learn and eating supper grown from the land around you.