5 Vital Travel Tips for Parents – Family Trips Made Easy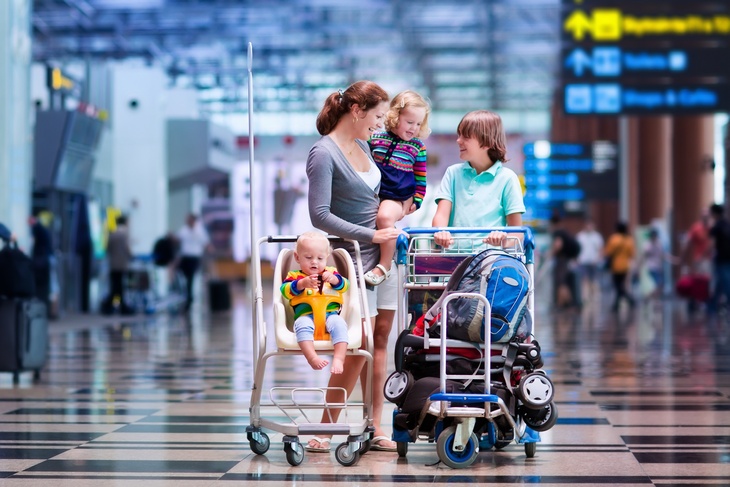 Traveling solo can be a challenge, but traveling with kids can be mission impossible. These 5 vital travel tips for parents will help make family trips easy or, at the very least, help you keep a tight grip on your sanity. Beyond the bag of entertainment for long plane or car rides, these family travel tips will help your family adventure go a little smoother and even save you some cash!
Related: Group Travel Tips – Plan a Family or Friend-Filled Vacation
Reserve a Bassinet For Baby
If you are traveling with an infant on an international flight, you can reserve a bassinet for your tiny tot. The bassinet attaches to the wall located by the bulkhead seats. Most, but not all, international flights offer this service, but you must reserve one in advance. To take advantage of this arm-saving offer, call to book your flight and request to reserve a bassinet. It's highly recommended you do this as far in advance as possible to ensure you get a snag a spot. Also, remind the crew when you board you reserved a bassinet.
Hotel Baby-Ready
When you call to book your room directly (because you are such a savvy traveler) make sure you let the staff know of any needs for cribs or any special needs in advance. Traveling during peak seasons can exhaust a hotel's supply of cribs and extra cots. Requesting a crib in advance will help, but not guarantee, your chances of getting one.
Save On Strollers
One of my favorite money saving tips for Disney trips is saving on strollers. You can rent lovely strollers in the parks for upwards of $30 a day…yes…a day. However, if you have access to a car, you can make a quick stop at store and purchase a travel-friendly umbrella stroller for almost have the cost! During out last visit to the Magical Kingdom, we stopped by a Walmart on the way to our hotel and picked up a super-cute Snow White umbrella stroller for $18. You can also bring a stroller to have stowed on the plane ride, but you might run into additional fees. Whatever you do, don't think you can get by without one when you plan on trekking across Disney or any other venue that requires tons of energy, walking, and action. Your "big kid" might refuse to ride, but he will suddenly find his stroller appreciation after a long day.
Related: Family Travelers Reveal Secrets to Making Vacations Happier
Plastic Bags and Baby Wipes
These two things are in my purse, my car, my husband's car, my diaper bag, and stashed around the house. Messes happen, and baby wipes are the gift to parents that clean up everything from sticky fingers to accidents. They also are great to wipe down germ-covered tray tables on planes. The plastic bags come in handy for anything from mid-flight stinky diapers, impromptu trash cans, to a way to hang a smart phone from the tray table hook on the plane ride (no arguments over who gets to hold the phone).
Be Gratuitous
Some people go above and beyond to help families. In one instance, my family arrived at a Chicago hotel significantly later than we had planned; missing some fun things we had planned. The kids were bummed and despite my best efforts at being positive, I couldn't rally their spirits. The bellman at our hotel had them ready to tackle the city the next day after sharing some trivia about the hotel, letting them ride the luggage cart down the halls, and even having extra coffee sent up for me and my husband to revive our spirits. Of course, we tipped him well and he was a friend and an amazing source for us the entire weekend. Be thankful and show it with tips for traveling with kids or calls to the manager to praise the specific employee.