Cheap Travel: Off-Season Destination Travel Guide 2015-2016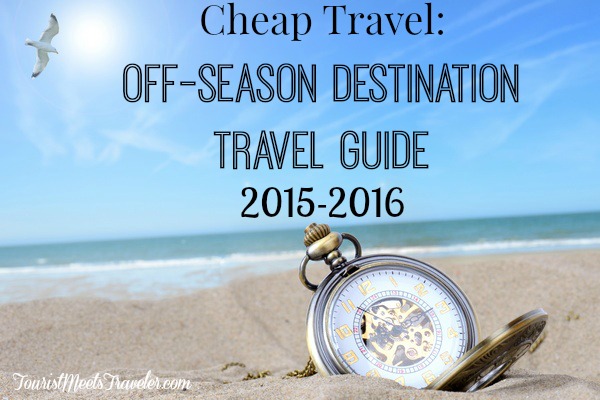 Traveling can be a costly adventure and take months, even years, to save up funds to cover a trip. However, exploring the world doesn't have to break your bank. Budget-friendly trips and affordable vacations are possible. The is key is timing. Knowing when to plan your trip could save you over half of what the average traveler pays. Use this Cheap Travel: Off-Season Destination Travel Guide 2015-2016 to score some of the best travel deals…
Location: Honolulu
Best Off-Season Rates: May, September through November
Travel Tips: May wraps up the off season, but it sees some of the deepest price cuts and great weather. Airfares will be discounted as well. If you can't make it there in May, aim for the shoulder season – September through November. It's prime weather conditions and still discounted.
Location: Los Angeles
Best Off-Season Rates: January
Travel Tips: Most travelers tend to flock to the beaches, so staying in L.A. will be cheaper by default. January will be the best time to see rates for awesome hotels fall under $100 a night.
Location: Rome
Best Off-Season Rates: January, March
Travel Tips: For the lowest accommodation rates, visit Rome in January. For deeper discounts on flights, travel in March. The average temperature in January hovers around 53 degrees. For more firsthand Rome travel tips, click HERE to see Tourist Meets Traveler's coverage.
Location: London
Best Off-Season Rates: January, August-September
Travel Tips: If temperamental weather and colder temps don't bother you, January is a great time to enjoy over 50% off peak travel rates. If you prefer warmer temps, travel in the shoulder season of late summer. You might not get the discounts you would in January, but the weather will likely be more agreeable.
Location: Vegas
Best Off-Season Rates: January through mid-February
Travel Tips: Even if you aren't a fan of Sin City, flights to Vegas will be cheaper. Hotels will see some of their deepest discounts, too. When you call to book your hotel, here's a reminder why it's important to call versus book online, make sure to ask if there are any special events or conferences going on during the time you are looking to stay. You'll likely see higher rates when if there is something planned at the hotel. You can score deals during peak-season in Vegas, but this is where last minute booking plays in the consumer's favor.
Location: Miami
Best Off-Season Rates: September
Travel Tips: The winter is Miami's peak season, so enjoy the bulk of discounts at the end of Miami's off-season in September. Both hotels and flights will see their lowest prices. December will be the most expensive month to enjoy the libations of the Florida hot-spot.
Location: New York
Best Off-Season Rates: February
Travel Tips: New York is the Big Apple of business. Weekends are prime time to book for the best deals, but the post-Christmas/New Year month of February will see the biggest price drops on hotels. Avoid Valentine's Day booking for some of the best rates of the year.