5 Craziest Hotel Guests' Requests – Front Desk Confessions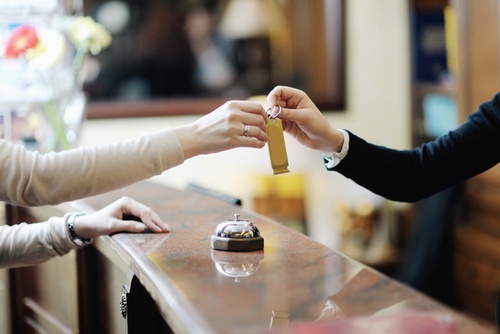 At Tourist Meets Traveler, we've covered Crocodile Found Under Hotel Bed – PHOTOS and Hotel Secrets – 10 Confessions of Front Desk Clerks, now TMT is sharing some of the craziest hotel guests' requests that have the concierge scrambling for their wacky demands and the team at the front desk confessing.
Demand: Camels
Location: Loews Ventana Canyon Resort – Tucson, Arizona
Request Fulfilled: Yes
A guest was staying at the hotel located in Tucson, Arizona, and requested two camels. The concierge was only a month into her job at the time, but managed to find a camel "dealer" just over half an hour away.
Demand: Series of photos of Nicolas Cage in various films
Location: Hotel Indigo – San Antonio, Texas
Request Fulfilled: Yes
It started out as a little joke on the guest's part. Thinking her request was put to an automated system, the hotel team provided a framed photo of Cage circa 'Con Air' on her bed. The requests continued throughout her stay and went viral after she shared the experience on social media.
Demand: 100 plastic pink flamingos
Location: The Broadmoor – Colorado Springs, Colorado
Request Fulfilled: Yes
The staff believes it was a practical joke, but the staff member said, "We aren't sure why the guest wanted them, but they were scattered everywhere — tub, bed, desk."
Demand: Unicorn
Location: Hotel Indigo – Asheville, North Carolina
Request Fulfilled: Yes…kinda
Obviously this request couldn't be fulfilled 100%, but the staff did provide a unicorn plush toy and a note stating:
"Beloved Guest,

"We saw your request for a unicorn. Unfortunately this is the wrong season. Due to their migratory habits, unicorns currently inhabit the second star to the right of twilight.

"They are expected to return to Asheville sometime this June.

"In the meantime (as Asheville is known among many circles as the Unicorn Capital of the South), we hope that you can accept this very accurate artist rendition of our native fauna.

"If this is unacceptable, we do profusely apologize. As you are not the first guest to express interest in our local wildlife, we have planned a meeting with the head unicorn, Lord Mangus Biffy of the Rainbows on perhaps adjusting his peoples/horses/mythical creatures move to somewhere outside the universe to better align with our guest wishes.

"Our sincerest apologies,

"The Society of Proper and Right Unicorn Caretaking."
Demand: $5,000 worth of Kentucky Fried Chicken
Location: Anonymous Luxury Hotel – Miami's South Beach, Florida
Request Fulfilled: Yes
A famous pop star handed the concierge $5,000 in cash, and asked for as much KFC as they could get with the money. Three staff members went to different KFC branches to avoid draining the restaurant's supply and ensure it was all hot when they delivered it to his or her room.