Hotel Secrets – 10 Confessions of Front Desk Clerks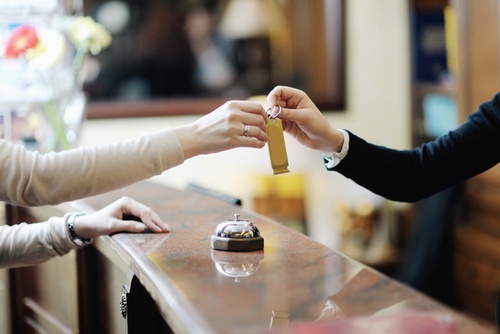 Ah, the front desk clerk at a hotel. They are working in the front lines of the hotel industry and typically handle most customer issues. That means they tend to have the most info and some of the best stories.
I spoke with three clerks who worked the front desks in various hotels. Combined, their experience covers 18 years of working in the hospitality business. They provided me with some secrets, tips and tales that they wish guests were more aware of.
10. Guests who use a third party booking site (Orbitz or Priceline for example) are more likely to get "walked" in the event the hotel overbooks.
The goal is to fill every hotel room to maximize profits and that means overbooking. "It's just like with an airline. They gamble on no-shows or cancellations," one clerk who worked for a large hotel chain said. "When all guests arrive and the hotel is at capacity, managers are forced to walk guests. You will get an apology and a room at another comparable hotel. Guests who are just staying one night, booked through a third party at a discounted rate or are just being obnoxious will most likely be the ones walked." The moral of the story here, even if you confirm your reservation, there is still a chance you could be out of a room.
9. Those third party sites will also get you a third rate room.
"It has been my experience that guests who book via Expedia or another discount site get the room closest to the elevators or has a view of an old alley." The clerk with the most experience and worked in both chain hotels and small boutiques confirmed what I had deduced along my travels. "It's simple. The customer who sought out the hotel and paid $200 for the night is going to get a superior room than the guy who picked the hotel because it was the cheapest rate he could find on a third party site and only paid $130." My third front desk contact, who is still in the business, echoed the sentiment. "Hotels appreciate loyalty. You are more likely to get a better discount if you call the hotel directly and ask if they offer a 'bounce back' discount or loyalty discount for repeat stays."
8. Never ever raise your voice at any of the staff.
"There is no need for it," my second former front desk affiliate said with a sigh. "Yelling will never solve an issue and, frankly, will get you even worse service especially if it is something trivial." I have actually covered how to handle and issue in the post Travel Complaints and How to Solve Them Without Drama. A polite phone call will work wonders, just don't be that guy trying to get freebies.
7. The concierge is a wonderful staff member full of information. However…
"At one hotel chain I worked for the concierge received kickback from some attractions and restaurants for the reference. So when she would tells guests, 'Oh, Restaurant A/Tourist Trap in Disguise Attraction is the best! Just tell them Wendy sent you for a great experience,' she was actually getting compensation for the reference. Not all concierge staff does this, but if you want to be sure, ask another staff member if they have ever been to Restaurant A/Tourist Trap in Disguise Attraction and if they would recommend it."
6. Wash your glasses before you use them. Just do it.
You have probably seen those reports on various news outlets. Reporters go in with hidden cameras and catch housekeeping cleaning your drinking glasses with Pledge or some mysterious blue liquid she just sprayed the toilet with. "It is truly a disgusting practice that management can ban or try to rectify, but the truth is that it still happens. If you don't notice trays with fresh glassware on housekeeping carts, make sure you wash your glasses in the sink just to be safe. Aside from following each housekeeper room to room, there is no way for the front desk staff to ensure it doesn't happen."
5. Bed bugs aren't just in the beds.
"I always hate it when a guest comes to me asking if a tiny red bump on their skin is the result of a bed bug bite. I know I am in for a ride. First, I am not a doctor. Second, that bump could have come from anywhere. People think those creepy crawlies are limited to hotel beds. They can come from your luggage, that cab you just rode in or that movie theater seat you just occupied for 2 hours. Unless you find evidence of an infestation – I am not going to comp your room. I will happily move you to another room, but that is the extent of it." This bedbug fear may have been reheated over the past years. The fact is that just because a hotel is listed on the bedbug registry, doesn't mean the every room is infested. Check behind the headboard and sides of the mattress and sniff around for a pungent raspberry-type odor. Also, avoid placing your luggage on the bed and upholstered furniture. Place your bag on those handy racks and hang clothes to avoid issues.
4. Call the hotel directly for the best rates.
This is another sidebar on the third party reservation confession. As I have covered in How to Get the Best Hotel Rate, you should always call the hotel to score the best rate. What we learn from our front desk confessions is to call the hotel directly – as in find the name and number for the actual hotel. "Those 800 numbers are not the most useful tool. They are plastered all over hotel chain's websites, but they are generic and cover many hotels. Frankly, they don't have the power we do when it comes to rates. They usually have generic set rates they can't override. Plus, Susan from Yonkers doesn't know what the best rooms are in the Chicago branch. It might take some effort, but it will be worth it. Start at the 800 number and ask for the direct hotel number. They will try and help you from their end, but always insist on speaking with the actual hotel staff directly."
3. The magic number.
When negotiating a room rate, find the cheapest price online. Then subtract 20% and you will have a magic number. It is a deeper discount and the hotel still makes money. "Typically, and I stress typically, hotels pay third party sites a commission fee that usually hovers in the 30% range. If you call directly and offer 15%-20% less than the price you found online – both consumer and hotel come out ahead." This magic number doesn't always work. If the hotel is selling out or there is a popular upcoming event in the city it will be harder to score the discount. At the very least, most hotels will match the cheapest online price and you are more likely to score a better room. If you want to give yourself the better odds, try independent hotels first. They are more likely to drop prices than large established chains.
2. Sheets are washed on a daily basis but…
"Blankets and bedspreads are a different story. Some establishments have a rotation. Blankets will get washed once a week and bedspreads once a month. Request fresh linens when you get there and tear off that fancy bedspread." I would like to underline that this may or may not be a common practice, but all three of our confessors had this experience with the chains they worked with. Again, that doesn't mean every hotel practices hospitality this way.
1. Friendly and nice people will always win the upgrade.
"Bottom line – I can't hand out an upgrade to everyone. When it comes down to it, the nice and friendly guest gets the better room than the guy who was rude and cold. I don't care if it is your birthday or anniversary if you are a jerk. I do care if you smile and are you understanding in the event of a wait to check in. Also, if you are looking to score an upgrade, don't try it when you are checking in early. We try and save those rooms to appease other guests having major issues. I recommend you check in later and ask if the hotel is busy. If it is, it is best not ask but be friendly and we will automatically see what we can do."