How to Get the Best Hotel Rate
By now, I am sure you know what a nerd I am for deals…and Harry Potter. And 'The Walking Dead.' And wine. You get the crazy picture.
I thank my Great Aunt Yetta for passing down the discount hunting gene. She taught me that you should never pay retail and, sorry Joker circa 'The Dark Knight,' she also taught me that if you're good at something…never do it for free. My mother has taught me how to pop tags and my best friend, Kristyn, taught me to coupon.
So, I have become a sleuth for bargains and I thrive on getting the best deals I can. I may or may not have a celebratory discount dance that embarrasses my children, but they soon change their tune when the reap the benefits.
1. Third party sites are NOT always the best deals. In my experience, they rarely have the best deals. As I mentioned in my post on how to score a complimentary upgrade – Click HERE for that – I am not bashing them. They are fine, but quite often they are my last choice. Always start with a little research online at the hotel you wish to stay at. Visit their website and CALL THEM. Get one the phone with a live person, preferably someone with a little bit of negotiating power. Ask them for any special rates they'd be willing to offer. You might be surprised.
P.S. You should also take notice that on Kayak's rundown of amenities it says the resort doesn't have a kitchen. I promise you, this resort I am talking about does.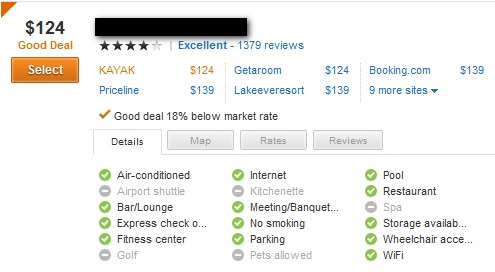 2. Don't be afraid to ask. This is my secret to a happy trip to Florida. There is a place I LOVE to stay at while visiting Orlando. Every room is a suite and comes with a kitchen, separate bedrooms, living room, dining room and a balcony with a view of the pool. The people there tend to be very nice and accommodating. So here is how my last trip played out – I did a search of the accommodations on Kayak and found the site offered the 4 star accommodations for $125.83 a night. The total for a 1 bedroom suite would be $1060.57 for 7 days with taxes and resort fees. I looked at their hotel website and found that they weren't offering as good of a deal – $1165.90. I called them told them I found a better rate on another site and asked if they'd be willing to match the rate and wave the resort fees. BOOM! The bill was magically $986.57! Much better deal than anywhere online – even the hotel's site.
FYI – For Disney's Value Resorts basic room (2 double beds) and a view of the parking lot was $820.38, but trust me, a kitchen and extra space is worth every extra penny.
3. Book mid-grade and try for a complimentary upgrade. Sometimes this works, sometimes it doesn't. A lot depends on how busy the hotel is. Click HERE on how to score an upgrade for free…
4. Be flexible with your travel dates. Holidays, Spring Break and long weekends tend to be busy. Take into consideration that hotels in large cities (New York, Chicago) tend to be packed with people on business during the week. Also look into special events happening in the area. I never depend on scoring upgrades when The Taste of Chicago is going on. Hotels will be PACKED, so I employ my first two tips EARLY.
5. Coupons! Yes, google your destination accommodations before you check out with the addition of two words: COUPON CODES. So, HAMPTON COUPON CODES will pull up sites that offer deals and codes you can use to save. AND shop via Ebates and you will get 2.5% cash back on Marriot Hotels, get up to 10% cash back when you book on Orbitz – just make sure you use Ebates' link to the site after you register.