Disney Family Travel: Cruising with a Toddler – How To Have Fun and Be Prepared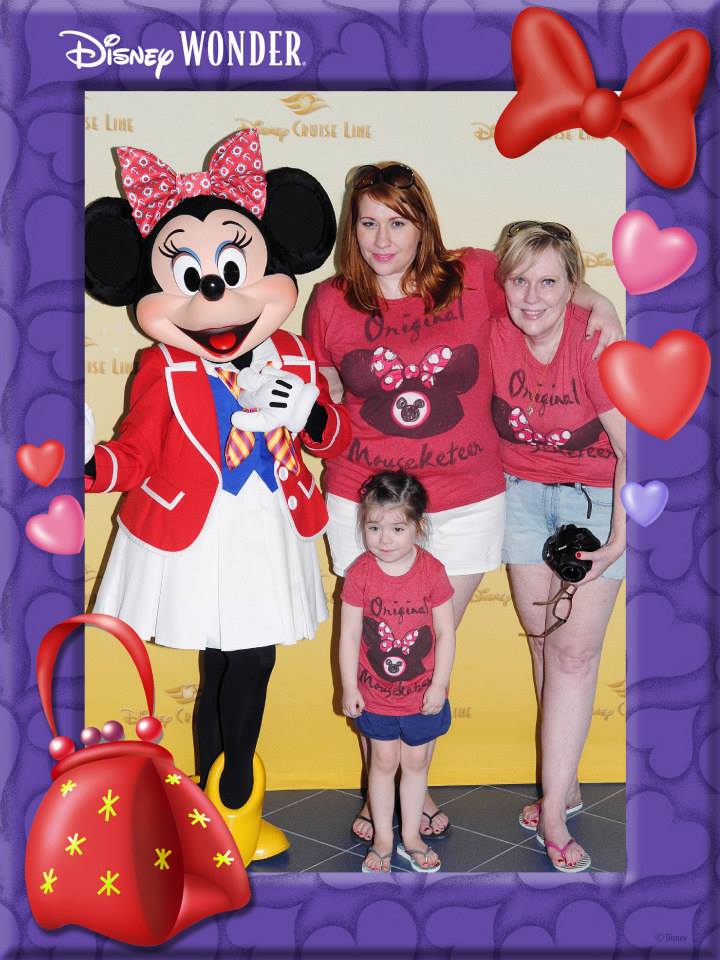 A Disney Cruise vacation is a way to make magical memories for the whole family. Disney offers activities, food and entertainment tailored to all ages. Traveling with a toddler can sometimes be a handful. Besides their routine and schedule changing, a toddler's attention span is not as long as older children. Luckily, Disney knows how to plan a trip!
During my trip on Disney Wonder Cruise Multigenerational Travel: Magic, Memories, and Family-Friendly Fun With Grandmother, Daughter and Granddaughter!, I enjoyed fun and memories with my daughter and granddaughter. I will treasure each moment of joy Disney provided us. The look of excitement on my young granddaughter's face was absolutely priceless.
Food
The luxury of taking a cruise vacation is the all-you-can-eat cuisine. Disney is popular for their fine dining on their cruises. Instead of only offering gourmet and fancy selections, Disney also provides toddler-friendly food such as corn dogs, spaghetti, mac and cheese, cheeseburgers and chicken fingers. There is a variety of fruit available at all times. Even for the pickiest of eaters you will find something to satisfy their appetite.
Youth Programs
Disney is known for their spectacular children's entertainment. Outside of their movies, television shows and theme parks, Disney brings interactive programs to their cruise line. Disney Cruise Line offers youth programs that are for kids only. Instead of your child feeling like they are being left with a babysitter, they will be begging you to let them go! It is even cooler that no moms are allowed.
Disney Oceaneer Club is open to children ages 3-12.
Although subject to change, activities at Disney's Oceaneer Club for children may include:
• Toy Story Boot Camp – Join Corporal Green and the Green Army Soldiers from the hit Disney•Pixar animated film series for a fun-filled, toy tour of duty.
• Do-Si-Do with Snow White – Kick up your heels and dance while you learn the "Dance of the Seven Dwarfs," and then perform your steps with a special guest.
• So You Want To Be a Pirate? – Train to be a pirate and come face to face with Captain Hook!
• Mouseketeers in Training – Put on your mouse ears because it's time for Mouseketeer training. Receive a special inspection from Mickey Mouse himself!
Disney's Oceaneer Club includes:
• A computer lab with child-friendly computers
• A crow's nest slide and rope bridge for exploring
• The Captain's Closet dress-up room
• A dance floor
• A small stage for games
• Multiple televisions
Disney Oceaneer Lab is open to children ages 3-12.
Although subject to change, activities at Disney's Oceaneer Lab may include:
• Ratatouille Cooking School – Join a specially trained cookie chef, and learn how to make chocolate chip cookies fit for Remy himself. Have fun helping friends, adding lots of different ingredients and, in the end, creating your very own cookies straight from the Ratatouille restaurant magic oven.
• Animation Antics – Kids explore the history of animation and learn animator secrets as they draw one of their favorite Disney characters and create their own flipbook to take home.
• Stitch's Great Adventure – Help Stitch as he tries to capture Dr. Jumba's experiments that were set loose in the Oceaneer Lab before they cause all sorts of trouble!
• Piston Cup Challenge – Drivers run a clean race as they build race cars using bars of soap, ensuring good clean fun and lots of laughs for all.
Disney's Oceaneer Lab includes:
• A computers lab with child-friendly computers
• Science lab
• A reading area
• Lounge area
• Multiple televisions
Disney Cruise Line also offers Flounder's Reef Nursery for ages 3 and under. Unlike the Oceaneer Club, the nursery does charge a fee for babysitting. The cost is $9 per hour for the first child and $8 per hour for the second child traveling in the family.
Disney Characters
You do not have to travel to Disneyland or Disney World to meet your favorite characters. On board the Disney Cruise Line you will see your best buddies from the classics – Peter Pan to the newly discovered princesses – Elsa & Ana. Each evening you will find a schedule in your cabin for the following day. This schedule will list which characters will be signing autographs and posing for photos on the ship each hour. Your favorite character is scheduled for autographs at the same time you have an activity planned? No worries, the Disney friends will be making appearances throughout each day during your entire vacation. Since the crowds are no where near as massive as at the Disney parks, the characters take time with each child and even give out hugs.
Castaway Cay with a Toddler
On Castaway Cay you are not left to fend for yourself or create your own fun. The excitement from on board the Disney ship disembarks with you. From live music, Disney characters roaming the island, games and activities such as crab races and hula-hoop contests – the possibilities are limitless.
Although most excursions at Castaway Cay, Disney's private island, have a minimum age of 5 or older the Glass Bottom Boat Scenic Voyage allows guests of all ages, even infants. You can take your toddler on this beautiful boat ride around the gorgeous clear waters of the Bahamas. There are plenty of places to sit on the glass bottom boat or stand near the side for a better view. Look below your feet and try to point out all the various sea life and colorful corral you see. This excursion combines a relaxing ride with a taste of adventure and education.
Beyond the Glass Bottom Boat Scenic Voyage you can rent floats and tubes to play in the ocean with your little one. Since you have the luxury of being on an island with only the guests from the Disney ship there is plenty of open space to build sand castles. You are sure to find a place to relax. Plus, don't forget the free ice cream – toddlers love ice cream!
For more information about Castaway Cay read our full write-up here on Tourist Meets Traveler.
There are so many ways to enjoy your Disney Cruise vacation as a family. From playing in the pools and watching Broadway style shows to meeting your favorite characters and being part of an interactive game show at the family-friendly lounge,, you are sure to leave smiling. Your toddler will never have trouble sleeping at night after all the excitement they experience.