Hotel Secrets, Confessions, and How to Score to Freebies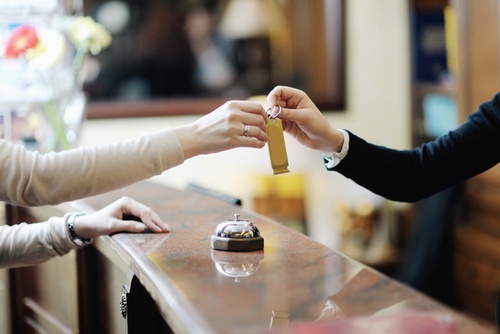 Roaming gnomes, business travelers, and families planning a vacation may have different itineraries and goals, but everyone loves to save money, score freebies, and get deeper discounts. With these hotel secrets and confessions, you can be a savvy no matter what type of traveler you are.
There are the general tips that suggest you travel to big business cities like Chicago and New York on the weekend to save money, but there are better secrets out there. Most people have their own tricks of the trade, but these confessions from seasoned travelers and hotel employees are tested options that work in just about every case.
Confession: "Being nice and showing monetary gratitude is a winning formula with great rewards."
Being a jerk to the staff of your hotel isn't just unnecessary, it could cost you. Being kind, generally speaking, goes a long way in making friends. When you smile and slip the front desk clerk some cash, you'll have a new best friend who will suddenly make it a personal mission to ensure you have a great stay. Common perks your new friend might find you are free meals at the hotel restaurant, complimentary champagne, and even room upgrades.
Secret: "Those third party online discounts sites and rates get you exactly what you pay for."
Every hotel has at least one of those rooms that is located by a noise elevator, under the ballroom, hasn't been updated since Clinton administration, or has an odor only you can seem to detect. The cheap rooms are often left untouched, but when you book through a third party site and the hotel makes less money off of you – not just because of the discounted rate but because they have to pay the site to feature their property – guess who gets put in those cheap rooms? Brands are all about getting customers to come back, pick them because of loyalty and preference. So when it comes to upgrading and going the extra mile to please a customer, why would the guy who picked the cheapest rate randomly on someone else's site get the better room?
Confession: "Never call those generic 800 numbers for anything."
Find the hotel's direct number and call that instead from everything to booking the room to disputing charges after you check out. The agents at the mass calling centers from the 800 numbers have little to no power, or incentive to make you happy.
You can find a more in-depth guide on how to get the best hotel room rates here at How to Get the Best Hotel Rate…
Secret: Pre-register for early room access.
If a hotel isn't at max capacity – for example a wedding hasn't been booked, a large conference isn't taking place, or traveling basketball team isn't in town for a tournament – call the hotel directly in the morning before you arrive ask to "pre-register" to get a crack at the rooms that are ready to go before your check-in time. Let them know you will be there soon and would love to get registered while you sit the cab on the way there.
Confession: "Those mini bar tabs and movie charges are easily waived and usually removed from your bill before you can finish your excuse for watching 'Sharknado' and eating all the Twix bars."
We don't condone stealing, but if you see charges for the mini bar and movies, they are easiest to fix.