Nature Vacation Destinations: California's Sequoia and Kings Canyon National Parks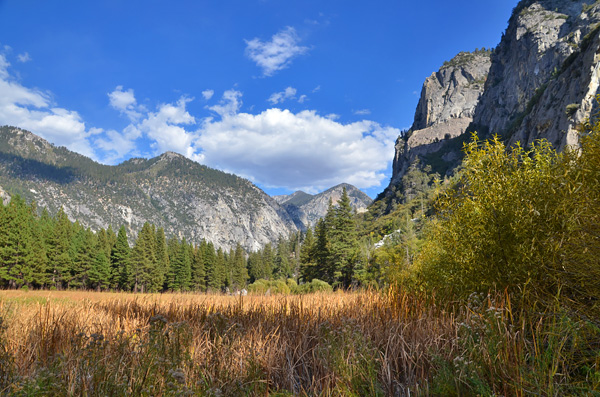 About two hours south of Yosemite National Park lie some lesser known gems of nature – Sequoia and Kings Canyon National Parks. These overlapping parks are smaller in scale and operate at a slower pace than Yosemite, resulting in a peaceful experience. Explorers can easily spend several days in the parks enjoying these nature vacation destinations.
Kings Canyon National Park
Kings Canyon National Park is the northern park. After driving into the park, visitors are soon greeted by the towering Kings Canyon and the rushing river below. Be sure to stop by the Visitor Center for a short walk-through tour and video. There are no gas stations nearby, so it would be wise to fill up before descending into the canyon.
Zumwalt Meadow is a prime location to view the area. It's the most scenic part of the Kings Canyon valley floor. Hikers will love the lush foliage and palette of green hues provided by the groundcover and surrounding woods. After arriving at the parking lot, the meadow can be reached via a short, mostly level hike.
Grant Grove Village is an ideal spot to stock up on supplies, souvenirs, post some mail, or eat at Grant Grove Restaurant. The proclaimed "trinity of treasures," is in walking distance of the village – about 1.5 miles round trip. Here, hikers will find the prized General Grant tree, also known as "the Nation's Christmas Tree."
Overnight guests can stay in one of the cabins or tent cabins on-site. The John Muir Lodge is also located further uphill. Nine cabins with private bathrooms, and the tent cabins, are all due to be renovated by the 2015 season. Cabins with public bathrooms and the John Muir Lodge have already undergone renovation. Another lodging option is available from late May to early October at the Cedar Grove Cabins. These motel-type rooms offering a more private setting are located right next to Kings River.
Sequoia National Park
There are several sites to see Sequoia National Park but the most notable attraction is the massive concentration of sequoia trees.
The Giant Forest allows visitors a close-up view of these trees along several trails. This is also the home of the largest living tree, per volume, in the world. The mighty sequoia is known as the General Sherman Tree.
Moro Rock provides excellent views at 6,725 feet above sea level. It's a long and steep climb up hundreds of steps, but it is worth the effort. Proceed with caution if thunderstorm conditions are expected as the peak is unsheltered from lightening.
For those that would like to stay in Sequoia National Park, try Wuksachi Village and Lodge. It is an extensive property with 102 guest rooms, a full restaurant (which also caters to those with food allergies), conference rooms, a retail shop, and many more amenities. Be sure to check the event calendars here and here to see what special activities are planned.
Sequoia and Kings Canyon National Parks provide an experience like no other. Take in the fresh air and gorgeous sites among giant trees, bustling rivers, and majestic granite formations; all sans the clamor of busy crowds. Finally, a vacation during which visitors can actually rest and recharge!
Written by TerriAnn van Gosliga
TerriAnn van Gosliga is the main writer at Cookies & Clogs and Driving Mamas. Born & raised in the SF Bay Area but loves to travel. She's been married to her best friend for 15 years, homeschools her 14-year-old daughter, and has an accident-prone lab mix dog.