SeaWorld Ends Orca Shows – Killer Whales Retire From Shows But Not The Parks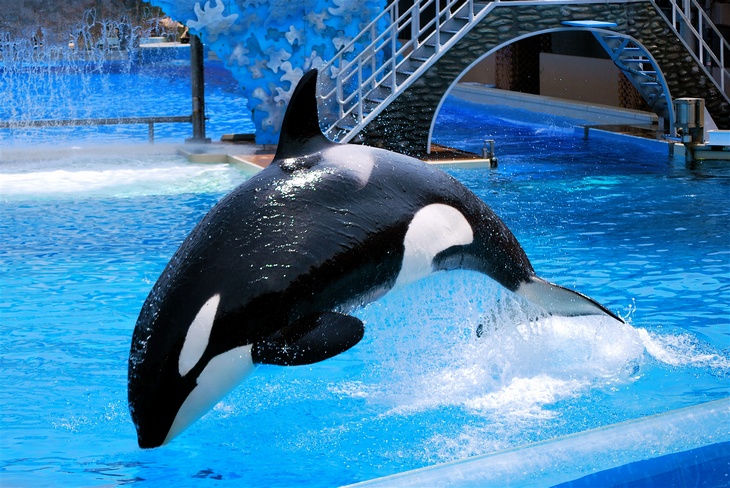 SeaWorld confirmed they will end their orca shows in their San Diego park. However, it doesn't mean freedom for the captive marine mammals. The killer whales will retire from shows, but not the parks.
On Monday, the heads of the company announced that SeaWorld will no longer train whales to do stunts and shows. Instead of flipping on demand, the park will offer a new orca experience. Visitors will get a new view that focuses on a killer whales "natural setting and behaviors."
Animal right activists have been pushing for SeaWorld to free the whales and stop plucking them from their homes in the wild. "An end to SeaWorld's tawdry circus-style shows is inevitable and necessary, but it's captivity that denies these far-ranging orcas everything that is natural and important to them. This move is like no longer whipping lions in a circus act but keeping them locked inside cages for life," a rep for People for the Ethical Treatment of Animals told the AP.
Related: Orlando Hotel Review: Universal's Cabana Bay Beach Resort
It's probably not a coincidence that SeaWorld has experienced a sizeable revenue drop since the documentary 'Blackfish' detailed a killer whale's life in captivity, focusing on the case of Tilikum; the ocra who drown trainer Dawn Brancheau in 2012. Attendance plummeted at the San Diego park, and surveys revealed guests no longer wish to see the beautiful creatures trained to put on a show. "They want the orca experience to be activities the whales do in the wild," CEO Joel Manb explained. "Things they perceive as tricks, they don't like as well."
To appease visitors, the park attempted to makeover the killer whale experience with a $100 million expansion called, "Blue World." The California Coastal Commission approved the project provided SeaWorld promised not to breed, transfer or sell any of its captive orcas at the park. Of course, the company refused to the conditions and plans on going to court to fight the ruling.
Related: Wildlife Adventures in America
The change only applies to the park in San Diego. The Orlando and San Antonio parks will continue the ocra shows for the time being.
What do you think of the change? Let us know your thoughts in the comment section below.