Skull Island: Reign of Kong – Universal Orlando Confirms Attraction Addition #ReignofKong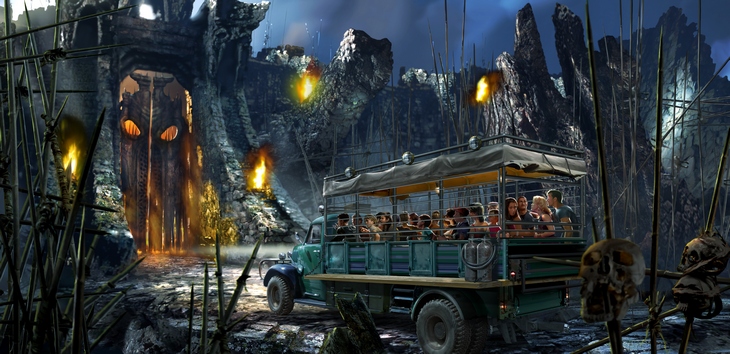 As Tourist Meets Traveler speculated, Universal Orlando is adding a new attraction to the theme park. After we shared images and theories of the not-so-secret secret project, Universal finally confirms the attraction addition of Skull Island: Reign of Kong.
The latest photos of construction, shown in depth at Universal Orlando Expansion – Jurassic Park's Kong-Sized New Attraction PHOTOS, have the building taking shape. A black rocky facade is beginning to look like King Kong's homeland. The area will be huge judging by building size.
Universal released information regarding the Kong attraction stating, "The new attraction will open in the summer of 2016 at Universal's Islands of Adventure – and will be an intense, all-new adventure brought to life in a dramatically themed environment. Skull Island: Reign of Kong will pull guests into a powerfully told story where they become part of the next generation of the Kong legend."
The experience will be intense. Guests visit Kong's world on "mission to discover creatures of unknown origin." But, like all pulse-pounding rides, the journey takes a wild turn. Riding in what appears to be large trucks, riders are taken through an "ancient temple inhabited by hostile natives, a perilous jungle ruled by prehistoric creatures, a foreboding underworld of caves concealing unspeakable terrors." Of course, King Kong makes an appearance and guests will get a eyeful of the eight wonder of the world.
Peter Jackson has a hand in creating this experience, and with the amount of detail Universal wisely gave the Universal Orlando Wizarding World of Harry Potter , this area will undoubtedly deliver an experience that is like no other. Located near the Jurassic Park River Adventure, the ride will feature some dinos to complete the marriage of the ride into the Jurassic Park area. The area is getting some attention as rumors swirl that a new dinosaur packed ride is being added to compliment the growing franchise, with the latest Jurassic World film. We will be keeping an eye on the former Triceratops Encounter area that seems to have a rumble of rumors supporting the revamp theory.
Stay tuned for developments!