Universal Orlando Expansion – Jurassic Park's Kong-Sized New Attraction PHOTOS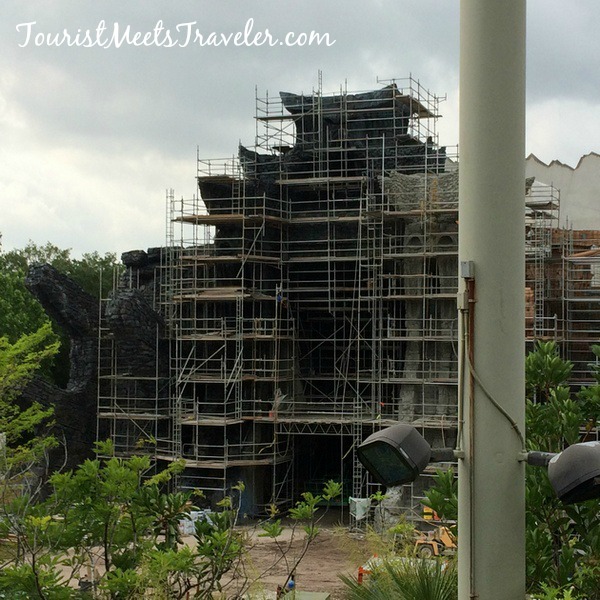 Universal Islands of Adventure is continuing to expand beyond all the wonderful additions to The Wizarding World of Harry Potter. Diagon Alley is stunning and packed with so many details and secrets, you could easily spend days exploring the area, Universal Orlando has another expansion already underway. The addition is a Jurassic Park Kong-sized new attraction and Tourist Meets Traveler has the photos.
There are several rumors that have been swirling regarding major construction going on behind the scenes of the Jurassic Park land in Universal Orlando Islands of Adventure. It is becoming hard to hide the building taking shape behind the Jurassic Park River Adventure.
In March of 2015, Universal filed permits for "Universal Studios Project 340." What, exactly, that project is has not been confirmed by Universal, but there are several great theories…
One new attraction rumor centers around the reboot of the King Kong rides. The new area would allegedly focus on Kong's home, Skull Island. Some speculate that the ride would be a darker, more intense and feature the new technology that is making the new Harry Potter attractions so amazing.
Another rumor pegs the new addition as a new dinosaur-packed attraction to compliment the new 'Jurassic World' film. Insiders began buzzing about the project in 2013, claiming the entire area would be renamed Jurassic World and feature upgrades to the entire area.
When questioned about the construction, an employee working one of the rides would only say, "It is something to do with the Jurassic Park area, but what it is, I can't say." The employee smiled, and added, "If you look hard enough, you'll can probably guess."
There are plenty of construction cranes working, and the black, rocky front facade is taking shape. Is it Skull Island? Is it a Jurassic World add-on? It's looks more like a Skull Island creation circa Peter Jackson, but maybe Universal is trying to keep the lid on a surprise. Or…hopefully, guests will get both. The now closed Triceratops Encounter could be the home to the future Jurassic World attraction, but these images are of a new attraction next to the River Adventure.
What do you hope the new attractions in the Universal Orlando expansion will be? Coasters? Rides like Harry Potter and the Forbidden Journey?