Win an Adorable Dancing Snoopy Toy: Inspires Hours Of Fun #Giveaway #PeanutsMovie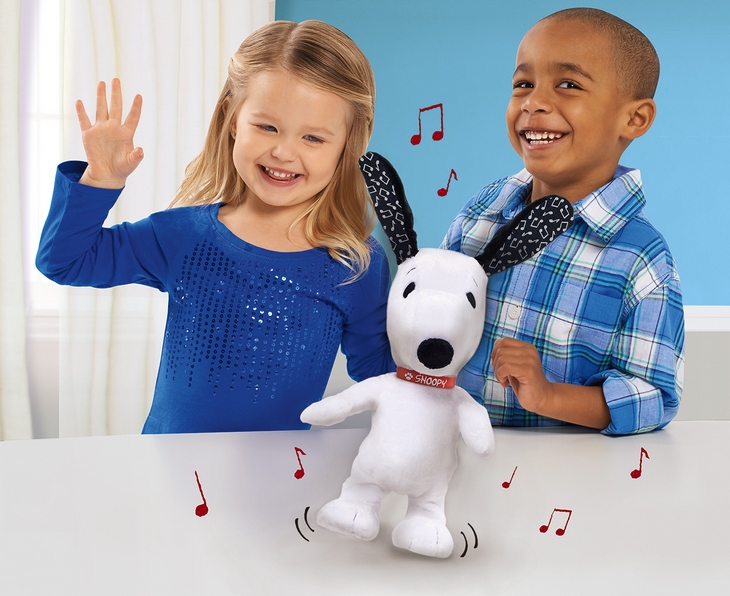 Diehard Peanuts fans that we are, my family and I have been counting down the days until the premiere of 20th Century Fox's first ever 3D film of Snoopy and the gang, "The Peanuts Movie," this fall. You could say that we are so excited we are doing the "Snoopy Dance." Whether you are young or old, a diehard fan or just a holiday special viewer – everyone remembers Snoopy's adorable and crazy, happy dance! There's nothing more exciting than Snoopy's little legs dancing 100 miles a minute, and that up-tempo music. And, there is nothing more adorable than watching your kids try to imitate the silly dog's dance moves. Seriously, Snoopy has got some moves!
It's almost time to take flight! #DreamBig with Snoopy this November.
Dancing Snoopy Toy a Must-Have Collector's Piece
As you all know Target now has an official Peanuts line of toys and memorabilia, featuring all of our favorite Peanuts characters, especially Snoopy! In honor of "The Peanuts Movie," Target will be unveiling their dancing Snoopy toy on August 1st – and it is a must-have toy and collector's piece for every Peanuts fan, young and old alike. The adorable Dancing Snoopy does the character's iconic happy dance and plays music so that you can dance along with him! Have you ever tried to do the Snoopy Dance? What a work-out! Check out my dance with Snoopy below!
Dancing Snoopy Toy Review
When we received our Dancing Snoopy, I had every intention of leaving it in the box and giving it to my granddaughter for her birthday – however I was like a giddy schoolchild on Christmas morning and I decided to open it up very carefully and just "test it out," and then I planned on putting it back in the box and resealing it. That never happened…because as soon as I took Snoopy out of the package and set him on the table and turned him on, he began doing his happy dance – and I fell in love. There was no way I could wait until her birthday, I was way too eager to see her face light up when I gave her the Snoopy toy. As predicted, she was smitten with Dancing Snoopy, and I have no qualms about giving her the gift early because I absolutely adore watching her sing and dance along with him every day! She even sits on the couch with her Snoopy toy after they get tuckered out from singing and dancing and they watch the Peanuts cartoons together. So cute!
Dancing Snoopy Toy Giveaway
You are probably already scouring the internet searching for a Dancing Snoopy for your kids right about now. And, we have great news! We have another Dancing Snoopy toy that we will be giving away free to a random winner, make sure you enter in to the drawing below to be eligible for the giveaway. Also, if you are one of the Peanuts fans that will be racing to Target on August 1st to purchase a Dancing Snoopy (suggested retail price $29.99), join in the fun and make your own Dancing Snoopy video! I promise you it will be impossible for kids, adults, and even pets to not dance along with Snoopy!
Rules: Giveaway is open to US and CANADA, ages 18+ years of age .
The giveaway ends on 07/07/15.
Simply follow the Rafflecopter entry form below for your chance to win. Be sure to return tomorrow to complete the daily entries. It takes a bit of time for the Rafflecoppter to come up, so don't rush away 

a Rafflecopter giveaway
Good Luck!
After you enter the giveaway you can keep track of Snoopy and the rest of the Peanuts gang on social media by checking out @Snoopy or @Snoopygrams.
Disclosure: I am a Peanuts Brand Ambassador and was provided with gifts as a participant in this promotion. The opinions in this post are 100% mine.