Hurricane Matthew Travel News – Florida Theme Parks on Alert, Miami Dolphins Game Location Questionable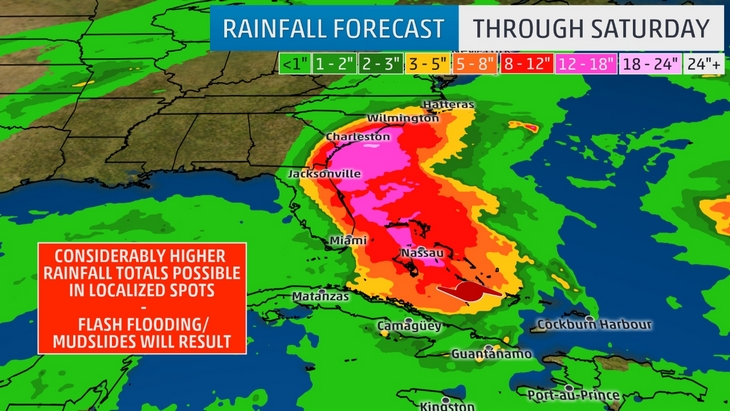 Hurricane Matthew has been downgraded to a category 3, but the strong winds, rain, and weather havoc will likely impact Florida, Georgia, and South Carolina. So, that means Hurricane Matthew travel news means your fall trip could be impacted especially with Florida theme parks on alert and the Miami Dolphins game location becoming questionable.
Related: Best Seating on a Plane: A Guide to Picking the Safest, Smoothest Ride, or Quietest Seat
Last Minute Game Changes
Predicting the weather is extremely difficult, so be prepared to be flexible. Some meteorologists believe the storm might take a hard right, veering east and miss the mid-Atlantic states. Travelers can hope!
Coastal cities have been evacuating in anticipation for the storm's projected landfall time of Thursday morning. That means, your beachy trips to sunny Florida might be impacted. It's best to start calling and gathering info, so you know what to do if or when Hurricane Matthew has an effect on your trip.
Those planning on attending the Miami Dolphins game might want to get ready to adjust their plans. According to Miami's coach, Adam Gase, it's possible the game might be moved to the Dolphin's opponent's home town of Nashville. Right now it's a "wait-and-see" situation.
What Now?
If you have a trip to the Magic Kingdom, Universal Orlando, or SeaWorld planned, get ready to make some possible changed. The Florida theme parks are keeping a close eye on the storm and will consider closing the parks for the safety of guests. Check out Disney and Universal's policies. Both parks typically allow you to reschedule or cancel vacations without penalty when there is a an official hurricane warning.
Related: Weather and Airplanes – How Big of a Threat is Weather ?
So what do you do? Start getting in contact with your traveler planner, hotel, flights, and other trip essentials now. Write down important numbers, speak with agents or managers and don't forget to ask for their name and extension, so if the worst happens, you have a direct source.
Tourist Meets Traveler hopes all travelers remember to be safe and always consider your well-being over your trip.