Revealed: The 5 Best Destination Weddings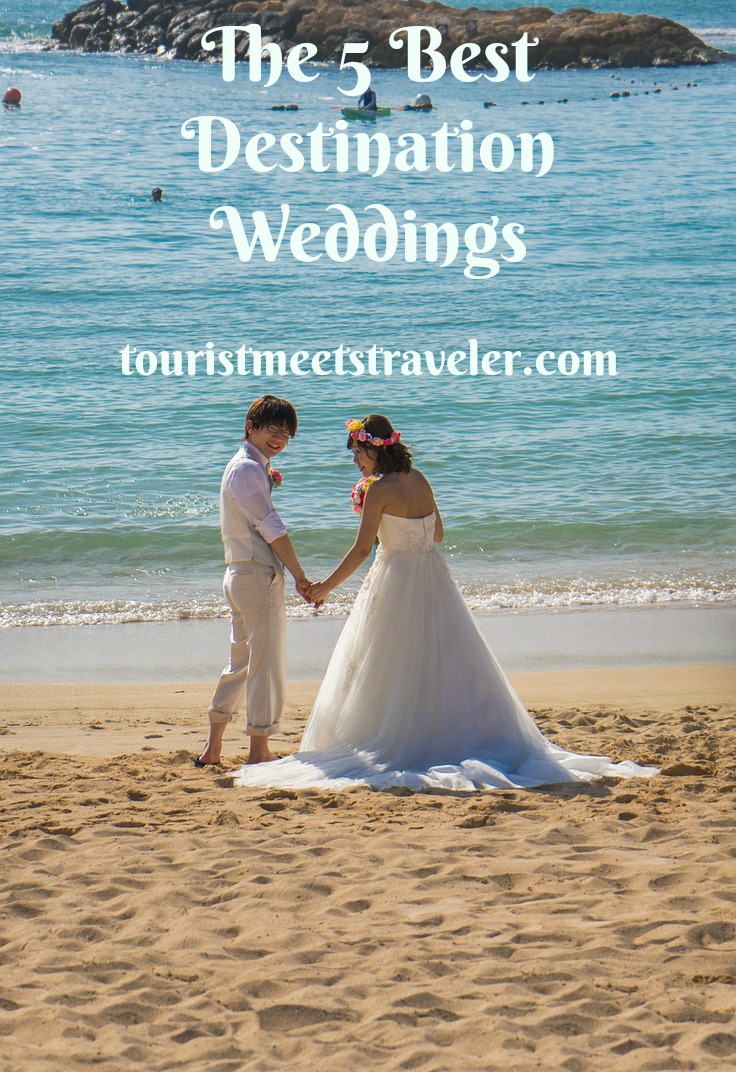 Destination weddings are becoming more and more popular these days, and for good reason. If you happen to be in the midst of planning your big day, you might want to give this a little thought. Hosting your upcoming nuptials in a foreign land is not only a great excuse for a vacation, but it will also make the event extra special.
Of course, you quite literally have a world of places from which to choose, so where should you begin? Well, we're here to help. We've spent the time searching to find you only the most romantic destinations. Here are five of the best places to host your wedding day.
Jamaica
It's hard to look at the white-sand beaches and dramatic landscapes of Jamaica without feeling a little romantic. Jamaica may not be on the top of your destination list, but it is ours. There are oh-so-many all-inclusive resorts here, which means that you and your wedding guests can live like kings and queens. If you want to wed on this fair isle, you will need to be there for a day before the wedding, show your passports and pay a $50 fee. Bargain, right?
Aruba
 This tiny yet utterly scenic island is certain to offer sun, fun, and a whole load of atmosphere. Make no mistakes, Aruba is one of the liveliest places you will ever have the pleasure of visiting. If you take a little time to do some research online, you will find that there are a whole load of wedding package deals that you can get. You can either choose to go with an independent wedding planner or opt for a deal. Stuck for where to choose? San Nicolaas is the island's second largest city and is simply brilliant.
Hawaii
Over the years, Hawaii has become more and more popular with wedding parties. When you take a look at this beautiful place, it's 100% clear why. From dramatic mountains and cliffs to gorgeous beaches, there's something for everyone here. Why not opt for a hula-themed wedding complete with costumes? You and your party will have the best time dancing the night away on the shore.
Puerto Rico
San Juan, in Puerto Rico, is honestly one of the most breathtaking cities that you will ever visit. That's why it's the ideal place to spend the most special day of your life. You can utter your vows against the glorious backdrop of the ocean front and then head down to the Isla Verde strip to sample some of the nightlife. The hotels here can be rather costly, and so it's worth booking in advance for the best deals.
Italy
Finally, this list just wouldn't be complete without one European country. Italy is a truly romantic place, brimming with stunningly picturesque places. If you do decide to have an Italian wedding, check out some isolated vineyards the country has to offer. Imagine walking down the middle of the vines and saying your vows in a truly rural setting. Nothing could be more perfect!
Have you been to any of these wedding destinations?  If you have share your experience in the comments below!
Share your thoughts in the Comments section below, on our Facebook Page,  Follow Our Twitter Account or Head Over To Our Pinterest Page!