The Flavour of Ireland: Plan Your Vacation and Enjoy St. Patrick's Day Recipes at Home
My hubs and I visit Europe for two months each year.  Generally when we visit we pick one country, as I call it the "jump off" place.  Last year the spot was Ireland.   Because Ireland was not the main vacation we only chose to spend 4 days there.  We landed in Dublin and caught a cab to our Bed & Breakfast, Number 31 and the first thing we noticed was how friendly our cab driver was.  He talked our ear off all the way to our B & B.  When we arrived we were pleasantly surprised at how nice and accommodating everyone was. Noel our host welcomed us with breakfast (and it was excellent) and helped us to our room.  Noel was friendly, helpful and extremely nice.
We immediately knew that our decision to stay in Ireland for only 4 days was a mistake – it was just not enough time.  During our short stay, we managed to pack in several things but one of the best experiences we had was "An Evening of Food, Folklore, and Fairies" at The Brazen Head Inn one of the oldest pubs in Ireland.  The evening began by our host Ollie taking us back in time to the fascinating world of Ireland long ago when the culture was one of the mind, spirit and the imagination.  Ollie recounted the magical tales they told as they gathered around the fire at night.  We were treated to a traditional Irish dinner and Ollie entertained us with traditional Irish music and ballads.
We loved Ireland so much we are headed back this April this year and this time we are spending one week so we can enjoy more of what Ireland has to offer.
One of the times I would love to visit Ireland is on St. Patrick's Day.  St. Patrick's Day in Ireland is a National Holiday and parades and festivals that celebrate Irish culture are held.
Each year on March 17th, the whole world becomes Irish and celebrates with food, drink and all things green.  If you cannot get to Ireland right now we have some fun recipes and a sore foot remedy to get you prepared for your celebrating.
Whenever my husband and I are on vacation we spend a lot of time walking and sometimes my feet get really sore.  Of course, I don't want to get sore feet which could cause me to ruin my vacation so I try to treat my feet well at the end of a travel day.  Some of my tips on how to prevent sore aching feet are: don't walk barefoot, use cream to keep your feet soft, wear comfortable shoes with support and soak feet nightly.  I have included below one of my favorite recipes to pamper my feet on vacation. The Mint Sugar Scrub below is easy to make and the mint provides a cooling sensation to leave feet feeling refreshed.  This stuff is amazing! Enjoy!
Mint Sugar Scrub
Materials

:
Scant 1 cup sugar
Method Marine Naturals Refreshing Body Wash, Refresh-Mint
5 drops Peppermint Essential Oil
4oz canning jar
Directions

:
Add about a 1/4 inch of soap to the bottom of the jar and pour the sugar in.  Stir in a little bit more soap until the sugar is completely incorporated and the mixture is a nice consistency – not too thick, and not runny.
Add a pretty ribbon or piece of Washi tape to decorate the jar.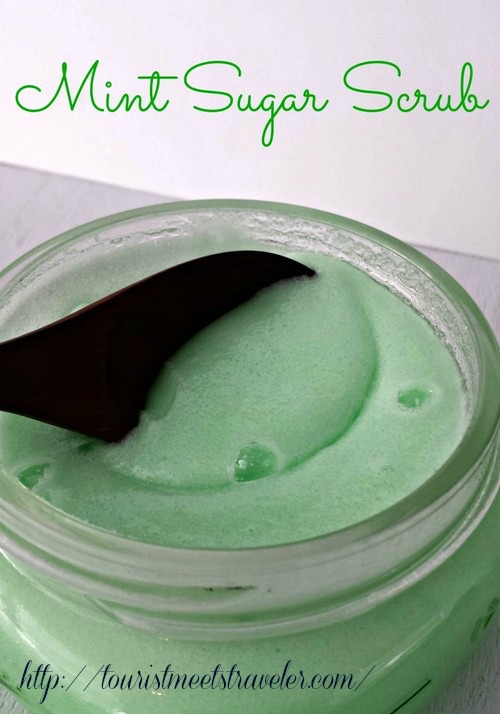 Directions for use: Massage the scrub over damp skin to exfoliate. Rinse with warm water.

Sugar Cookie Truffles for St. Patrick's Day
Once your feet are feeling nice and pampered you might want to try some of the yummy St. Patrick's Day recipes below.  First up is a great recipe which will bring that wee little Irish out of you.  Okay, it is not exactly an Irish recipe but an Americanized version, with an Irish theme.  These "Sugar Cookie Truffles" can be made any time of the year but we decorated them with a bit of the green to give them a St. Paddy's day look.  They are moist and delectable and sure to please your taste buds.
Ingredients:
1 bag Betty Crocker Sugar Cookie Mix
2 teaspoons milk
1 stick butter (1/2 cup)
2 bags green Wilton Candy Melts
Wilton Cookie Icing, White
Directions

:

Line a baking sheet with parchment paper.

Beat together the butter, milk and cookie mix until a dough forms.  Roll the mixture 1-inch balls.

Working in batches, heat the chocolate per the instructions on the bag.  Dip the balls into the chocolate and lightly tap off the excess chocolate. Set the truffle onto the parchment paper.

Drizzle the cookie icing in a criss-cross pattern across the top of the truffles.

Chill in the refrigerator for 1 hour until firm.  Serve chilled.  Store leftovers in an airtight container.
Feeling Lucky St. Patrick's Day Cupcakes
If truffles are not your cup of tea and you are feeling lucky check out the delicious St. Patrick's Day cupcake recipe below.  The recipe is so moist and delicious you will love them.  My daughter said "Mommy, this is the best cake you've ever made" so, it was a huge hit at my house and I am sure it will be a huge hit at yours.
French Vanilla Cupcakes
1 white cake mix (I used Betty Crocker, Super Moist White Cake)
3 eggs
1 T Vanilla
1/3 cup oil
1 Cup water
3/4 Cup milk
3.4 oz vanilla pudding dry mix (I used Jello, instant)
Combine all ingredients with electric mixer on low for 1 minutes, then on med-high speed for 2 minutes.
Pour mix into cupcake tins and Bake at 350 degrees for 25-30 minutes (Times may vary, I use a convection oven)
Light Green Vanilla Icing
2 sticks (1 C.) real unsalted butter, softened to room temperature (beat the butter with a mixer for a couple minutes until creamy)
3 C. Sifted confectioners sugar (slowly add to butter until the mix appears to be small pebble size bits)
1 T Vanilla Extract (add to mixture)
3 T. French Vanilla Creamer (add to mixture)  For stiffer icing, use less creamer.
Green food coloring until your desired hue is obtained. Add only a drop or 2 at a time, then blend well to identify your favorite shade of green.
Keylime Chocolate Bark for St. Patrick's Day
I love cupcakes but my hubs is a huge fan of chocolate so each St. Patrick's Day I make him Chocolate Bark.  This year I am making them Key lime flavor and believe me it is so yummy it will certainly tempt your sweet tooth.  It is so quick and easy to make it will surprise you.
Ingredients

:
1 bag limited edition Wilton Key lime flavored candy melts
Shamrock sprinkles and/or other green candy decorations
Directions

:
Spread a piece of parchment paper out on a cookie sheet.
Add the candy melts to a small bowl and microwave according to the instructions on the package.
Once the candy melts are smooth, spread it out on the parchment paper so that it is about 1/4-1/2 inch thick. Add the decorations to the top of the chocolate.
Refrigerate until the chocolate is hard – at least 1 hour. Break the chocolate into pieces with your hands (some of the toppings will fall off, but that's OK). Package into festive containers or bags.
St. Patty's Day Shake 
Once you are finished all the sweets and want something to wash them all down with to have the perfect things.  This simple and easy recipe makes a yummy creamy mint shake.  Make up a batch for your St. Patrick's Day party – it is decadently delicious!
Ingredients

:
¼ tsp green food coloring
3 tablespoons of sugar
¼ tsp pure peppermint extract
1.5 cups of milk
1 tsp vanilla extract
4 cups vanilla ice cream
Directions

:
Combine all ingredients in a blender and blend until desired consistency.
May add or subtract milk to reach desired thickness.
Use whipped topping and sprinkles for garnish if desired.

Everyone is Irish on St. Patrick's Day and for good reason.  The Irish have spread their great spirit all across the world and the perfect time to take in some of it is on St. Patrick's Day. Let this holiday inspire you to visit The Emerald Isle – everyone deserves at least one great trip to Ireland and we recommend you plan yours soon.  Check out the posts on our last Irish vacation to get a sample of the great experiences in store for you.