The Simpsons at Universal Studios Florida "Exciting Family Fun"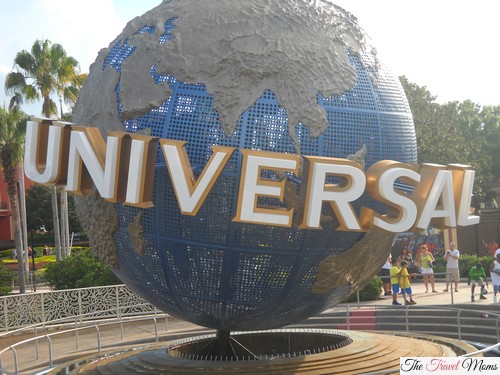 After our marathon rode trip across Canada and the USA we made it to Orlando, Florida.  Once we got a good night's sleep and recharged my husband, the kids and I headed to Universal Studios Florida. Price is $125.99 for a two day base ticket which means you can go to any other Universal Park within a 14 consecutive day period.
Our first stop was to see all the Simpson additions to the area of the park where The Simpsons Ride was already located. First, we dropped into the Kwik-E-Mart and got our hands on the most amazing donuts that we have ever eaten; the World Famous Lard Lad's Donut.  We arrived at the park at 9 AM and everyone had their own donut for breakfast. Seems a fitting meal as were going to see Homer Simpson!
Right after breakfast, it was on to The Simpsons Ride which was a wild and thrilling adventure with Homer, Marge, Bart, Lisa & Maggie as they tried to escape Sideshow Bob's death trap theme park ride. This is the same ride we experienced last year, but it never disappoints.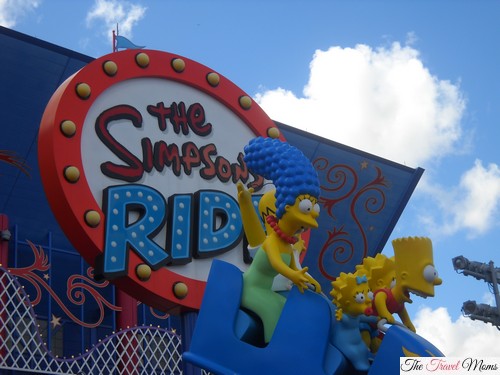 The expansion of The Simpsons area included Fast Food Boulevard with Cletus' Chicken Shack (with my favorite waffle and chicken sandwich) with the most amazing maple mayonnaise, Krusty Burger, Frying Dutchman, Luigi's Pizza and Moe's Tavern where we sat and enjoyed our donuts. There was plenty of Duff Beer and if you were brave enough, you could try a Flaming Moe.
The Simpsons Ride is definitely the center piece of Universal's version of Springfield. There are plenty of souvenirs to pick up; pens, pillows, shirts, shoes, donuts (yes, to go…), Duff Beer and even your favorite Simpson plush characters. If The Simpsons Ride is too much excitement for some of the family, you can check out the Simpson themed carnival games that my husband did while he was waiting for us that all located around the outside of the ride.
We got a sneak peek look as well at the new outdoor, "intergalactic" spinning ride called Kang & Kodos' Twirl 'n' Hurl that promises to have you hurling before you get off of it. Sadly the ride was not ready for use, so we'll have to check it out next year and let you know. Perhaps they were cleaning the hurl….
Overall, The Simpsons expansion at Universal Studios Florida did not disappoint in the least. In Fact, I wish we had stayed there longer.  To find out more about Universal Studios Florida, head over to their website, [CLICK HERE]
[CLICK ON THE IMAGES BELOW TO MAKE LARGER]