Mexico Getaway in Style: Villa del Palmar- Islands of Loreto – Paradise Vacation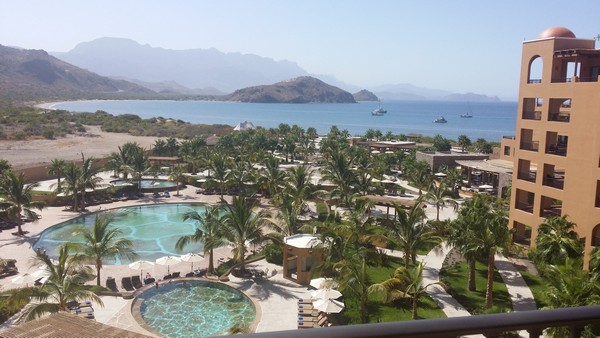 Loreto, Mexico was as big of a mystery to me as it is to most people I know. When one thinks of Mexico, you either hear about the touristy spots like Cancun, Cozumel, and Acapulco… or if you live in bordering US States, you associate Mexico with the more dangerous areas and steer clear of it all together. In all honesty, I fell into the ladder prior to this trip but decided to give Mexico a try by visiting Villa del Palmar at the Islands of Loreto.
Outside of visiting Tijuana over 15 years ago, I had never ventured over the border. I went with a group of Southern California writers that shared my same curiosity and adventurous spirit. Los Angeles International airport brought us together, as we boarded the Alaska Airlines plane that loaded from outside as oppose to through the airport terminal like standard domestic flights. Travel time out of LAX ran about 2 hours, and went by so fast I barely had time to pull out my headphones.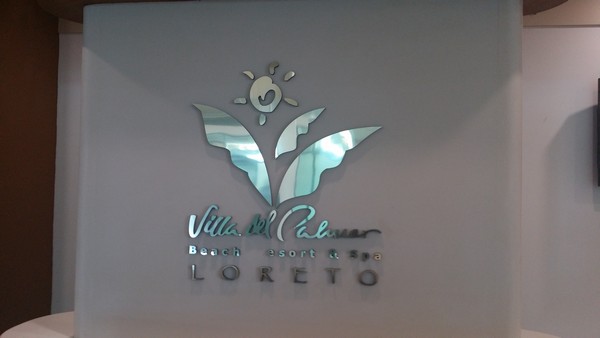 Upon entering Villa del Palmar at the Islands of Loreto, we experienced a speedy check-in process that was a result of most of the details being handled prior to leaving the US. After the two second check-in, we were presented with a signature margarita, and a masseuse that helped relieve any lower back tension that may have occurred during the flight. Once our massage was complete, we embarked upon a mini tour to get familiar with popular spots on the property such as the bar areas, pool, Jacuzzi, and spa. As far as I was concerned there was no need to go to a room, they could have just rolled out a sleeping bag in any of those locations and I would have been perfectly happy. Alas, the camping out at the bar was not an option, so I accepted my room.
The Room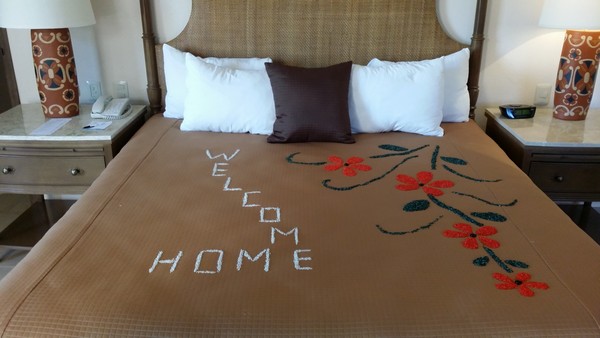 My guess is that my room was about 1300 square feet which includes a master bedroom, 2 bathrooms, washer and dryer, full kitchen, living room, foyer, and jacuzzi. Additionally, most of the rooms include a wraparound balcony that can be accessed from both the bedroom, and living room. The deluxe balcony comes complete with a full size furniture set and views of the property that include the surrounding mountains, and the Sea of Cortez.
When guest arrive to their room for the first time, they're honored with an ornate welcome message that is spelled out in colorful rice and beans across the bed. The message includes the guest name and a flower or intricate design. From the first night, through check out… each day staff left some sort playful customization which consisted of towel origami, or your bed covers tied in a giant bowtie which was easily pulled apart with one small tug on the ends. In hindsight, I wish I had asked how they were able to pull that off… then again, I never make up my bed, so a bowtie for me would be a complete waste of time. Just in case the above was not enough, guest get a dessert left in their room each night. Life in the room was so good, I called down to concierge requesting they send up husband candidates instead of deserts. That was the only request that was denied, HA!
The Property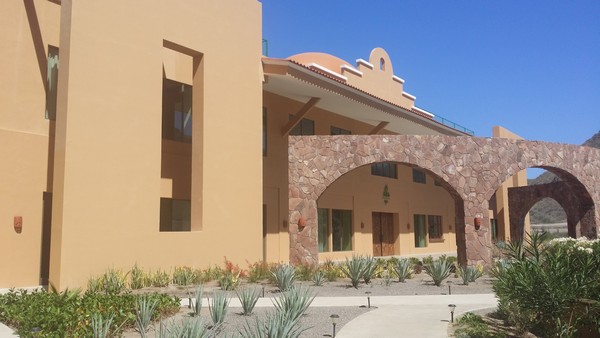 Villa del Palmar at the Islands of Loreto, rest on 4,447 acres of land, 181 deluxe suites, 5 swimming pools, one kids pool, and a Jacuzzi (not including the one that is in your room). There are three restaurants that cater to all taste ranging from light and relaxed on up to upscale fine dining at the Danzante Restaurant. If guest aren't in the mood to leave their room, they also have the option to take advantage of 24 hour room service. I will cover the dining experience later on in the article.
The Sabila Spa is offered to guest as part of the all-inclusive packages, or a la carte. I took advantage of the spa on the third day at the resort by getting a full body scrub in one of the treatment suites. The treatment suites include two spa tables, a shower that felt like a gentle waterfall coming down over my head, and a private sauna. Not noted in the initial description, you also get a mini massage with the full body scrub which left my skin beyond "baby's bottom" soft. My whole body felt invigorated! I my skin felt like it had been scrubbed by angels that cast a spell on my skin and caused me to look 20 years younger. I am one of those people who simply don't have the time for spa services outside of a bi-weekly pedicures and eyebrow shaping. I walked away from Sabila Spa with a new spa service added to my monthly line-up. Post body scrub, I took advantage of spa lounge which boost three temperature controlled saunas set at various settings. This was something even Goldie Locks would have appreciated as the settings ranged from cool to"Juuuust Right".
Activities
Offsite activities include hiking, kayaking, dancing, tequila and wine tastings, town excursions, and boat tours to name a few. One cool thing that I got to do was take a boat ride around the Sea of Cortez and visit the smaller islands and local monuments of the sea that were frequented by pirates that liked to hide their treasure in the rock formations. One memory that burns vivid in my mind is the clear blue waters. The water was so clear, you could see about 40 miles down into it. The bright colors of the reefs below show through clear as day, and appear as if you could reach down and touch them. During the midway point of the excursion, we docked on a secluded island and laid out a "banquet on a blanket" which consisted of various finger foods and crisp that paired perfectly with our day or leisure.
Along the passageway back, we came across a pod or one hundred or so dolphins that played along the ocean waves that trailed behind the boat. They did flips and swam under and around the boat. This group consisted of dolphins of all ages including seniors on down to baby dolphins. My camera could not keep up with all the once in a life time moments taking place before me.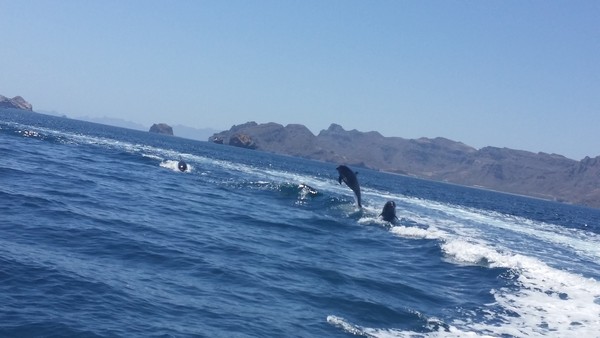 In another moment of serendipity, we rode alongside a pair of Whale Sharks that ran the length and width of the boat. I got a little nervous when they swam under the boat, but all was well as they were not in the least interested in us as the group was with them. The Whale Sharks cruised alongside the boat for about 2 miles or so before turning off into the sunset.
The Town of Loreto
After our boating trip, we docked at the town of Loreto, where we visited the local mission, did a little shopping, and dinned on fresh Chocolate Clams while sipping on margaritas. The town of Loreto was founded by a group of missionaries in search of a fresh water spring back in 1697. A fun fact that I discovered is that Loreto's sister cities are Hermosa Beach, and Cerritos California. Based on that new found knowledge, I am guessing it is safe to say that Loreto would be considered the baby sister of the three with a population of 12,500.
Since the exchange rate is extremely favorable, tourist are able to support the Loreto economy by taking advantage of the artisan goods readily available for purchase throughout the town. I purchased several items which included brightly colored hand woven bags, earrings, long stranded beaded necklaces, and ornaments for the home. I was also able to purchase a bottle of liquor that I was able to take several samples in the form of shots before purchase.
Mission of Our Lady of Loreto Concho, also founded in 1697, has stood the test of time throughout the years. The mission not only serves as a church, but as a museum as well. Tourist can enter (respectfully) and witness firsthand the rich history of the town. The recently renovated mission and church bell tower can be seen throughout the town as it lays dead center, and serves as a living testament to the rich culture and history of the town.
The Food
Food from Villa del Palmar at the Islands of Loreto deserves its own article. There were so many wonderful dishes that were both impressive in presentation and taste. Prior to coming to Loreto, I was emailed a questionnaire regarding allergies, and special food request. Once I arrived. I was briefed on where I would be dining, and what to expect. During this briefing I learned that all of the food is prepared fresh, and the items used are mostly local from both sea and land.
When you experiencing a culinary utopia, you never forget the first delectable bite that made you close your eyes and savor every moment. Rewinding back to my first day, it was the Chocolate Clams freshly plucked from the Sea of Cortez. The clams get their name from the rich color of their shell. Throughout the trip, I was served many variations of these clams with my favorite being in raw- love form. Yes, I ate an alive creature from the scene dressed in a few drops of lemon juice and hot sauce.
Other dishes along the trip included the greatest tortilla soup I have ever tasted in my life. What made it so special is that it was presented deconstructed edible art. A fried tortilla patterned in such a way that it resembled origami in the center of an empty bowel surrounded around strategically placed dabs of crème, and Mexican cheese. The broth arrived separate in a decorative soup pot with a spout. The production of this bowl of soup was so well orchestrated that it could have been a film. As I mentioned before both presentation and taste go hand-in hand and this was no different. Prior to this experience I was not a fan of tortilla soup; and am still not. However, this epic moment in food plays out like the Lord of the Rings trilogy, or Cat on a Hot Tin Roof…. Not just a tortilla soup, but one of the great Food Moments of all time.
Most palettes would not see this next item as a bleep on their foodie radar, but the refried beans deserved a best in show ribbon. Listen, I am from Los Angeles and we take our Mexican food very seriously. I do not eat black beak, or whole pinto beans. I am team refried bean all the way and in my humble opinion, your kitchen is only as good as the simple dishes. Most people don't know how to make refried beans properly. I promise you I am not exaggerating when I say the refried beans served throughout my stay at Villa del Palmar at the Islands of Loreto brought back memories from childhood and tears to my eyes…. It was that good! Another culinary moment of greatness was the, "Cerezas Jubilee", or cherries jubilee for the non-spanish speakers. The cherries were fire roasted, next poured into a sauce pan where crème and liquor were whished in, and finally poured over homemade ice cream. This was the dish that made me say I want to try this at home.
My stay at Villa del Palmar at the Islands of Loreto was filled with many food moments all worth mentioning, but more importantly all of them were fresh, flavorful, and all had unique presentations associated with them.
Details
I foresee myself returning to the Villa del Palmar at the Islands of Loreto, with a group of friends. This resort is a unique place to go off the grid and have quality time with loved ones without interference from the world beyond. I really felt taken care of by the staff, who anticipated my every need, and whim. I came on this trip looking to relax, and left feeling effervescent.
To find out more about Villa del Palmar at the Islands of Loreto, you can check them out on the web here.
AUTHOR: Kitty Bradshaw