Backpacking Through Europe: Destination Copenhagen, Denmark – The Happiest Place On Earth!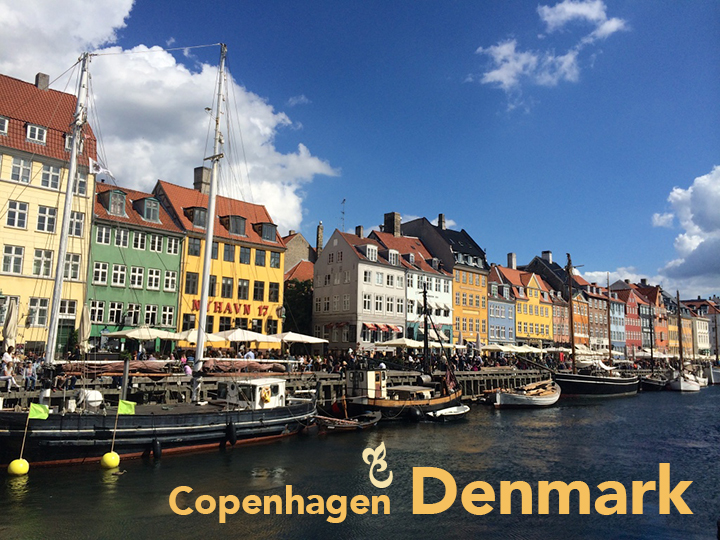 The first stop on my Backpacking Through Europe trip was Copenhagen, Denmark – the happiest country in the world, according to the 2013 World Happiness Report. While it's hard to judge the happiness of an entire country in just 4 days, especially when I forget to pack my Happiness-O-Meter, the large, active city will undoubtedly send good vibez your way. From the friendly Danish people with beautiful hair (joggers and bicyclists don't sweat here – and when they do, sweat stains are heart shaped) to the picturesque destinations throughout Copenhagen, visiting Denmark should definitely be added to your bucket list.
I am a native Oregonian, so I couldn't have been happier being greeted by the cool weather when I arrived in CPH (= Copenhagen). Before I go into too much more about the city and some of the great things to do and see, here's more about the journey I took prior to my arrival:
I traveled from Portland, OR to Oakland, CA, where I then proceeded to catch a Norwegian flight to Copenhagen – my only layover being in Stockholm, Sweden. If you are considering visiting Denmark, whether as a backpacker or as a stay-put-HUMIN (those who visit cities for longer periods of time and who have more of a gameplan than I), then I'd encourage you to check out the airline's low fare calendar. My ticket from OAK to CPH cost approximately $260 (one way). Of course I, not living in a city in which Norwegian operates, had to get a flight to Oakland; however, that additional ticket price was reasonable.
Easy to navigate, the CPH airport charmed with its cleanliness and Scandinavian design aesthetic. Also, catching the train into the city was a piece of (chocolate) cake. Being a directionally/navigationally challenged human being, ease of transportation use is something I always appreciate.
Since I am doing the whole backpacking thing solo, and not wanting to spend a whole bunch of money on hotels in each city I visit, I opted to jump into the world of hostels for the first time. Now, we've all heard horror stories about hostels (i.e. bed bug-infested sheets, showers that look like crime scenes, drunk roomies who stumble into bed in the wee morning hours, etc.), but I was determined to make my first experience a pleasurable one. And I succeeded!
Urban House, located steps from Copenhagen Central Station, proved quite amazing. Everything was clean, and the establishment was well run and professional. A perk of this hostel was its "express" check-in option. If you book online (I book hostels through a site called Hostel World) and pay in full, the hostel will send you a keycode the day of your arrival to access your room. You can just walk right in as if you've already been staying there for weeks. Pretty easy-breezy if you ask me. The lounge areas – including a bar, leisure room, communal kitchen, and other leisure spaces – were well maintained and never too crowded. Nights are busier, of course, but the noise level never gets too out of control. Overall, a strong hostel community for friend making and the like, but the energy level never got too crazy.
Not only is staying in a hostel a cost effective avenue to take – it's also a great way to meet new friends, exchange travel tips with fellow journeypeople, and gather stories for your ever expanding life storybook. In fact, I ended up meeting a Dutch blogger and vlogger. Her name is Zeny, and she blogs over at Young, Free, and Traveling.  Check out some of her amazing photos and video diaries!
So now that I've gotten you into the city…what is there to do, see, and wonder about? So, so, so much! Like with any major city around the world, there are countless tour options, including Hop-On-Hop-Off Bus Tours and a variety of other fun, albeit pricey, group packages. I ended up participating in a walking tour run by Sandemans New Europe, a great company offering FREE tours to people of every age.
They currently offer free tours in 18 cities across Europe, the Middle East, and the US. I highly recommend these tours, especially if you are a college student or family on a budget – or just not looking to break the bank for a tour and put the saved cash towards a different vacay activity. That being said, they do work for tips. While they're not required, they're highly recommended, and since the tour lasts for approximately 2.5 hours it's a common courtesy to compensate them for their time in whatever way you can. The tours operate rain or shine. Thankfully, it was shining during my tour. I forgot my sunscreen though. Oops! Now I have a pretty amazing sunburn line from where the protection of my baseball cap ends. Don't tell my mother.
My tour guide was Caroline, an energetic Canadian who worked on a cruise ship in a past life. Her passion and knowledge of the city wowed us all, and even though my feet were tired and I was whining (just a little), her enthusiasm kept our attention and engagement high. A few of the tour's highlights, and other destinations (apart from the tour) that I'd highly encourage you to visit if you do a self-guided experience of the city, include…
Things To See
1. Danish Royal Palace – Amalienborg Palace is home to the Royal Danish Family during the winter months. They are considered to be one of the oldest royal families.
2. Nyhavn Harbor – While it will likely be PACKED with tourists, there's absolutely no way you can pass up taking a few minutes to stroll through this destination. It's the image associated with Copenhagen. Also, you can catch a glimpse of one of Hans Christian Andersen's old homes while here. Grab some ice cream – or a Danish hot dog – and peruse at your leisure.
3. Copenhagen Opera House – Often nicknamed "The Pumpkin," not only for it's gourd-like shape but for the orange light it emits at night.
4. Copenhagen Town Hall
5. The Marble Church
6. Tivoli Gardens – A really magical, lovely amusement park. It's the world's second oldest! It's quite charming. While you don't enter the park during the above free tour, I highly encourage you to return if your schedule allows it. Go just before dusk so you can see the park while it's still light out and stay for the nighttime hours, as the whimsy truly blossoms when the colorful carnival-esque lights turn on. It cost 99 DKR (approximately 15 USD at the time of this posting) to enter the park (+ extra for rides if you don't want a full pass).
7. Strøget Shopping Mile – This is simply a long street filled with many brand name stores – both ones you're familiar with and ones you probably are not. It's good to check out and, chances are, if you're walking on you're own, you'll probably stumble onto it at some point or another. I needed a laptop case for my new computer, so I checked out a store called Tiger, which is a popular Scandinavian design store that sells everything from kitchenware to small toys. There's a nice energy here – you will see many tourists but also many locals, as it's a major shopping destination. It's also quite near many hotels and Copenhagen Central Station.
8. Andersen Bakery – I'm a HUGE fan of sweets. If you like pastries and are looking to get some quality, traditional Danish breakfast foods, then consider stopping by here. It's right across the street from the train station, so it's a smart stop to make either before you need to catch a train or after you arrive in the city. (Chances are you will be taking the train either to or from the airport).
9. The Little Mermaid Statue – If you make it to CPH, you have to go see the statue of The Little Mermaid, Hans Christian Andersen's revered fairy tale character. If you don't go see the mermaid in CPH, it'd be like choosing to skip seeing Mona Lisa when visiting Paris or missing Michelangelo's David when stopping in Florence. Just a little warning, though: It's not a giant statue, so don't be expecting something that'll blow you out of the water, but it is a free experience and will offer you a nice walk alongside the water. The free walking tour mentioned above ends near the statue, so once your guide releases you for the afternoon, just take a short walk (about 15 minutes) to the statue.
10. Gefion Fountain ("Gefionspringvandet") – Located not too far from The Little Mermaid statue. It's a pretty impressive fountain, featuring sculptures by Danish artist Anders Bundgaard. Your parents will want a pic of you in front of this. I know they will.
11. The National Museum of Denmark – Pretty nice museum with a diverse collection. It's not the best museum out there; however, it's free, so if you have time you might as well check it out. If it wasn't free, I wouldn't recommend it highly, as you have probably seen a majority of the "types" of collections on display. It's what I like to call a "melting pot" museum, featuring art and artifacts from all major parts of the world, not just Denmark.
12. Christiansborg Palace – Owned by the Danish Parliament, the governing body who opened it for the public to enjoy. The grounds are worth a look, but they aren't anything truly spectacular. Sometimes you might see the royal horses taking a jaunt in the riding yard in front of the palace.
13. Tarnet Tower View – This is the tallest tower in CPH, and the view is amazing. This is probably the reason for visiting Christiansborg Palace, as the tower is part of it. They say it's a climb, but really it's just two elevator rides and a set of stairs up to the top.
14. Try Smørrebrød – This open-face "sandwich" is one of those Danish foods that you should try. The ingredients probably won't be too foreign to you, but they're often quite lovely in their preparation. Seafood, vegetables, and meats are commonly featured, and they're traditionally served cold or at room temperature. I asked if I could get mine heated up or toasted; apparently, I couldn't. You would've thought I'd just told him Santa Claus isn't real.
The following day, I also participated in another tour run by the same company. It highlighted the "alternative" side of CPH, getting more into the "grittier" aspects of this vibrant city. This tour group, run by a young man named Tristan, did have a small fee – but it was well worth it in my opinion (120 DKR, approximately 18 USD). The topics discussed on this tour might not appeal to young children and, in fact, parents should read an outline of the tour prior to departure to see whether or not they're comfortable having their children experience the mature material (i.e. drugs, sex, rock & roll).
The highlight of the trip was a visit to The Free State of Christiania. Freetown Christiana is essentially a large commune rooted in counter-culture philosophy, and while it's most known for its loose laws regarding cannabis usage and it's "look the other way" mentality, the society was founded on strict guidelines. For example, you are not allowed to take pictures inside the area, and it's important to remember that you are walking into a neighborhood – essentially the backyards of those residing there. For that reason, it's important to be respectful. There is a lot of bright, amazing street art within the compound, which appealed to me very much; however, because of the blatant out-in-the-open drug use, it might not be the best destination for a family with small children – or those who find that kind of activity unsavory. That being said, it's completely safe and you shouldn't worry about your livelihood. After all, it's a community built around love, creativity, and self-expression.
Get Lost, Wander, Veer Off Road…
There's so much more to do in CPH. As always, I'd encourage you to get lost for a bit, as you never know what exciting things you will stumble across. If you're afraid of getting lost in a foreign city, try to dispel that fear; you'll run into some amazing things if you do. Sometimes, it's best to throw that ol' guidebook out the train window and let your sense of adventure take over. Allow yourself to be pulled in some wonky, wacky directions.
If you have any questions about the city, my experience(s), or need suggestions on what to do or how to do it, feel free to shoot me an email or leave your question/comment in the notes section below and I'll get back to you.
The next post in my series will feature the lovely, charming city of Odense – located just 1.5 hours outside of Copenhagen by train. Odense, Denmark was the birthplace of Hans Christian Andersen; therefore, you might be able to imagine the air of whimsy it harbors. If you missed my first post featuring some essential items to include in your backpack when setting out for an adventure, be sure to check that out, too!
Until next time, keep those wanderlustful hearts of yours beating.