The Walking Dead Filming Locations You Can Visit, Season 2 – #TWD Road Trip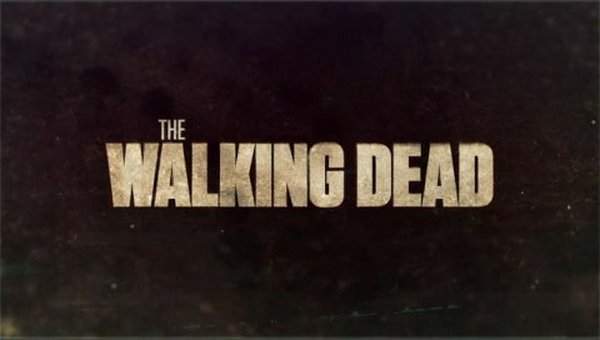 As promised, we have followed up our coverage of The Walking Dead Filming Locations You Can Visit, Season 1 – #TWD Road Trip.
Tourist Meets Traveler is covering the tracks of AMC's zombie-infested series and you can go on the ultimate TWD road trip with these The Walking Dead filming locations you can visit. Below, you'll find the destinations from season 2.
The Church – Senoia, Georgia
Remember the church Rick, and gang check out when they hear bells ringing, hoping it's little lost Sophia? The sign on the show says it's Southern Baptist Church of the Holy Light, but it's actually Mount Moriah Baptist Church – formerly Bethel United Methodist Church. You'll find this gem on 2325 Luther Bailey Road. Remember, as we've stated before, this is place you can visit, but use good judgement and respect.
FEMA Camp – Newnan, Georgia
After Carl is shot and taken in by a reluctant Hershel, Shane and Otis attempt to salvage supplies from a FEMA camp overran by walkers. This was filmed at Newnan High School. Peek at the library where Shane and his doomed help fight their way into the school. Stop at the parking lot on the corner of Waterworks and LaGrange Street to see where the bulk of the camp was set.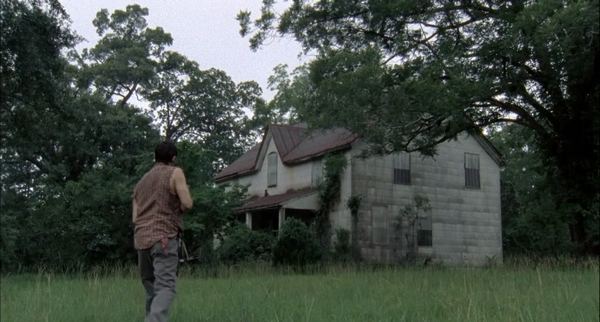 Cherokee Rose House – Rover, Georgia
Daryl, venturing out on his own to find Sophia, finds this gorgeous old home. It's abandoned, but he does finds signs that someone might have camped out in the home including recently eaten food and bedding tucked away. The actual home is still standing and abandoned on W. McIntosh Road, directly across the intersecting Quail Road.
Steve's Pharmacy – Sharpsburg, GA
On a supply run, Glenn and Maggie visit the pharmacy. Glenn picks up a pregnancy test and condoms, and Maggie puts one of them to use. In reality, you'll find the shop on 58-98 Main Street.
Daryl's Near Death Experience – Palmetto, Georgia
During Daryl's solo adventure to find Sophia, he manages to tumble down a ravine which results in being impaled by his own arrow, hallucinations of his lost brother, Merle, and an encounter with a walker who has a foot fetish. This was filmed at Cochran Mill Nature Center. Be prepared to hike to get to the exact area. Proper footwear and water are a must. There is a footpath, but you'll be trekking several miles.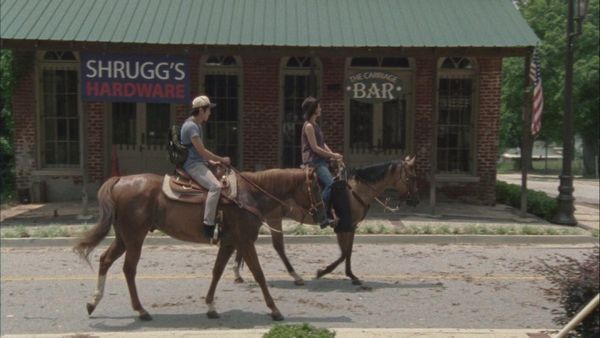 The Carriage Bar – Sharpsburg, Georgia
Shane unleashes Hershel's secret and the farmer comes to terms with what is really happening. Coping by reverting to old habits, Hershel goes to The Carriage Bar to drink his cares away. Rick and Glenn follow him, but they soon find they aren't alone. You'll find the fictional tavern at Terrentine Rd and Main Street.
The Season 2 Finale Camp Site – Senoia, Georgia
Things bust loose at the farm and herd of walkers make this season closer a punch-packing episode. The Ricktatership begins and the reunited group manages to make camp after running out gas. You can visit the exact spot via Elders Mill Road Waterfall and Campsite on 1739 Elders Mill Rd. It's private property, but for rather nominal fee, you can tour the spot after arranging a visit.
Click HERE for more of The Walking Dead Filming Locations You Can Visit, Season 1 – #TWD Road Trip…