10 Things to Know Before a Visit to Legoland Discovery Center (Michigan Edition)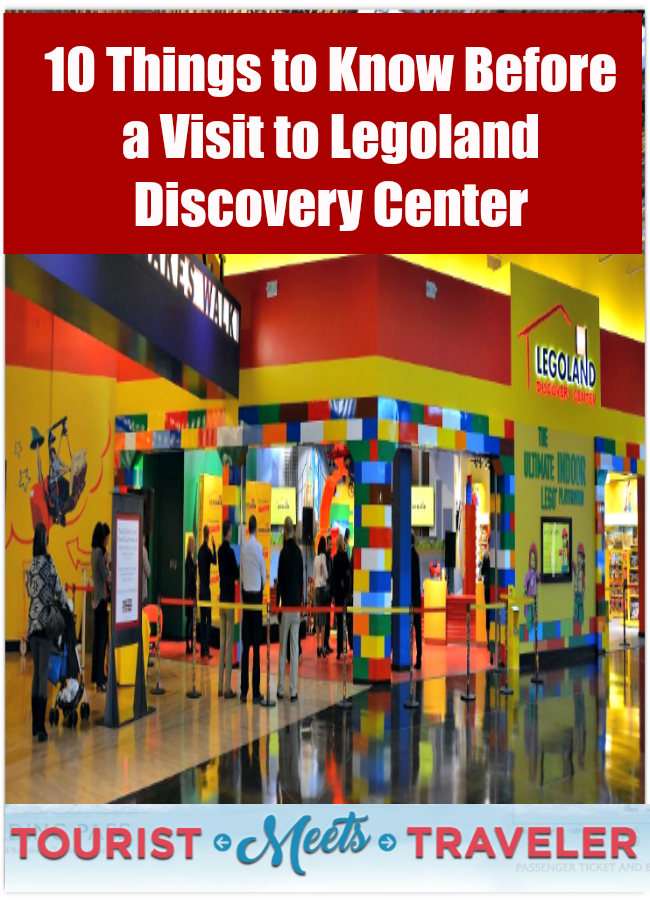 It's only been open for six months, but the Legoland Discovery Center in Auburn Hills has been the talk of parents in Metro Detroit and beyond! Billed as the Ultimate Indoor Lego Playground, there's no shortage of fun things to do inside the facility, located in the Great Lakes Crossing Outlets. Once inside you'll see, it's hard to comprehend how they fit so much (rides, a movie theater, play spaces and more) into a mall storefront! Before you load up the kids for their Lego adventure, here are 10 things to know:
Your ticket includes everything. Unlike other attractions, when you're admitted into the Discovery Center, you get the factory tour, access to the 4D cinema, unlimited rides and play time at no extra cost.
There are three "rides" to experience inside. I call the "factory tour" a ride because, unfortunately, it isn't an actual tour. It's a simulation on a big screen. Viewers get to stand in front of control stations to participate in games throughout the "tour" of how Legos are made. I don't know why I was expecting an actual visual behind glass of how a plastic block comes to fruition, but I have to say I was disappointed. The kids didn't seem to mind, though. (What is it about kids and screens these days?!) The second ride is actually a lot of fun for the whole family, and be prepared: a group photo will be taken during this one! It's the Kingdom Quest Laser ride and is great for all ages. Zap skeletons and trolls with your laser blaster as you ride along the track in a chariot, on your quest to save the princess! The third ride is Merlin's Apprentice and is much like the Dumbo ride at Disneyworld. Riders pedal to lift their chariot higher and higher. Riders must be over three feet tall for this one.
There will be professional photo opps. When you arrive at the center, you'll be positioned on a green screen and will have the option of purchasing various photo packages in front of lots of colorful Lego backdrops. Be warned: the silly shots turn out the best! You'll have another option for photos after riding the Kingdom Quest Laser ride, when your picture is taken during battle in the dragon's den!
Be prepared to build! There are five stations inside that allow kids to sit and build using Legos (and Duplos for the little ones). This is great for groups or independent, older kids, but if you have little ones, they'll need a lot of assistance (i.e.: You'll be doing all of the work!).
The Lego City Play Zone lets kids run, jump and climb. Let the kids get all of their energy out on this soft, jungle gym. The only caveats are that the children must wear socks and are only allowed in up to 56" tall.
Miniland is a sight to behold! See iconic Detroit buildings and landmarks brought to life with 1.5 million Lego bricks! There are even stations around the mini-city for kids to press buttons to interact with areas behind the glass (Play baseball at Comerica Park, for example!).
With a café and restrooms within the facility, you can stay inside for a while. It may be located inside of a mall, but the Discover Center is really made to be enjoyed in and of itself. No need to leave for potty breaks or lunch time.
It's a good thing because there's no re-entry once you leave. The center has to be able to function independently because once you leave, employees will not let you back inside without another paid ticket. So make sure you've explored everything you wanted to before heading out.
On the way out, visit (or avoid) the Lego gift shop. After being inspired, you can take some bricks home to continue the fun. Or, if taking your worn out little one through a toy store at the end of the day sounds like a nightmare, ask employees where the exit is that will take you back to the entrance and avoid the store.
If you live nearby, an annual pass may be the best deal for you. Looking to take your child somewhere fun on snow days? Need to send the kids with Dad for the day? Consider an annual pass for $75 (as opposed to a one-day pass for as low as $18.50 online). If you use it at least 4 times, it will already be worth the cost.
Share your thoughts in the Comments section below, on our Facebook Page,  Follow Our Twitter Account or Head Over To Our Pinterest Page!