Spring Is In The Air! Win A Peanuts "Love Is a Beagle Hug" Figurine By Jim Shore #Giveaway
Spring is in the air! The birds are chirping, the sun is shining, the flowers are blooming – and we can't think of a better way to celebrate than with another Peanuts giveaway. As you all know by now, we are HUGE Peanuts fans. And, for some reason all of the sunshine and warm weather reminds us of Charlie Brown, Snoopy, and the gang.
Most people associate Snoopy and Charlie Brown with the holidays, Thanksgiving, Christmas, and Halloween. But, the Peanuts Gang kept me smiling and laughing all year long when I was a kid. There is something about playing outside, soaking up the sun, and chasing butterflies on the playground that just screams Charles Schulz's nostalgic comic. When you think of Snoopy, don't you think of sunny days and bright colors, and long afternoons on the playground with giggling kids that don't have a care in the world?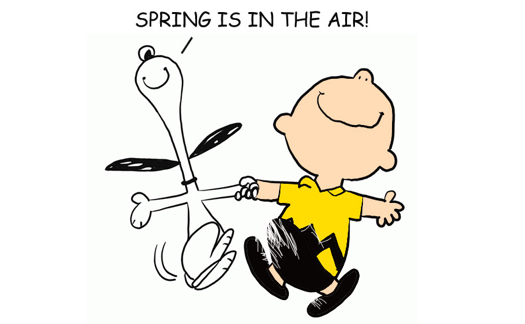 Recently we scored an adorable Snoopy figurine by Jim Shore, and I couldn't wait to add it to our collection and put it on display. The seven inch tall trinket is made of stone resin, and appropriately titled "Love Is A Beagle Hug." I can't help but smile every time I glance at Snoopy, who is appropriately posing with his pal Woodstock.
To be honest, I had to put up quite a fight to keep the Snoopy trinket, when my seven year old nephew spotted it he fell in love, and tried to scarf it off my mantle. Like he doesn't already have enough Snoopy toys, clothes, and movies! That's what I love about the Peanuts gang – age is not a number, it's amazing that my family is all equally enthusiastic about Snoopy, Charlie Brown, and their pals, despite the generations and age gaps. There is something to be said about a cartoon that I can watch with my mother, my daughter, my granddaughter, and my nephew.
The Jim Shore "Love Is A Beagle Hug" figurine isn't just your typical Peanuts knick-knack though. Each figurine is made individually – and Snoopy is hand-painted on every single one. And that means that it is truly one of a kind! Every knick-knack in the collection was hand-painted with love, and they just are oozing with positive vibes and Springtime fun.
Wish you could score a "Love Is A Beagle Hug" trinket of your own for your Peanuts collection? Well, you can! We are giving away one of the Snoopy knick-knacks to one of our lucky readers. It would be the perfect addition to anyone's bright and cheery Spring décor – and can brighten up any room. They also serve as a great conversation piece, every time we have a visitor they stop and admire my Peanuts collection! Also, Mother's Day and Father's Day are right around the corner, if your Mom or your Dad is as obsessed with Snoopy as I am – then it would make the perfect gift.
Don't forget to enter in to the giveaway below and take a chance at winning your own Snoopy knick-knack, and let us know what your favorite thing about Spring is in the comments below!
THE GIVEAWAY!
In honor of Spring, we will be giving away a "Love Is a Beagle Hug" Figurine By Jim Shore to one (1) of Tourist Meets Traveler's lucky readers!
PRIZE: The winner of the giveaway will receive:  a "Love Is a Beagle Hug" Figurine By Jim Shore.
RULES: Giveaway is open to US and CANADA, ages 18+ years of age .
The giveaway ends on 05/20/16.
I will notify the winner by e-mail and you have 48-hours to respond or I will have to choose another winner.  Good Luck!!
Simply follow the Rafflecopter entry form below for your chance to win. Be sure to return tomorrow to complete the daily entries. It takes a bit of time for the Rafflecoppter to come up, so don't rush away.
a Rafflecopter giveaway