The Vikings Exhibition Arrives in New York Courtesy of Viking Cruises
A stunning display of artifacts made its debut in The Big Apple. The Vikings Exhibition arrived in New York, courtesy of Viking Cruises. Just over 500 historical treasures have come to North America in a stateside display, which features items that have never been seen outside of Scandinavia.
Tourist Meets Traveler has been fortunate enough to have an enjoyed the Viking River Cruise experience. You can read up on TMT's reviews and our insider information on the amazing adventure opportunity by clicking here. The company confirmed the news that Viking Cruises has signed on as presenting sponsor of The Vikings Exhibition. The new deal builds on Viking's commitment to supporting cultural programming around the world.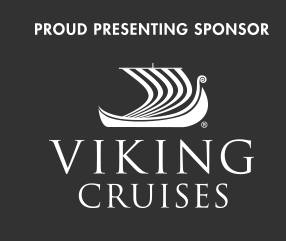 "Viking's commitment to cultural exploration extends far beyond the walls of our ships," said Richard Marnell, Senior Vice President of Marketing for Viking Cruises. "In addition to the obvious connection The Vikings Exhibition shares with our company name, both our guests and Discovery Times Square visitors seek to enrich their lives through history, culture, and exploration, so this partnership is a natural fit."
Visitors can marvel at full-scale model Viking ships, experience daily life of the Viking people with hands-on interactive activities, and learn about Norse mythology dating as far back as 750-1100 AD with displays of exquisite jewelry, metalwork craftsmanship, and religious iconography including the earliest known Scandinavian crucifix and striking silver pendants representing the pagan gods.
Viking Cruises is committed to embracing the rich culture of Scandinavia. Their ocean ships feature an onboard Viking Heritage Museum that showcases ship models and historic artifacts, and symbols of Norse mythology can be found in artwork throughout the ship's public spaces. Some of the company's cruise itineraries are also inspired by original Viking trade routes. Guests on Viking's Waterways of the Tsars river cruise learn about the original Viking explorers who plied the Russian waterways, and this September, ocean guests will sail across the North Atlantic from Bergen to Montreal on the In the Wake of the Vikings itinerary – which was developed in part to honor the most famous Viking explorer, Leif Eriksson, who set foot on North American soil 500 years before Columbus.
Perhaps this is why Viking was rated the highest of all cruise lines in Travel + Leisure's "World's Best" Awards after appearing on – and topping – the river cruise rankings multiple times! The experience is amazing, and you can find more information on Viking Cruises website.