Viking Ocean Cruises Celebrates Float Out Ceremony For Viking Sun: Fourth Ship Set to Debut In 2017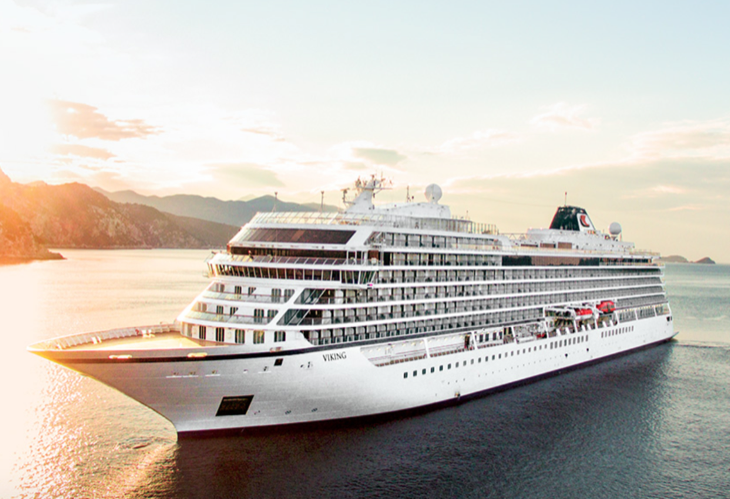 Viking Ocean Cruises is ready to launch its fourth ocean ship, The Viking Sun, which will set sail on her maiden voyage in 2017. The Viking Sun will travel in Cuba and the Caribbean before setting sail on Viking Cruises' first-ever World Cruise, an exciting 141-day itinerary that will take travelers through 5 continents, 35 countries and visit 66 ports of call.
The 930-passenger Viking Sun, part of the Viking Ocean Cruises family of ships, enjoyed a floating out celebration on Thursday, December 15, 2016, at approximately 10:30 PT. The traditional ceremony began at Fincantieri's Ancona shipyard, according to a press release.
The float out ceremony is significant because it marks a ship moving into the final stage of construction. Maritime tradition designates a special woman of honor, a madrina, to assist in the ceremony.
You Might Also Like –> Viking River Cruises – Impeccable Vacation Experience on Longships
Mrs. Yi Lou, Vice President of Merchant Bank Financial Leasing (CMBFL), served as the Viking Sun's madrina. This was a fitting choice because the Viking Sun will be the company's very first ocean ship to call on China.
Mrs. Lou welded commemorative coins to the ship's mast representing her birth year and the birth years of her parents. A special coin dated 1911 was also welded to represent Ragnhild "Mamsen" Hagen, the woman mother of Viking's Chairman, and the woman for whom. the onboard Norwegian deli Mamsen's is named.
Following the welding of the commemorative coins Mr. Lou then cut a cord to allow water to begin flowing into the ship's building dock. Following a two-day process that will set Viking Sun afloat, she will then be moved to a nearby outfitting dock for final construction and interior build-out.
At the time of the Viking Sun's floating out ceremony, Viking Cruises Chairman Torstein Hagen stated, "It is always a proud moment for the entire Viking family when a new ship meets water for the first time. As the cruise industry is increasingly globalized in all aspects, including ship financing, we wanted to honor our relationship with CMBFL by naming one of their executives as madrina to our newest ship. CMBFL is an important partner, and sharing this important moment is an ideal way to celebrate our relationship."
You Might Also Like —> Viking River Cruise: 'The Danube Waltz'- A European Christmas Market Tour Of A Lifetime
Viking Cruises, the leader in river and small ship ocean cruising, offers  destination-focused itineraries designed for the experienced traveler interest in geography, culture, and history. ThroughDecember 31, 2016, Viking is offering United States residents special savings and discounted airfare on the Viking Homelands itinerary. Then itinerary now includes a new "choice" offer which allows guests to choose between a free beverage package, 400 shipboard credit per stateroom or prepaid onboard gratuities.
Viking Ocean Cruises has several extraordinary options available for your traveling pleasure. In its first year of operation, Viking Ocean Cruises was rated the #1 ocean cruise line in Travel + Leisure's 2016 "World's Best" Awards, which came on the heels of being rated the highest of all cruise lines in the 2015 "World's Best" Awards.Viking currently operates a fleet of 61 vessels, offering scenic cruising along the rivers and oceans of the Americas, Europe, Russia, Egypt, China, and Southeast Asia. By 2019 the company will operate six 930-passenger ocean cruise ships; currently the two ships in the fleet sail itineraries in Scandinavia and the Baltic; the Western and Eastern Mediterranean; and the Caribbean and North America.
In addition to the Travel + Leisure honors, Viking has also been honored multiple times on Condé Nast Traveler's "Gold List" as well as recognized by the editors of Cruise Critic as "Best River Cruise Line" and "Best River Itineraries," with the entire Viking Longships® fleet being named "Best New River Ships" in the website's Editors' Picks Awards. For additional information, contact Viking Cruises at 1-855-8-VIKING (1-855-884-5464) or visit www.vikingcruises.com.