10 Romantic Hideaways in Scotland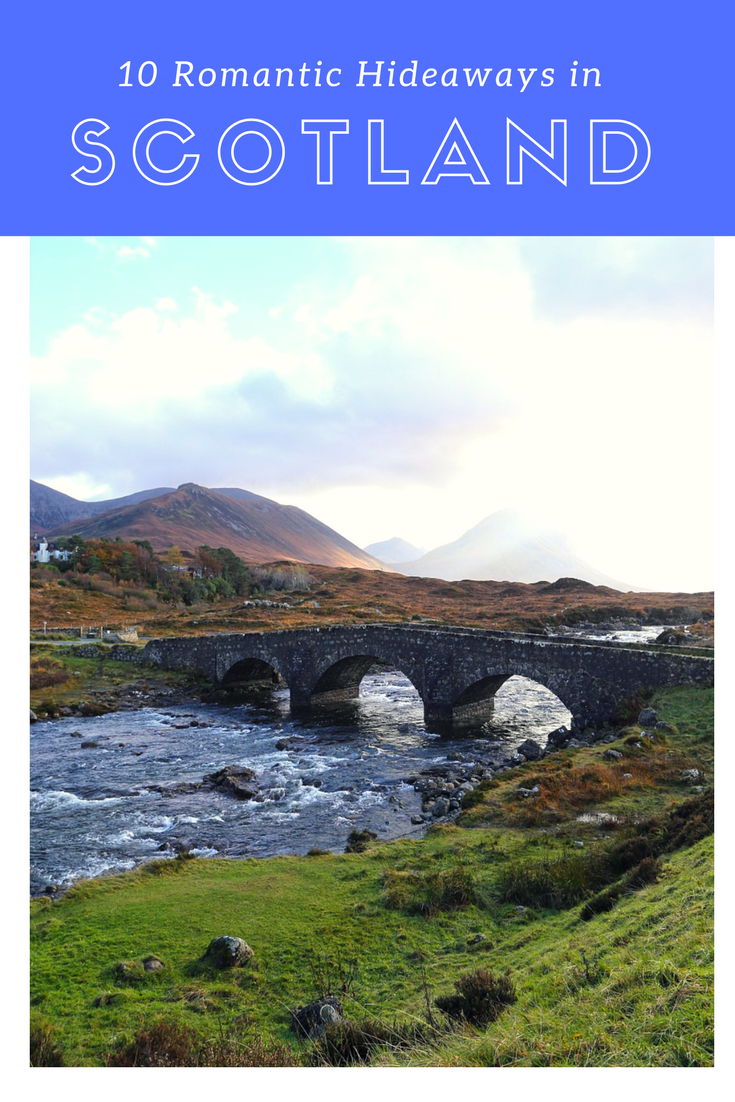 There is nothing quite like being picked up on Friday from work and whisked off for a romantic break! Your bags have been packed for you, your partner has bought you flowers and you are heading off for a weekend of bliss and romance! The only thing better is of course, knowing that you have more than just a couple of days and can run off together for a whole week!
Scotland is wild, Scotland is beautiful and Scotland will allow you to escape and hideaway for a few days of sheer bliss.You may choose an enchanting country hotel or you may indeed opt for complete solitude in a picturesque country cottage or stylish villa, Scotland will have you both captured and seduced.
You  Might Also Like —> The Storr – Isle of Skye, Scotland
Four Romantic Hotels & One Cruise
If you like being pampered, have delicious meals cooked for you, enjoy spa treatments together and have a drink at the bar in the evening, there are a few great hotels that offer romance and top class service all at once:
Airds Hotel & Restaurant, West Coast of Scotland: The wild and rugged beauty of the Scottish Highlands are world-renowned and the Airds Hotel is located in Port Appin, Argyll, just 30 miles from Oban. This area is perfect for romantic walks along stunning Loch Linnhe and the gorgeous Ardnamurchan peninsula. The hotel will even arrange a romantic champagne picnic on a boat trip on the Loch and many couples are said to have got engaged in this beautiful place. The hotel has eleven luxury bedrooms, beautifully designed and fitted with all mod cons as well as Wi-Fi. Dinner is served daily at the award winning hotel restaurant and the friendly staff will leave you with nothing to desire.
The Torridon: Located close to the shores of breathtaking Loch Lomond, with heart-stirring open skies, The Torridon makes for a perfect romantic getaway. Some just come to sit in front of roaring fires, have delicious food and wine, soak in the lakeside hot tub and relax in luxurious suits, while other prefer taking romantic walks, boat trips or even fly high above Loch Lomond. The bedrooms are gorgeous, the food scrumptious, the atmosphere seductive and the hotel bar just lively enough. Whether you just want to rest or get involved in one of the many activities such as kayaking, clay-pigeon shooting, hiking, mountain biking or go on a guided walk, you are sure to find just what you are looking for.
Knockinaam Lodge: This Victorian Manor, surrounded by 30 acres of beautiful grounds and gardens is the perfect small country hotel, just 2 hours drive from Glasgow. You may take a walk down to the private beach, go for a walk through the immaculate gardens or relax in the sumptuous lounge. Most of the elegantly designed bedrooms have stunning views of Northern Ireland and the Irish Sea and because there are only 10 bedrooms you will feel at home at once.
Culloden House, Inverness: This utterly luxurious country house is just what you always imagined and more. It's what lords and ladies are accustomed to and a stay here will not disappoint. Once the home of Prince Charlie (17th century) Culloden House welcomes guests from all over the world to enjoy tranquility, old-style sophistication, magnificent surroundings, exquisite food and a warmth you will find nowhere else.
Hebridean Island Cruise: For something a little different, you should consider taking a four to ten-day cruise on the Hebridean Princess. Departing from Oban on the west coast of Scotland, this historic cruise ship is perfect for all romantics. Cruises will bring you all around the western isles and even as far as the Norwegian fiords. The cabins are luxurious, the food is excellent and romantics agree that this makes for one of the best getaways there is.
Sumptuous Self-Catering Solitude – Five of the Best
Scotland is dotted with perfect, secluded and stunningly located villas and cottages and here are just a few you must consider:
Blue Reef Cottages, Scarista, Harris Island: Harris Island is in the Outer Hebrides and if you are really trying to get away, the Blue Reef Cottages are the place to go. Located in the quaint village of Scarista, these modern eco cottages come with private sauna and jacuzzi, luxurious linen, super stylish design and close proximity to stunning beaches, fine restaurants, quaint pubs and countless scenic walkways.
Roulotte Retreat, Melrose: You've probably never thought of spending a romantic night in a gypsy caravan, well, you must reconsider. Located in the heart of the Scottish Border countryside, renowned for its beautiful meadows and hills, Roulotte Retreat offers couples a choice of luxury caravans with all modern conveniences. You may take a hike in the countryside or just relax, this has got to be one of the best ways to spend a few days with your partner and forget about the world.
Mary's Cottages, Isle of Skye: If you've dreamed of spending some time in a traditional thatched cottage, head for the Isle of Skye and rent one of Mary's Cottages. While traditional from the outside and fitted with the well-known small windows and thick walls, the inside has been beautifully decorated and made luxurious. Traditional fireplace and furnishings, narrow stairs and comfy beds make for the perfect romantic setting you will never forget.
John O'Groats Natural Retreats, Caithness: These colorful, ultra-modern eco-lodges can be found in the very north of the British isles. Stunning views, an abundance of wildlife, super luxurious, modern design and seclusion will guarantee you romance, rest and relaxation.
Eagle-Brae, Inverness-Shire: Mountain log cabins nestled in Glen Strathfarrar, handcrafted and lovingly decorated, cosy and luxurious all at once. The breathtaking mountain scenery and wildlife, combined with the comfort of the cabins will steal your heart and never let you go.
You  Might Also Like —> Eilean Donan Castle – Kyle of Lochalsh, Scotland "Breathtaking"
This is just a small selection and I can assure you that there are many, many more perfect hideaways hidden away in Scotland for you to find! Romance is alive and well in Scotland!
Share your thoughts in the Comments section below, on our Facebook Page,  Follow Our Twitter Account or Head Over To Our Pinterest Page!