Eilean Donan Castle – Kyle of Lochalsh, Scotland "Breathtaking"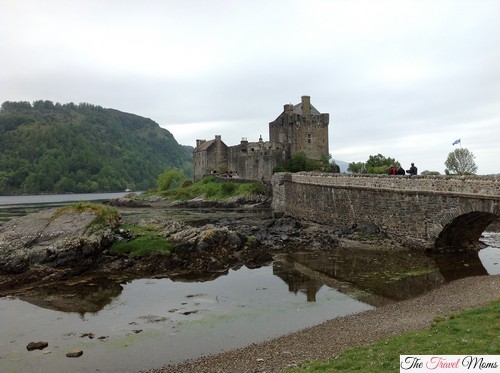 My husband and I visited Scotland and we decided to tour a couple of the castles.  There are 40 castles in Scotland so there are several to choose from.  The first castle we visited was the Eilean Donan Castle (above) which is often seen in movies, television and photographs.  We decided to visit it on the way back from the Isle of Skye where we had visited The Storr. The scenery as you approach the Castle is spectacular but the driving on Scotland's motorways is a whole other matter.  For those of you who have never driven in Scotland be warned – it is a challenge – the roads are narrow and it is not unusual to face oncoming cars in your lane.  Roads often narrow to single lane paths for some distance and drivers rely upon a visual inspection of the road ahead before they proceed.  Seriously, don't just bomb ahead – one should be cautious and drive defensively always – but in Scotland it is a must.
The Eilean Donan Castle is a destination that is not to be missed as it is breathtaking – the views alone are worth the trip.  When you walk across the bridge to the castle it is like you are stepping into another world.  A Medieval stone castle on an island overlooking a lock, you can almost see Bonnie Prince Charlie at the entrance to his castle.
The castle was originally built in the 13th century and four different versions of the castle have been built and re-built as the feudal history of Scotland unfolded through the centuries.   In 1911 the castle was restored to its former glory. After 20 years of toil and labour the castle was re-opened in 1932.
The inside of the castle has been fully restored and they have done an amazing job.  The Staff are helpful and dressed in traditional Scottish dress.  The guides are very knowledgeable and about all the history of the castle and give you a glimpse into what it might have been like to live there.
The Castle now has its own visitor centre, which includes the Ticket Office, Coffee Shop, Gift Shop and toilets.  The price to visit the castle is reasonable £6.50 per adult or £16.00 for a family of 5.
To find out more about the castle and its history head over to their website, CLICK HERE…
[CLICK ON THE THUMBNAILS BELOW TO ENLARGE PHOTOS]