Got The Winter Blues? A Few of the World's Best Beaches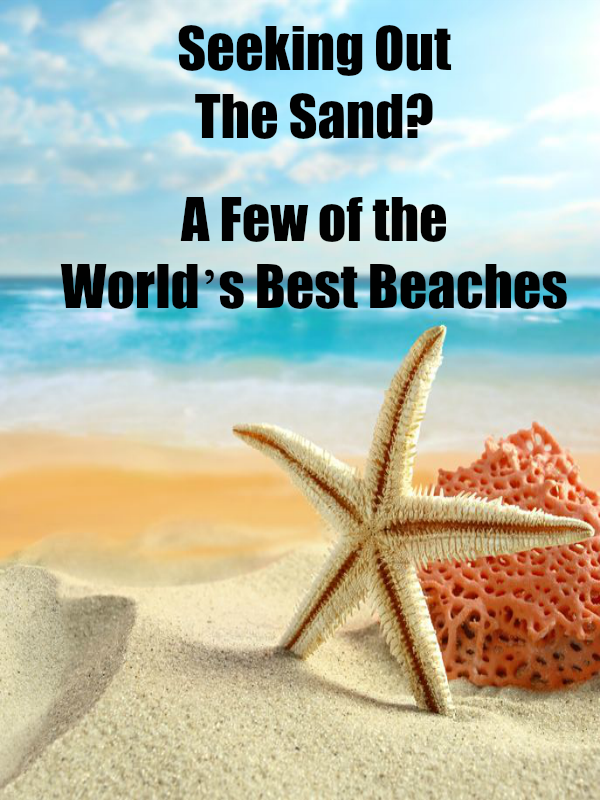 Do you have the winter blues?  Thinking of escaping to someone warm?  Here are a couple of our favorite beaches!
Everyone loves a cloudless, carefree day at the beach—it's in our DNA, right? In addition to the sparkling waters and warm breezes, we all have different reasons for seeking out the sand on our favorite beaches. Do you like to visit dog beaches? Or are you a shell collector? Maybe you like snorkeling?
Whatever your reasons for visiting, "la playa," we have some fantastic suggestions for your next adventure!
If you're a dog parent, we know that you wouldn't dream of leaving Fido behind when you go to the beach. Cannon Beach in Oregon is definitely dog-friendly, as is most of the spectacular Oregon coastline. Think about it: just about wherever you chose to sightsee on the Oregon coast, your dog is welcome, too!
In neighboring California, Carmel City Beach is an off-leash beach with the most amazing views of the glistening Pacific Ocean. But if you prefer your beach views from below the water, there are a couple of must-see destinations you won't want to miss.
Cas Abao Beach in Curacao features one of the few rare sandy beaches on the island. Swimming throughout the stunning aqua Caribbean waters are sea turtles, see fans, sponges and more.
Pelican Beach in Belize boasts a gorgeous reef that swimmers can reach in just a few minutes. Once you reach the South Water Caye Marine Reserve you'll encounter angelfish, blue tang and sea turtles hanging out in the shallow (less than 20 feet deep) waters.
For dedicated shell seekers, there are several beaches worldwide that will make a trip worthwhile.
For starters, there's the aptly named Shell Beach at Shark Bay in Western Australia. This Unesco World Heritage site is chock full of white cockle shells. There's even a seaside restaurant made out of shells from Shell Beach!
Visitors to England's Jurassic Coast will have a field day eyeing the 180 million-year-old fossils embedded there. The sand and rock along this stretch of coast features conical ammonites, and shell-seekers can partake in guided walks.
Do you have a favorite beach? Share your special place with us in the comments section below!
Share your thoughts in the Comments section below, on our Facebook Page,  Follow Our Twitter Account or Head Over To Our Pinterest Page!