Why You Must Visit Toronto: Things To Do and See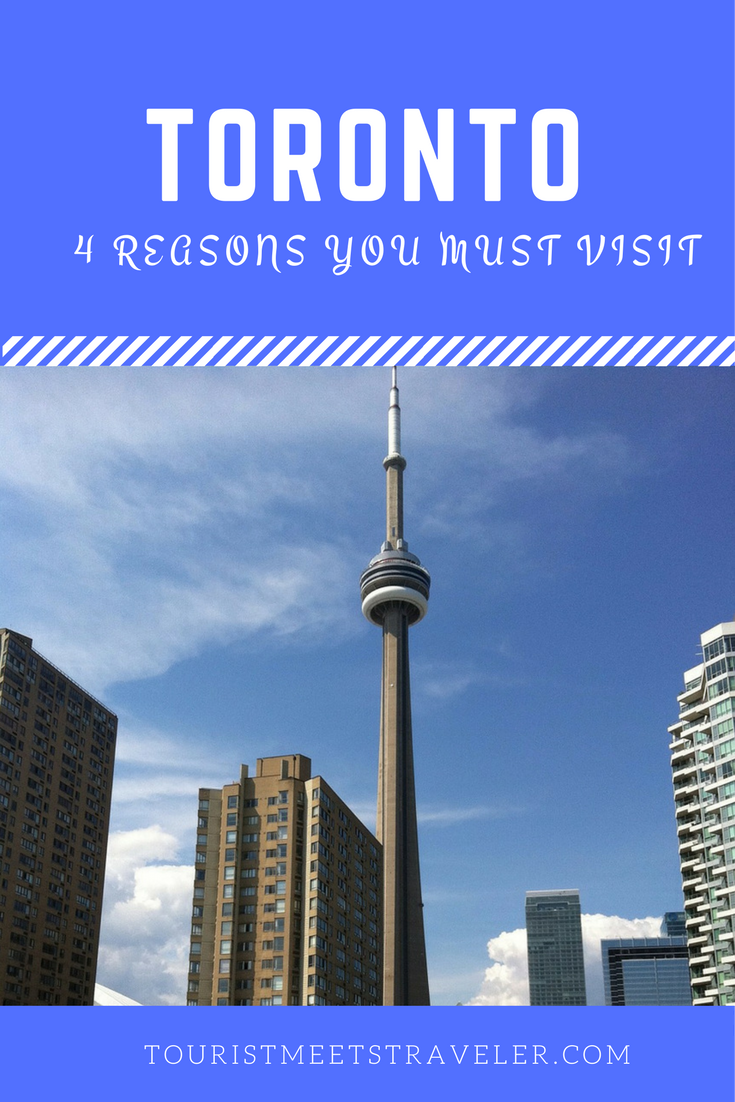 If you're planning a trip to Canada, there's no way your vacation will be complete without experiencing the diverse and dynamic city of Toronto. Located in the southern part of the Ontario province, Toronto is the fourth largest city in North America and has earned a global reputation as a cosmopolitan metropolis with a wide array of shops, restaurants, museums, and scenic beauty.
Toronto has such a wide variety of attractions and activities that everyone on your trip will find something to enjoy!
You Might Also Like —> Family Road Trip From Montreal to Our Roots in Bay St. Lawrence, Nova Scotia – Remembering The Past, Making New Memories
For an unforgettable experience of breathtaking natural wonder, make sure to spend a day at Niagara Falls, located about 90 minutes outside of Toronto. Niagara Falls is actually a group of three waterfalls that straddle the border between Canada and the U.S. Over 700,000 gallons of water go over the falls every second, and there are tours available that allow you to descend the rocky cliffs and get an up close and personal view of the falls. Or, if you prefer an aerial perspective, you can book a group helicopter tour in advance.
Think you have to go to Broadway in New York City to take in a hit show? Think again, as Toronto has a first-rate theater district all its own. The Elgin Winter Garden Theatre is North America's only double-decker theater and has hosted internationally acclaimed performers such as Michael Buble, Louis CK, and the Radio City Rockettes. Toronto is also home to The National Ballet of Canada, which features an elaborate performance of the Nutcracker every holiday season.
You Might Also Like —> Best Family Friendly Things To Do In Toronto
If you're in the mood to shop, the Toronto Eaton Centre is sure to offer something that suits your style. The sprawling glass indoor mall has over 250 shops and restaurants, plus an outdoor farmer's market nearby with a wide array of fresh produce and one of kind finds like antique collectibles and books. Twice a year, the Centre is also the site of the One of a Kind Show, the largest craft fair in North America, so plan your trip accordingly if you want to take advantage of this unique event!
Spend an afternoon taking in some culture by visiting one of Toronto's many museums. The Royal Ontario Museum has an incredibly diverse assortment of exhibits. You can marvel at dinosaur fossils, view artifacts from ancient cultures, and enjoy an installation from an up and coming artist. If you're a sports fan, then you should check out the Hockey Hall of Fame. It's chock full of jerseys, hockey sticks, and trophies, many of them signed by some of the greatest players. For the more fashionable museum goer, a trip to the Bata Shoe Museum is in order. Yes, it's a museum devoted entirely to shoes. Need we say more?
Toronto has so much to offer that there really is an activity for every age range and personality. Consider spending your next vacation exploring this bustling city!
Have you ever been to Toronto?  Do you have any favorite places you have visited there, let us know in the comments?
Share your thoughts in the Comments section below, on our Facebook Page,  Follow Our Twitter Account or Head Over To Our Pinterest Page!