Tasty Treat: Belgium Waffles Wonderful!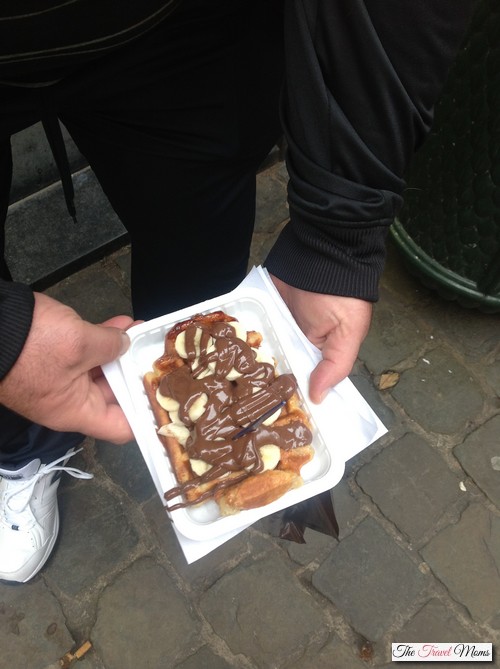 In May 2013 we traveled to Brussels, Belgium – besides the amazing scenery one of the yummy things in Brussels are the Waffles.  On every street corner as you walk there is someone selling Belgium Waffles.  There is no need to go to an expensive restaurant to try waffles, some of the best waffles are served by street vendors and sell for as low as $3.00.
They are hard to resist and you get to choose your favorite toppings to go on top of them.  I decided to have the banana and Nutella topping.  How could I got wrong, it was yummy.
How cool is it, Waffles in Brussels are a casual snack and hard to resist, when they are everywhere you walk.  While you walking in the streets you see people carrying their waffles and eating them.
The Brussels waffle is different from the North American waffle it is based on a batter raised with yeast — as opposed to most North American waffle or pancake batters, which are raised with baking powder.
One of my favorite Waffle stands was right next to the Manneken Pis in Brussels.  Now if you don't know what the Manneken Pis is, it is a famous statue on the corner of Rue de l'Etuve and Rue des Grands Carmes in Brussels which was made in 1619 by Brussels sculptor, Hieronimus Duquesnoy.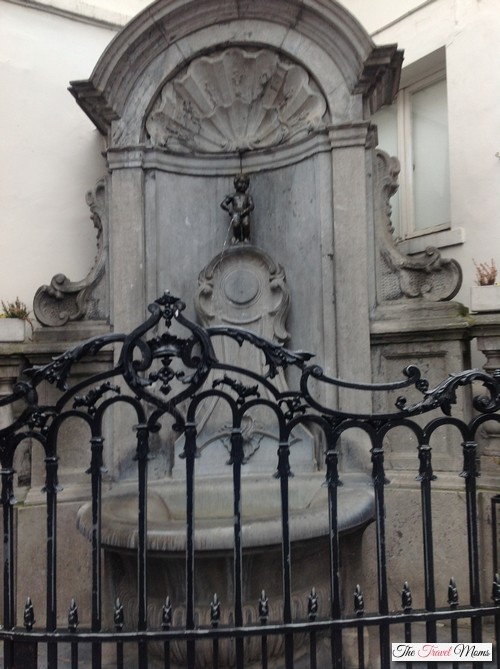 The problem is although many people flock to see the statue it is not the original, it is a copy that was made in 1965.  Because the statue has been stolen many times they keep the original at the Maison du Roi/Broodhuis on the Grand Place.
So if you are traveling to Brussels visit the Manneken Pis and grab a scrumptious waffle!
[CLICK ON THE IMAGES BELOW TO MAKE LARGER]