Restaurant Review: Les Chapeliers – Brussels, Belgium "Simply Amazing!"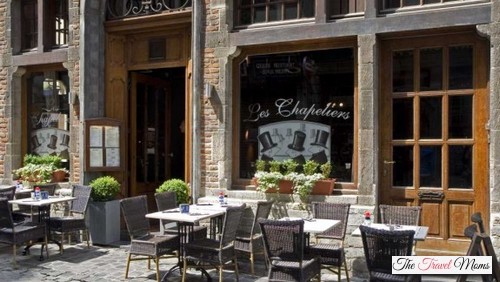 The Travel Moms don't always travel together, and this is the case for this restaurant.  Robyn, one of our travel Moms was in Brussels, Belgium in August 2009 and she was looking for a restaurant for dinner.  Les Chapeliers was recommended in her guide book, so she decided to give it a chance.   Here is what Robyn had to say about the restaurant,
"We were a little hesitant mainly because it was a stones throw away from the Grand palace.   However, we were pleasantly surprised, the food was simply amazing and good quality.

Starters were amazing – cheese fondue crisp and garlic mussels!!! The main dishes were even better – cod and sausage. The food was home made and was presented nicely. The waiter was nice and professional…"
Because of Robyn's recommendation when we visited Brussels in May 2013 we were staying near the Grand Place so  my husband and I decided to have dinner our first night at Les Chapeliers.  The restaurant specializes in typical and traditional Belgian Food, but made in a masterful and high quality way.
When we entered the restaurant it was charming with a very warm atmosphere.  There were hat, old fashion top hats hanging from the ceiling.  The food was traditional and wholesome and the restaurant was filled with locals so we knew it had to be great.  The waiters were friendly and even though I spoke French they were very happy to speak to us in English.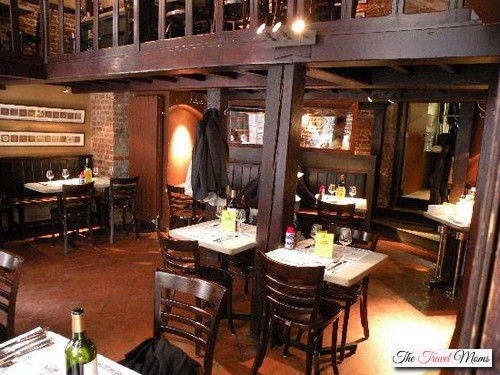 My husband passed on an appetizer but I decided to try the Garlic Mussels and when they brought them the portion was ample, they smelled delicious and they tasted yummy!  I am not generally a fan of mussels, but because it is a specialty in Brussels I decided to try them and I was not disappointed.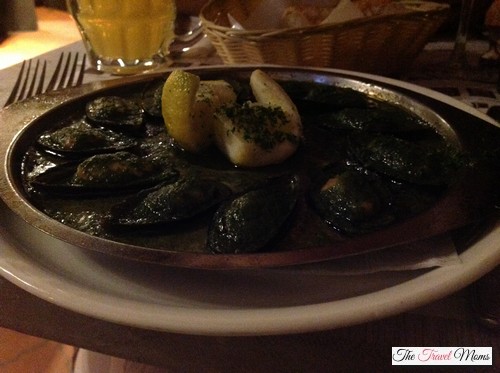 For our main course I had what is a Belgian specialty, the Flemish Style Beef Stew (15.90 Euros) which was accompanied by Fries.   The stew was cooked in beer and it was amazing.  Fires in Brussels are fresh-cut, twice-cooked and scrumptious.
My husband had the Mixed Grill (18.50 Euros), it was a sampling of everything.  The portions of meat, sausage, steak and chicken were generous and cooked to perfection.   It was accompanied but some of the best fries, a salad and a red sauce.  My husband loved it.
My husband had no room for dessert but I tried the Tarte Tatin with Vanilla Ice Cream (7.50 Euros)  A perfect end to a perfect meal.
I would be more than happy to return to Les Chapeliers if we are back in Brussels.  All in all it was the best restaurant we tried in Belgium.
Les Chapeliers
Rue des Chapeliers
Brussels, Belgium
Visit their website, CLICK HERE …
[CLICK ON THE THUMBNAILS BELOW TO ENLARGE THE PHOTOS]