Travel Tips: Five Fun Things To See and Do In Brussels, Belgium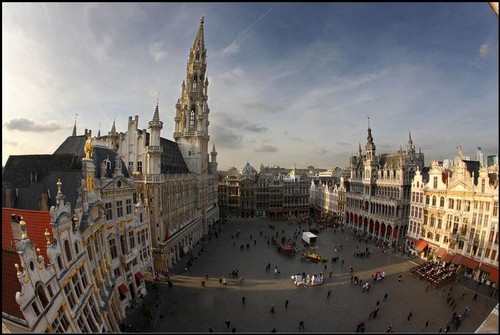 We recently traveled to Brussels, Belgium and wanted to share 5 fun things you can do when you are there.  Of course there are well more than 5 but this is our top 5. These are a few of the things that we experienced and enjoyed while we were in Brussels.  They helped us capture the flavor of the city, especially the older part. Brussels is of course the capital of the European Union which makes it a true center of politics, international governmental and NGO organizations, trade and diplomacy.  We choose to spend our two days exploring the older, less modern section of the city near Central Station.
1) Grand Place – is Brussels main square – in the Grand Place you will find the Town Hall, City Museum, chocolate shops and lace shops.  The square is always busy with something happening – either a concert, flower market, light shows, entertainers or people watchers.  The Grand Place is said to be one of the most beautiful Squares in all of Europe.
2) Chocolate, chocolate and more chocolate.  There are more chocolate shops in Brussels than I have ever seen in my life.  As you walk past the shops each one has a mouth-watering display case full of chocolates.  My husband and I decided to try chocolate at every one of the main shops in search of the perfect chocolate provider.  We tried Godiva, Neuhaus, Leonidas, Corne Port-Royal and several local small shops.  The winning shop, hands down, was Neuhaus, their quality and taste is substantially higher than the more famous Godiva – a simple taste test will confirm this for you.  Neuhaus has been around since 1857 and they claims to be the inventor of the praline.  They are responsible for the 5 lbs I gained in Brussels due to the finest and smoothest most delicious chocolate I have even eaten.
3) Manneken-Pis – So Brussels has a really cheesy mascot!  It is a statue of a little boy urinating and not subtly either. He is not far from the Grand Place and you will easily find him by the crowds waiting to get a glimpse of him.  When we were in Brussels he was naked, but the little guy has outfits – what he needs is a diaper!  Countries from all over the world send him clothes.  His many clothes are on display in a museum in the city.  In the museum they have a video of people's reactions when they see him.  I kid you not… furthermore, Brussels happens to be a very conservative business and diplomatic centre where people tend to dress rather formally and are extremely polite – so not only is Manneke-Pis rather gross by any standards but it is ironic to find it in Brussels.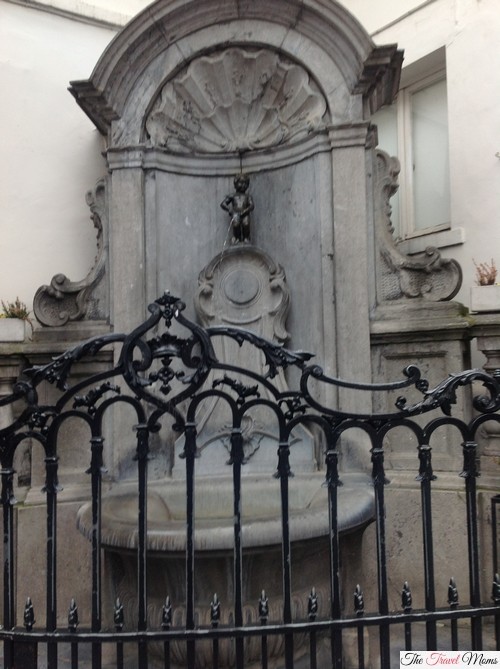 4) Hop On/Hop Off Bus – With all our traveling we have found one of the best ways to get an introduction to a city is the Hop On/Hop Off buses.  The price in Brussels for the tour is £21.50 per adult.   They have two lines, one line is 11 stops and the second line is 13 stops.  They both last 75 minutes.  We took the tour when we were in Brussels and it was the perfect day because it was raining.  The bus has a cover to so you get to enjoy the city and stay dry.
5) Lace and Waffles – If you love the delicacy and beauty of lace, you will love Brussels.  There are lace shops on every corner.  The lace shop below to the left is located at the Grand Place and has a lovely collection of lace.  All their laces are produced in Belgium with Belgian workers.  Brussels lace is well known for its delicacy and beauty.
Everywhere in Brussels there are the ever popular Waffles for sale where 1 Euro gets you a freshly made take-away "Belgian" waffle.  The prices goes up depending on the toppings you take but is always very reasonable and freshly made.  I tried the Nutella and bananas variety for 2 Euros and it was yummy!
Our time is Brussels was brief but enjoyable – we were only there for a couple of days on our way to Bruges – and next time we will explore the modern European capital part of town.
Disclaimer:  The Travel Moms has not received any payment nor promotional products as a result of this post.  All opinions are our own.