Girl Getaway – Cocktails, Beaches, and Relaxation in California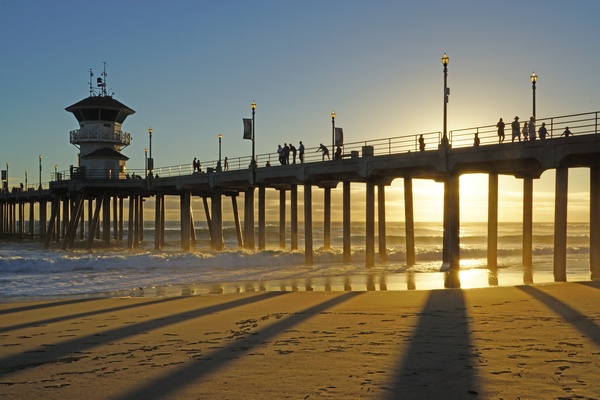 I am so excited I could just radiate rainbows. A wonderful friend came up with a brilliant idea – a vacation for just us. No husbands, children, boyfriends, working, and the freedom to enjoy Me-Time without guilt.
Visions of sleeping in and only being awoken by room service, instead of a 3 year-old poking me in the face demanding waffles, danced through my head. Gabbing about whatever topic we wanted without fear of little ears overhearing conversations, choosing restaurants based on their cocktail selection instead of their stance on offering chicken nuggets, and experiencing things for myself instead ensuring my kids were entertained.
"So, where do you wanna go?" Is the big question. Vegas? Great city, full of fun, but she is young, gorgeous, and single. I am farty old lady with stretch marks from three kids and an appreciation for a respectable bedtime. I'd be a wallflower while she is courted by handsome men. Pass. How about a East coast exploration in one of the big cities? Since out trip is in the early spring, we decided to pass again.
Ultimately, we opted for a girl getaway of cocktails, beaches, and relaxation. Here are just a few of the best beachy getaways in California that we are considering…
Stay at an array of Bed and Breakfast options all over the state. In L.A., hit the Inn at Playa del Rey. It's the only LAX hotel within walking distance to the beach. A five minute drive from the airport will have you at your digs. Their rates include country buffet breakfast featuring local fresh produce, afternoon tea & cookies and evening hors d'oeuvres. Plus, they have free parking and bicycles available for riding along the South Beach Bike Trail.
For a hotel adventure, try the uber-stylish Shade Hotel. Less than a ten minute walk from the beach, a short drive from LAX, you will find the hotel with a boutique-feel. It's close to restaurants in Manhattan Beach, but offers a complimentary continental breakfast and delicious cake pops as your bedside. It's not uncommon for parties and music to takeover the Zinc lounge and courtyard at night. Light sleepers should ask for a room on the opposite side of the club/bar (ocean-side) on the second floor to avoid noise.
Want to stay at a hidden treasure in California that feels like the Mediterranean? Look into Catalina Island. The 21 mile long island has elevations that range from sea level to 2,000 feet. The coastal cliffs give you a feeling of escape and provide total relaxation. You can get there by boat or helicopter. Don't even try to reserve a car. The choice transportation around the two towns is a golf cart or by foot.
California is packed with things to do. You can hit beaches, shop on Rodeo Drive, visit the Los Angeles County Museum of Art, hike, run, walk, bike, shop at The Third Street Promenade, or go for a sightseeing stroll on Sunset Boulevard.