Backpacking Through Europe: Destination Berlin, Germany – The Energetic Traveler's Dream!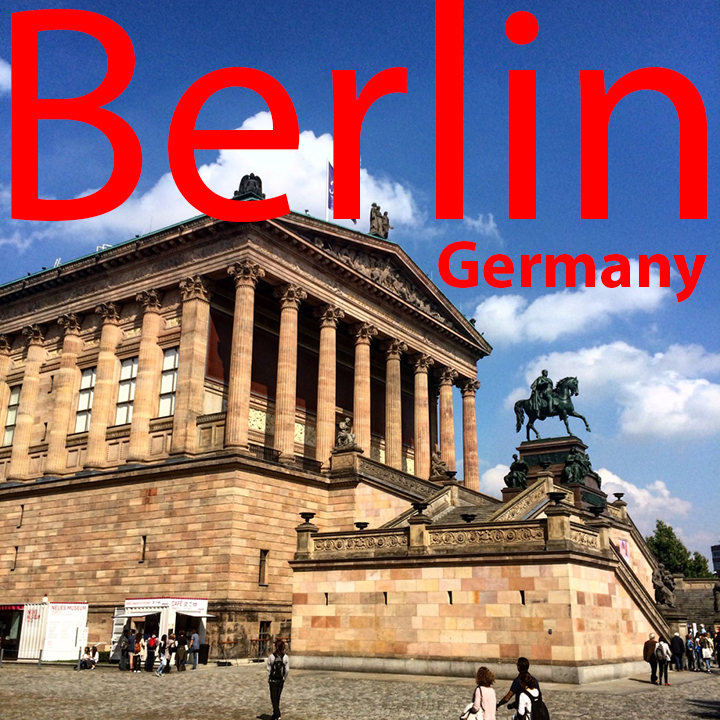 I'm sure you've all heard stories about Berlin, Germany; perhaps those stories have even come across a bit outlandish or mythological to you. Well, whatever crazy thing(s) you have heard about Berlin are true. Berlin is a place that has something for everyone to experience: whether you want to go out and rave for 48 hours or tour the countless museum/cultural sites the city has to offer, nobody in your family will be disappointed.
It's impossible to talk about all of Berlin in one blog post, and seeing as how I was only there for a handful of days on my Backpacking Through Europe trip, it'd be impossible for me to do so. That being said, the goal of my little travel diaries are not only to give you some tips for traveling to the destination discussed but to also help you develop travel methods that can be applied to all your trips – no matter what or where your final destination may be!
Honestly, when I first arrived in the city, I was a bit overwhelmed. However, whenever I arrived in a new city on my backpacking trip, that feeling of OMG WHAT DO I DO NOW? set in. And that's normal; at least, I think it's normal. The sensation might hit me a bit stronger since I never get off the train/plane/spaceship with a clear plan in mind. I just turn right and hope for the best (and usually realize that I should've gone left).
Berlin is a big city – it sprawls, with main attractions not condensed to one area – so it can be a bit difficult to know where to begin your epic German adventure. Like with most cities where they're offered, I'd suggest taking a free walking tour of some sort to get yourself in order. Of course, feel free to pay for one, but many of the bigger cities offer free ones that are quite good for the purposes they serve: introducing you to the city, giving you some historical/cultural facts, and helping your little traveling self get pulled together and organized. I recommend Sandemans Free Tours. They also offer some good paid options, which focus on a variety of things (niche tours).
When you are on these tours (this goes for every city you visit), make sure to jot down in a notebook or phone where u might want to further explore at a later time. You might see something that piques your interest – and, if you do, you should allow yourself some proper time to investigate it when you don't feel rushed by impatient tour guides (see experience #3 below).
Things To Do & See
1. Brandenburg Gate. This is a nice place to begin your journey in Berlin. Nothing like walking through a gigantic entryway to tell yourself, "All right, let's do this, we're here. Adventure time."
2. Sandemans Free Walking Tour. Here are some of the main places/sites visited on the tour: Pariser Platz; The Memorial to the Murdered Jews of Europe; The Site of Hitler's Former Bunker; Luftwaffe HQ; The Berlin Wall; The Former SS Headquarters; Checkpoint Charlie; The 1920s Cabaret Mile; Gendarmenmarkt; The Old Royal Boulevard; The TV Tower.
3. Sandemans Alternative tour. This was a really great tour and the tour guide knew a great deal about the history of Berlin's creative scene, as well as where it's headed and how it's shaped by the nature of the city's politics. The tour guide for this one was a bit impatient, got overwhelmed quite easily, and I thought he was going to have a nervous breakdown the entire time. Thankfully, he didn't. I wasn't doing a great job staying with the group though (because I'm like a small child), so maybe I was the source of his ongoing anxiety. Yikes.
4. Hackescher Markt. This is one of the trendier, up-and-coming spots, and has recently experienced the effects of gentrification – true for many of the neighborhoods throughout Berlin. Hackescher Markt's a nice little square filled with many restaurants and a small outdoor market on select days. It's a heavily trafficked metro station; for this reason, it's quite easy to get to, and you might even stumble upon it by accident while en route to somewhere else.
5. Alexa Mall. A large, multi-level mall that houses many stores, both upscale and not. There's really nothing super special about this mall, so don't put it at the top of your list. You can get off at the Alexanderplatz station for easy access.
6. Go to a club. (Even if you aren't a huge partier, find a friend – or make one – and collect an experience). Obviously, this isn't really a family activity, but chances are if you're a college-aged kid reading this, then you will want to say that you went to a club in Berlin. They are fun, and seem like universes all their own, but just approach the situation with your safety being the number one priority. Drugs are a reality in many European cities (and these activities aren't solely seen in clubs) – and say NO to them. Those are my words of wisdom. Never take anything someone gives you and pay close attention to your open drinks. You know, be conscious of what's happening in your bubble-zone. [Insert basic Mom speech here].
7. Take a Canal Boat Tour. This is pretty self explanatory. It can be a nice, refreshing way to see the city from a different angle – and is a great activity to undergo if the weather is nice.
8. Museum Island. This is a group of 5 museums and includes the Neues Museum (Egyptian Museum of Berlin), which houses the iconic bust of Nefertiti. I highly recommend stopping in to see this.
Now, there's one fact that applies to just about every family, big or small, out there in the world: someone won't be a museum goer – he or she won't like it, would rather be clipping Kris Jenner's toenails, and might start whining at the mere mention of "museum" or "gallery." And you know what? That's fine. But you still make them go to (at least) one museum – because that person will walk out of those museum walls having seen a few more things in the world, and chances are they won't be (entirely) disappointed. When you travel with family, it's all about compromises. Take turns having people choose what they would like to do or see or experience. Switch off being the leader!
9. Try Currywurst. The one thing you've got to try. It's really not too complex of a dish; however, you probably never would've thought it existed, let alone thought to combine these ingredients together. Traditional currywurst, which can be found all over, is comprised of sausage and a ketchup-based curry sauce. Oddly enough, I found it quite enjoyable, despite my uncertain feelings towards curry. It's served alongside fries. Good snack food for in-between activities.
10. Try a Döner Kebab. Stands that sell this tasty, sandwich-like treat can be found all over the place, so don't worry about seeking out a "special" stand. If you're curious as to whether or not the place is legit, use the trusty ol' how many people are in line? test. Chances are the stand will give you a decent, if not superb, kebab if people (especially locals) flock to it. This traditional snack is great for lunch or a midnight snack.
11. Explore the Berlin Dome. This is a great place to visit if you're interested in getting a good view of the city and checking out a beautiful church on the way up to the top. The dome doesn't look enormous from the street, but when you reach the top and start walking around the roof's walkway, you'll quickly realize that you underestimated its circumference.
12. Berlin Wall. Also, don't forget to check out the East Side Gallery – part of the wall that has been opened to street artists. One side of the wall features murals from artists who were invited/asked to paint on the structure.
13. Observe Colorful Street Art. Seek out the city's diverse street art landscape, a dynamic element that adds to the city's overall charm and character. I partook in the Alternative Tour offered through Sandemans (€10 for student). But you can find free ones offered by other companies or even check out some cool spots on your own; it's really easy to do. Just head out scoutin' for colorful walls!
Should We Go There?
You might be asking yourself the question SHOULD I GO TO BERLIN? My answer is, of course, a resounding yes! Unlike some cities, which are nice for a couple days, Berlin's vast cultural and historic landscape will keep you busy for countless days. You could choose to stay for X amount of days and never run out of things to keep you occupied. I'd say it's a nice place to visit if you have a big family with children of various ages, both younger and older, as it's a great destination with diverse options.
General Takeaway Travel Tips
ONE Seek out walking tours when you reach your destination.
TWO If you're traveling with a family, switch off being team leaders amongst you so everyone has the chance to see what interests them. Or, if Bobby Sue just really doesn't want to go to that museum featuring rare beans from Planet Lkjwepopjapsdjkflkhlakhleinpclsphwpeortl, then agree to split up for the day.
THREE Bring Valium for those impatient-borderline-unpleasant-anxious tour guides who can't cope with your FREE WANDERING SPIRIT!
FOUR Get lost trying to go somewhere.
FIVE Pack all your essential things in your backpack or suitcase (and maybe consider bringing some soft toilet paper so as to protect your bum from the sandpaper-like stuff they have in Europe).
~~~
Make sure to check out our upcoming Backpacking Through Europe travel diaries, which will include Paris, France and Bruges, Belgium! If you haven't had the chance yet, also be sure to read about my experience(s) in Odense and Copenhagen, two amazing cities in Denmark.