Luxury Defined @Ford – New 2016 Lincoln MKX Unveiled at #FordNAIAS 2015 Auto Show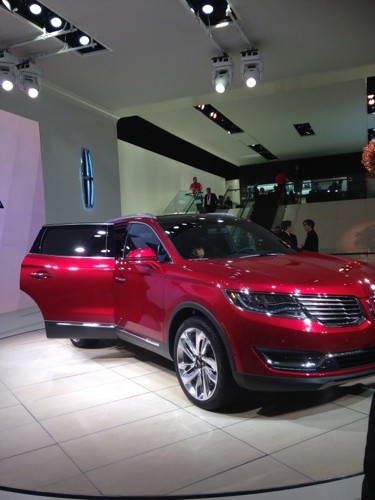 The International Car Show and the 2015 Ford NAIAS Digital Summit graciously hosted Tourist Meets Traveler in Detroit. There we experienced Ford's latest creations and explored the even for a firsthand adventure that will thrill any car enthusiast. Along with the new GT, detailed here, Ford's new 2016 Lincoln MKX is defining luxury.
Where the new GT is as fast as its amazing design promises, the new Lincoln MKX is as luxurious as it is gorgeous. This vehicle is the answer to the growing demand for upscale automobiles that meets the crossover SUV trend.
According to Ford's CEO Mark Fields, "Lincoln has achieved its best sales since 2008 and in fact Lincoln grew faster than the overall Luxury Market in the US by more than 2 to 1!"
The MKX has room for you to pack your shopping bags in the back and three or four of your friends. While space is ample, the cutting-edge technology will put this SUV in the eyes of consumers…
A built in seat massage will keep you relaxed and going on long trips. The 19-speaker Revel sound system will provide "concert-quality" music to make you feel like Beethoven (or Britney if that's your style) is playing in your car. The seat cushions deflate and inflate to ease you in with supreme comfort. Once seated, you have 22 seat customization options that includes four-way head restraints and adjustable thigh bolsters.
The new Lincoln even has a mind of its own. It can do your parallel or perpendicular parking for you and even greets you when you enter or exit – a vehicle with good manners! The SUV will also warn drivers of suddenly approaching vehicles or pedestrians thanks to its 360 degree camera. If you ignore the warning – the car takes over and applies the breaks.
As for power, this new kid on Ford's block waves goodbye to the usual four-cylinder for FoMoCo's 3.7-liter V6. However, you can upgrade that to the top-end engine – a 2.7-liter, EcoBoost V6 option. The engine upgrade is just one of the 36 new features the new Lincoln MKX has. Also note the bigger engine doesn't mean more noise. Lincoln engineers designed the body to keep sound out.
This SUV will be the ultimate in pampering from entering, driving, to exiting while thinking of excuses to get back in for another drive.