'Cocktail Bars in Rome: Evening Walking Tour' With The Roman Guy – Amazing Italian Cuisine and Cocktail Adventure
Rome, Italy is at the top of my list of vacation spots – and I have made many trips there over the years. This year, I got the opportunity to take my sister Rosie along for a girls' getaway to Rome, and it was one of the best vacations I have ever been on! I am in love with Rome, so it was amazing getting share my love for the magical city with my sister – who had never been there before.
I have been to Italy on more than one occasion, but I still book guided tours when I am planning out itinerary. The Roman Guy tours is always my go-to guide when I am booking a tour. Despite the fact that I have been to Rome in the past, I like to rely on the friendly tour guides to make sure that we get the most of our trips. Rome is a huge city, and it has SO much to offer, that I want to make sure we don't miss a single drop of the rich culture and history. And, trust me nobody knows Rome as well as the guide from The Roman Guy!
While Rosie and I were in Rome this year, I was perusing The Roman Guy's official website and found what I knew would be the perfect tour for us, the "Cocktail Bars in Rome: Evening Walking Tour." It wouldn't be a girls' vacation without getting a few drinks to unwind. Who doesn't need a drink, or five, while they are on vacation? I booked the "Cocktail Bars in Rome: Evening Walking Tour" because I knew that that "The Roman Guy" would set us up with an amazing guide that knew all of the best places to get a drink at in Rome, and get in some sight-seeing as well.
My sister Rosie and I met up with our guide Elaine and kicked off our tour at Piazza Colonna – one of the many squares in the center of Rome. Elaine was the perfect guide for the "Evening Cocktail Tour." She navigated us through the crowds like a pro, was super informative, and SO nice. Elaine gave us a brief run-down of the history of Piazza Colonna, and then we were off!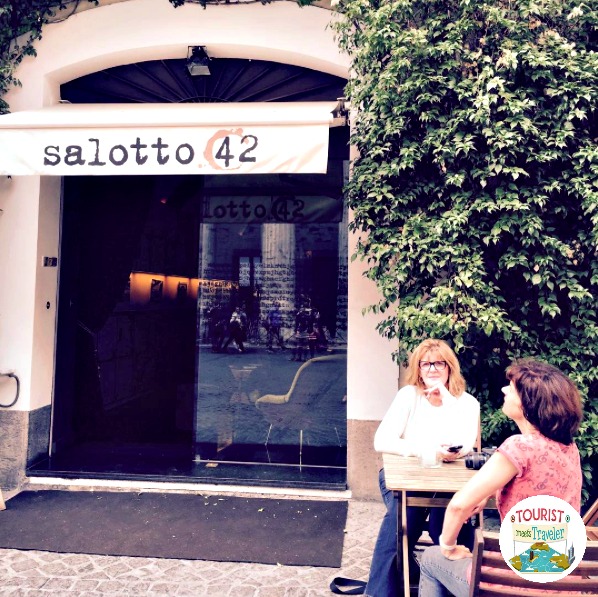 We stopped at Salotto 42, a small bar full of locals – Elaine already had a table ready for us and Rosie and I were served immediately by the friendly staff. The three of us sat outside enjoying our drinks in the cool evening air. After our first round of cocktails at Salotto, Elaine led my sister and I to the Pantheon – a popular monument for tourists. If you are traveling to Italy any time soon, I highly recommend checking the Pantheon out at night, it's truly majestic no matter what time of day it is, however at night under the moonlight – it is absolutely breathtaking.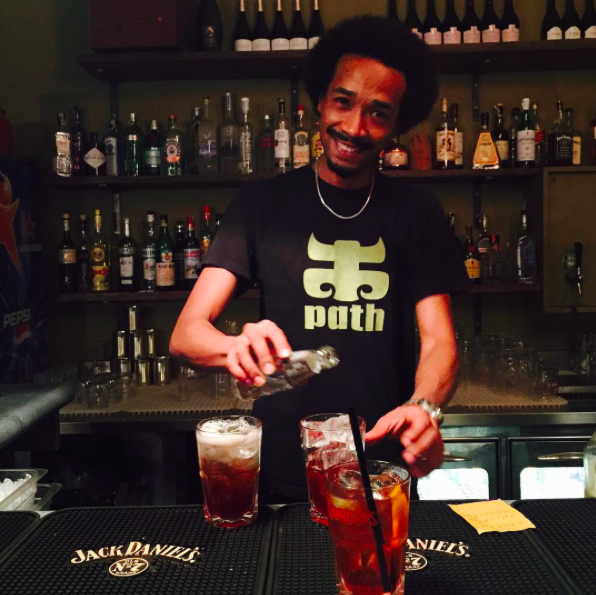 After a walk through the Piazza Navona, we arrived at our second pit-stop, Bar Del Fico, for another round of cocktails. The bartender, an awesome guy named Gian-Simone made my sister Rosie and I a drink called "Americano." After chatting for a bit, we were back on our feet and Elaine led us to our next stop – Campo De' Fiori. Campo De' Fiori is always bustling during the day time, I enjoyed how much more mellow the atmosphere was at night – once the crowds had died down. While we passed through, Elaine pointed out all of the amazing places to eat.
My sister Rosie and I followed Elaine down Rome's most beautiful street, and then we arrived at the next pit-stop. The third bar we stopped at for cocktails was an amazing restaurant and bar called Freni e Frizioni, right in Trastevere – a popular night-life scene in Rome, Italy. Luckily they offered "Aperitivo", which is kind of like an American buffet with Italian style foods. It is supposed to open the stomach to prepare you for dinner and also tides Italians over after a day's work as they normally eat at about 8 or 9pm. I ordered a Sex On The Beach, and we enjoyed a few plates of delicious Italian cuisine to soak up all of our cocktails! I'm so glad Elaine brought us here, I absolutely loved the food, and I never would have found the restaurant if it weren't for the informative guides from "The Roman Guy." I will most definitely be dining there again on my next trip.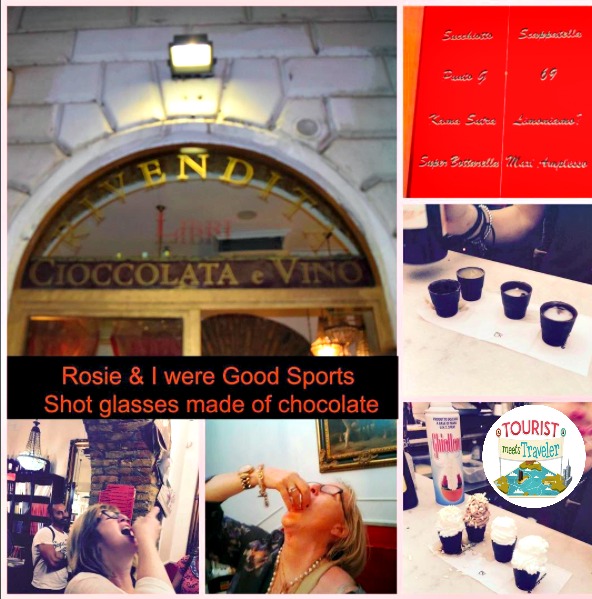 The fourth and final pit-stop of the "Rome Evening Cocktail Tour" was by far my favorite part of the night, Rivendita Libra Cioccolata e Vino. Not only were all of the drinks on the menu named after sex positions, but we were served liquor in chocolate shot glasses, topped with whipped cream! If that's not heaven, and the greatest night-cap ever, then I'm not sure what is.
All together, the "Cocktail Bars in Rome: Evening Walking Tour" took a total of three hours, and was easily the highlight of my sister Rosie's and my trip to Rome. It was so great to unwind, and have a helpful guide there to make sure that we made the most of our night of drinks – and got to fit in some sightseeing as well! If you are traveling to Rome any time soon, I highly recommend booking with The Roman Guy, your trip would not be complete without the "Cocktail Bars in Rome: Evening Walking Tour."
If you are visiting Italy there is so much too do and the "The Roman Guy" offers many wonderful tours – see a list below of the ones "Tourist Meets Traveler" has taken!

The Vatican and Sistine Chapel Made Magical With The Roman Guy Small Group Tour
Rome City Driving Tour: Visit and Experience Must-See Landmarks With The Roman Guy
Florence Travel Magic With The Roman Guy: Best Uffizi Museum Private Tour – Don't Miss It!
The Best Way To Enjoy Florence: The Roman Guy Private Walking Tour with Michelangelo's David
The Roman Guy Catacombs Tour with Ancient Roman Lunch – Experience The Rome of The First Christians!
The Best Colosseum Tour in Rome: The Roman Guy Exclusive Experience Was The Highlight of Our Vacation!
The Roman Foodie's Trastevere "Locals" Food Tour: The Best Way to Enjoy Authentic Roman Food and History – Learn How and Where to Eat in Rome
Tour Ostia Antica, The Ancient Port of Rome with The Roman Guy – Step Back 2000 Years!
Disclaimer: Compensation was not provided for this post, The Roman Guy kindly provide the tour for review purposes.  All opinion are my own.