Disney World Ends Main Street Electrical Parade October 2016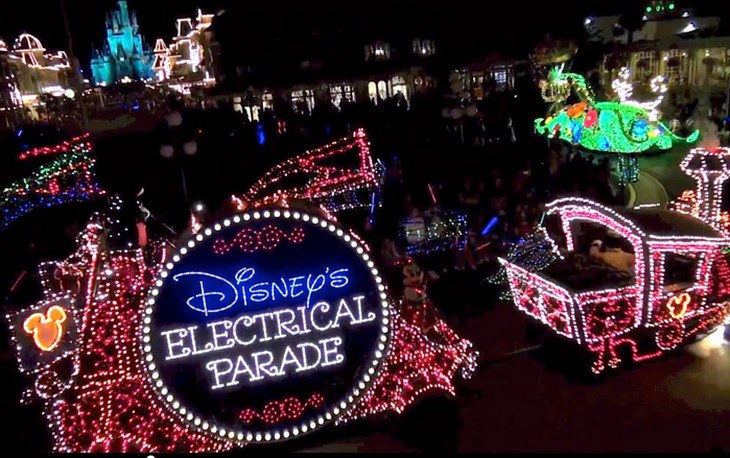 After a day enjoying the attractions at Disney World, it's pretty much customary to settle down with the parade that caps off the evening with a show of dazzling light-festooned floats. However, that will be a mere memory as Disney World has announced the end of the Main Street Electrical Parade.
Related: Disney Cruise Line News: Frozen , A Musical Spectacular Opens November 2016 – VIDEO
The evening Disney World light parade has had a spotty past. It started in the California park, Disneyland, in 1971. The parade came to Florida in 1977, but took a hiatus from 1991 to 1999. Again, the park retired the parade in 2001, but it soon made its return in 2010.
I fondly recall sitting wide-eyed on the sidewalk as a child and getting kicked by a woman with pointy-toed boots, but not caring as Pete's Dragon lit up the street along with other Disney favorites like Peter Pan. It wasn't until my trip a few years ago I discovered getting reservations at Tony's Town Square and requesting a spot on the porch for a far more comfortable and enjoyable experience.
However, the Electrical Parade will see another end. The last procession will be on October 9, 2016. Note that the parade will also not be a part of Mickey's Not-So-Scary Halloween Party nights. No reason was given in Disney's statement revealing the change, but it was noted underlined that watching the parade was a "rite of passage" for families.
Related: Disney World Hacks – Magic Kingdom Vacation Tips to Save Time and Money
If you can't make it to Florida in time, try and check the limited-time encore that is due to run in California's Disneyland in the start of 2017.
What do you think about Disney World retiring the Main Street Electrical Parade? Will it make another return? Let us know your thoughts in the comment section.