Disney Cruise Line News: Frozen , A Musical Spectacular Opens November 2016 – VIDEO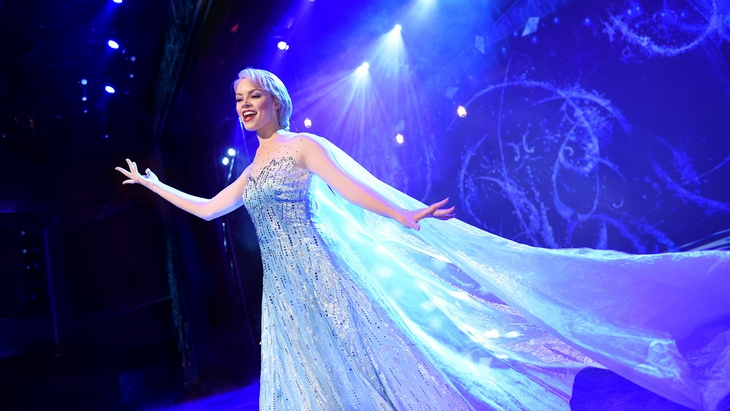 As if you needed one more reason to enjoy a fall break vacation. Disney Cruise Line news reveals that 'Frozen, A Musical Spectacular' will open on November 2016. The show will make its debut on Disney Wonder in the fall of this year.
Related:Disney Unveils 'Frozen' Themed Airplane – WestJet Aircraft Features Elsa, Anna, and Olaf
Frozen fans will enjoy the new stage show on the 2,400 passenger vessel inside the Walt Disney Theater onboard Disney Wonder. Guests can pack the nearly 1,000 seats available inside the theater to enjoy the show while cruising. The show will launch on the 4 night Western Caribbean cruise departing from Galveston, Texas on November 10.
Modern technology will meet with the Disney classic theatrics. The Frozen musical will have all your favorite characters and tons of special effects to bring the show to life and live up to the dreamy-eyed demands of Frozen fans. "The production is going to delight each one of our guests because it's a story for absolutely everyone in the family," the cruise line's Vice President of Entertainment Jim Urry explained in a statement. "The story of 'Frozen' is one of the most iconic animated movies ever, so this is a unique and special opportunity to retell the story onboard the Disney Wonder, transporting guests right into the world of Arendelle," added Walt Disney Imagineering's Creative Portfolio Executive Kevin Eld.
Related: Tips for Meeting 'Frozen' Princesses Elsa and Anna at Disney
Music from the film will be featured in this seaside adaptation. "For the First Time in Forever," "Love is an Open Door," "In Summer," "Fixer Upper," and yes, 'Let It Go' will all be featured songs.
What do you think Disney Cruise fans? Will 'Frozen, the Musical Spectacular' be on your to-do list? Let us know your thoughts in the comment section below.