Easy and Kid Friendly Getaways That Beat Boredom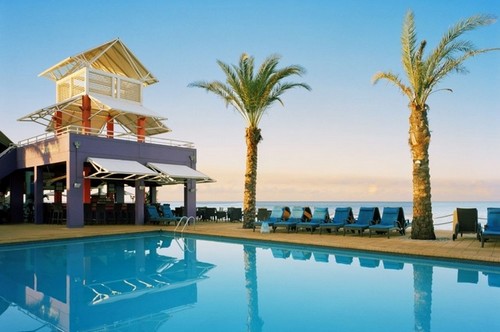 Some of the most enjoyable vacations I have ever experienced focused on kid friendly activities. There is just something about sharing the culture and experiences with your kids that makes it even more special.
The memory of seeing my Harry Potter loving family slurping butterbeer at 'The Wizarding World of Harry Potter' for the first time will be a memory I treasure above all others.
However, those getaways and family vacations can come with a hefty price tag or they aren't as "family friendly" as they appear. Thanks to some tips from fellow travelers, my experiences and some research, I have found some truly awesome resorts that take your need to please your family seriously.
These adventures take a lot of the guesswork out of the planning. Instead of worrying about satisfying the endless barrage of "I'm hungry!" or "I'm bored!" These options will have it covered.
For ski lovers, there are several resort options that offer free skiing for your kiddos. Big Sky, Montana offers a "Ski and Stay" package for families. Kids 10 and under stay and ski FREE when you book with Big Sky Central Reservations. All resort fees are included and so is breakfast! They also offer more than just skiing. If you are more of a zipline fan or rock climber, they cater to you as well. For the kids (of all ages), the resort also has a Bungee Trampoline!

If you are more into beaches and popular destination spots, Turks & Caicos' West Bay Club might be your best pick. It is an all-inclusive resort and wins the pick of families who reviewed the establishment. It is a beach besotted paradise and the club is a condo-style with 1-3 bedroom options. It is, in my opinion, a better pick than its equally popular destination, the Bahamas. It is less of a tourist trap and substantially more quiet. You will need a passport and the ability to drive on the left side of the road, but family friendly. I'd say ages 7 and above would be best.
Club Med is a great pick if you are looking for the inclusive style. The club offers things like:
Baby gear in room, baby food, "baby-corner" in main restaurant, baby feeding room
Petit Club Med, for 2 – 3 year olds, and Baby Club Med for infants to under-two's (- extra charge)
Hip Hop Kidz dance classes for ages 11 to 18*
Zumba kids dance routines for ages 4 to 10
Crayola Creativity programs arts and crafts for all kids, from toddlers to teens
Petit Chef cooking classes
Petit Tennis, for ages three to seven
Club Med Pragelato Vialattea, Italy has packages that begin at $3,666 for seven nights for two adults and two children, including all meals and drinks, skiing, snowboarding, cross-country skiing, Nordic walking, snowshoeing, hiking, and access to the Turkish bath and sauna room. Children under six stay free!
There is always the cruising options, which we have featured before. Click HERE to read up on The Travel Moms Top 5 Tips for Cruising with Kids.