5 Secrets to Cheap Travel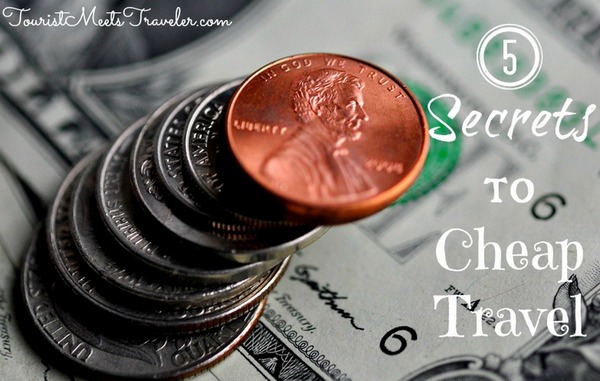 [Image: Money, Money, Money!" by peddhapati via Flickr]
I am obsessed with saving money. Couponing, deal hunting and bargain shopping is a bit of a sport to me, but it started out as a necessity.
Whether you are a on a tight budget or just want to save same cash, there are several tricks to travel cheap.
 Hunt the deal, not the destination.
Don't decided on a location and then look for a deal. Do a general travel deal search and let to destination come to you. The world is full of many amazing places that you might overlook. Start by checking out the lowest airfare deals. Kayak Explore and Adioso are both great places to start allowing users to search "anywhere" flights. Don't forget to shop flash-sales. Southwest Airlines is a favorite airline to begin the hunt for discounts, plus you can check up to two bags for free. Travel Agents should also be able to help you out. Find the adventure awaiting after you found an amazing deal and you will have an amazing experience on a dime.
Pick up the phone.
Sure, Priceline and Kayak can be cheap, but the sites are only putting up a portion of their seat inventory up. Even on the airline's site, you are only seeing what they want you to see. You can score deals that will put Priceline and other discount travel sites to shame. Call the airline and ask if there are any "positioning flights" available. This is a flight in which the carrier needs to get the specific plane from one city to another. Peter Greenberg, CBS News Travel Editor, shared a story regarding how much he saved using this trick. "One of my staff had to fly one-way nonstop from Los Angeles to New York City the following morning. The lowest fare online: American's $809. I called American and asked if the airline had a positioning flight.It did, for $109." The staff member pointed out that some airlines charge a fee for speaking with an actual person. He responded, "Do the math. I saved you $670."
This applies to hotels too. We have covered this tip before and stand by it. Click HERE for more details…
Browser switch, clear cookies.
If you aren't a fan of picking up the phone and feel you must book online, make sure you clear cookies and clean up your cache. When you are shopping for rates and return to a site, you might see a sudden hike in rates. Technology is helpful on both ends – it helps you quickly shop, but it also tracks your cookies and lets the site know you have been there before and it appears you are serious about buying. It may only jump a couple of bucks, but add on taxes to that slight price hike and you paying more than you need to.
 Last minute park ticket upgrades.
If you are traveling to those wonderful theme parks in Florida, you will need tickets and the prices are growing. A single day ticket to Disney's Magic Kingdom will (currently) cost $99 for an adult and $93 for a child. (There is only one way to get a legitimate discount on a single day ticket to Disney without having to commit to a multi-hour timeshare pitch. Click HERE to find out our discovery.) As you purchase more days, the price per day drops. If you are unsure how much Disney you can handle, stick with the one day ticket. Guests can upgrade their tickets for the discounted multi-day rate in the park as long as they make the upgrade in park before it closes the same day they use it. The same goes for Universal Studios.
For example, for a family of four 1-day will cost $409 for tickets. If you get there, decide one day is enough, you aren't out the money of pre-purchasing multi-day tickets. If you get there, decide you want to spend an extra day, you can upgrade in park for the discounted $773 price instead of paying for an additional single day price of $818.
Discounts for loyalty without joining the program.
If you found a specific hotel that you like, mention that when you call for rates. Often, hotels (chains or not) will offer a discount for guests who are making a repeat stay. You might get a slightly better rate offer if you are member of their loyalty program, but you will still get a discount either way.