Reminder: Tourist Meets Traveler 'Escape' Newsletter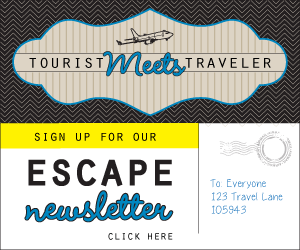 We here are Tourist Meets Traver would like to remind you to sign up for our 'Escape' Newsletter!

You can sign up to receive a weekly recap of all the traveling tips, reviews and experiences to be delivered directly to you.
In addition to the roundup of all our latest articles featuring advice on getting the most out of every trip – including vacationing at resorts, staying at hotels, eating in restaurants, touring, and enjoying all that each destination has to offer – subscribers to this absolutely free service will get exclusive content and tips!
To thank all our awesome subscribers, on the first day of each month, Tourist Meets Traveler will giveaway one $10 Amazon gift card to a randomly drawn subscriber aged 18 and older.
Tourist Meets Traveler Promise
*Tourist Meets Traveler's Escape Newsletter will be delivered once a week. No more.
*We will not share, distribute or abuse your information.
*Subscribers may opt out at any time for any reason.
Our goal is to share our expertise on how to travel anywhere in the world with (and sometimes without) children! Sign up now and you will automatically get insider access and be entered for the once a month $10 gift card drawing.
Remember to add TouristMeetsTravelerNewsletter@gmail to you safe sender lists and check your spam folders.
Tourist Meets Traveler is in no way affiliated, supported or sponsored by Amazon.com. All gift cards will be provided by Tourist Meets Traveler at our expense.