Satay Brothers – Amazing Restaurant With Delicious Singaporean Food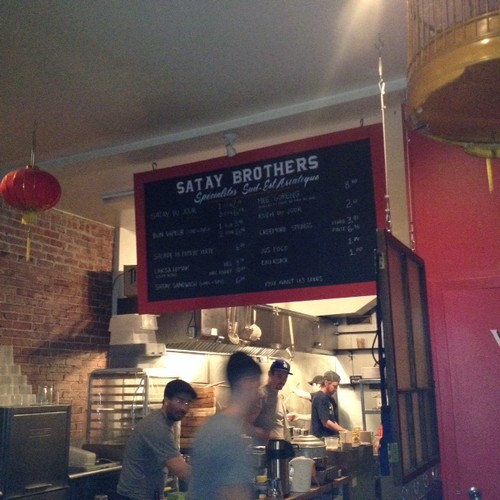 My husband and I were looking for a new and interesting restaurant for my birthday.  I wanted something casual yet delicious and my daughter suggested we try Satay Brothers.
After eating there I can say that if you are looking for one of the best Asian/Singaporean restaurants in Montreal then Satay Brothers is the place to go.  Satay Brothers is located at 3911 Rue St-Jacques in the winter months and right in the Atwater Market (address 138) in the summer. The kitchen team prepares delicious freshly cooked and well prepared Singaporean specialties.
The Satay Brothers are Mat and Alex Winnicki, siblings born to a Singaporean mother and a Polish father.  The food is inspired by the cuisine of their mother Kim.  The brothers bring delicious Singaporean street food to Montrealers in a warm bustling atmosphere with a small but pleasant dining area.
The vibe at the restaurant is fun, friendly and totally relaxed.  The restaurant is small, it seats maybe 25 people and there will probably be a wait of from 10 to 30 minutes – no reservations accepted, but it is worth it, believe me.  Besides, you can enjoy glass of wine or a nice mug of beer on tap like we did while we waited. The seating at most of the tables is communal, like at Schwartz's but more genteel.  If you cannot wait, there is take-out. Prices are very reasonable – and considering that everything is prepared individually and freshly in the kitchen right in front of you I'd have to say Satay Brothers ranks as one of the very best values in Montreal.  Dinner for two with beer and wine was $72 – and we had tons of food of a wide variety. An individual can eat like a king or queen for $20.
For dinner my husband and I decided to start with my daughter's favorite, Laksa Lemak, a full meal portion soup made with Coconut milk, fresh chillies, fresh coriander, a quail egg, noodles and a broth.  I chose the chicken and my husband chose the shrimp.  It was delicious.  My husband wanted the soup hot and spicy and I wanted it not so hot and they were happy to accommodate us both.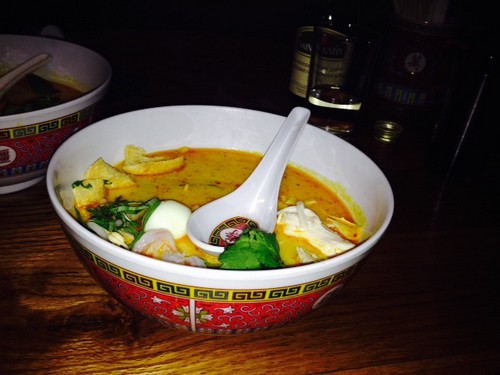 We were determined to try several of the items on the menu.  Following the soup we chose the Green Papaya Salad, made of fresh shaved green papaya, chili, lime, Thai basil and peanuts.  It was really refreshing and tasty.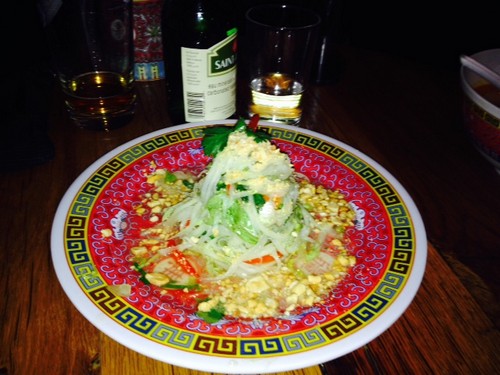 The daily satay was next – on the day we went it was grilled chicken and beef skewers, cucumbers and spicy peanut sauce.  The skewers are marinated with turmeric, ginger, onions and other flavors we could not identify.  This is the brother's namesake and we understood why – they were delish!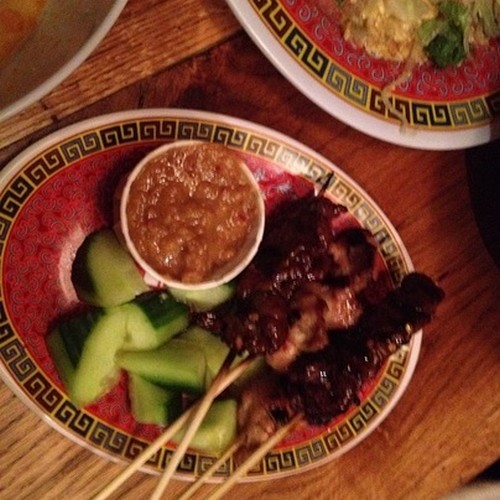 We probably ordered too many dishes but we wanted to try a variety and somehow managed to eat it all.  Next on our long list of food was the Pork belly steamed bun (below right).  The buns which were soft and sweet were made with braised pork belly, cucumber slices, coriander and hoisin. (comes with pork or tofu )
The last thing we ordered was the Mee Goreng (below right) made from tossed together calamari, shrimp, egg, fresh tomato and potatoes on fried yellow egg noodles.  It reminded me of Pad Thai, I loved the seasoning of it.  This was my favorite dish of the evening.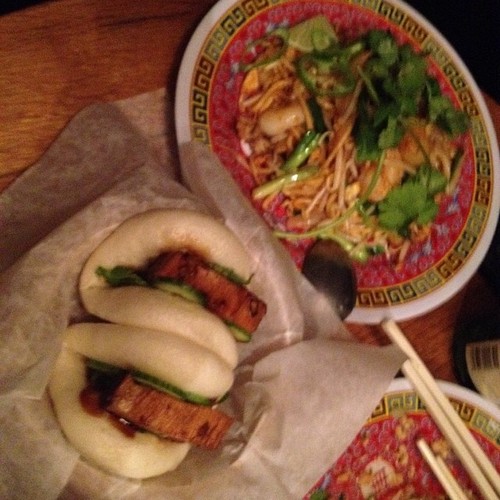 Since it was my birthday my husband insisted I have dessert.  Our waiter recommended Kueh Salat – a two-toned green/cream colored semi-solid pudding with a custard topping, and a sticky-chewy base of rice.  The top layer is a pale green because it is made from pandan leaves.  The bottom layer has a coconut taste and that is because there is coconut milk in the rice.
When the waiters brought the dessert to our table it had a candle and a cute umbrella.  They knew it was my birthday 🙂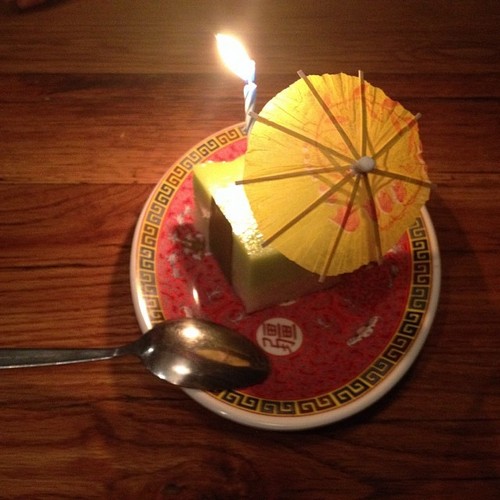 The TMT Gals highly recommend this restaurant.  With fresh and delicious food, excellent service and great ambiance you cannot go wrong!