Tour Civita di Bagnoregio On The Roman Guy's Private Day Trip From Rome: Experience The City In The Clouds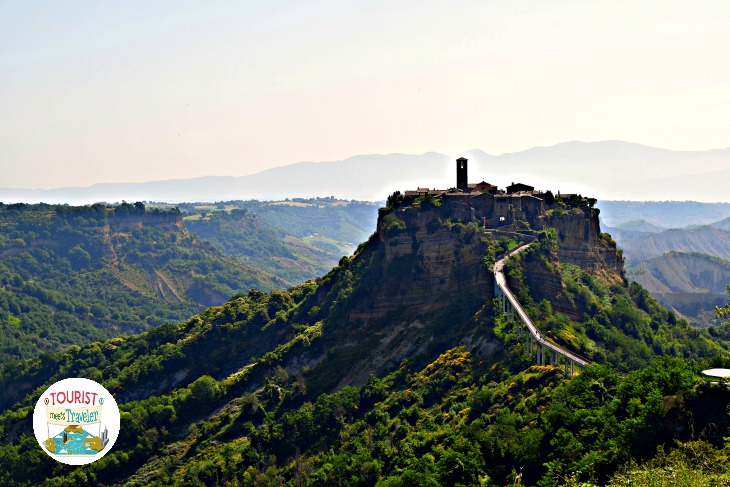 Travelling abroad is exhilarating and leads to viewing our world with fresh eyes. While ensuring a youthful and joyous perspective in the receptive traveller, certain experiences  can be a bit overwhelming, even for the most seasoned traveler. My husband and I have been to Rome numerous times as well as other gorgeous spots in Italy but even so, I tend to get a bit flustered in a new city from time to time. Our trip to Rome this Spring 2016 was planned to last for a month and I wanted to make the most of it which meant including new and exciting experiences – so to ensure a great time I booked some tours with The Roman Guy.
You're probably wondering why we would need to take organized tours if we had been to Italy numerous times? But I know that I could travel to Italy a dozen more times and still not be able to take in every single breathtaking sight, quaint village, historical landmark, amazing restaurant, and shopping center. Italy and Rome in particular has so much to offer that I want to make sure we enjoy it to the fullest, so I always book a few tours with The Roman Guy.
The Roman Guy's staff know the city of Rome and the surrounding area like the back of their hands, and they always make sure we get the most out of our visits, which never seem long enough. They're always kind, knowledgeable, and professional – plus they know the best routes around the city and to locations outside of Rome so tours are fun right from the get go. The Roman Guy always manages to introduce us to something new and exciting that we would have found on our own.
Rome is breathtaking, but since my husband and I were spending a month in the bustling city, we decided to book a tour a little off the beaten path so that we could get out of town for a few hours and enjoy the beautiful Italy countryside.
We wanted to do something different this trip so we decided to do the  "Visit Umbria: Orvieto, Civita di Bagnoregio and Wine Tasting Day Trip from Rome"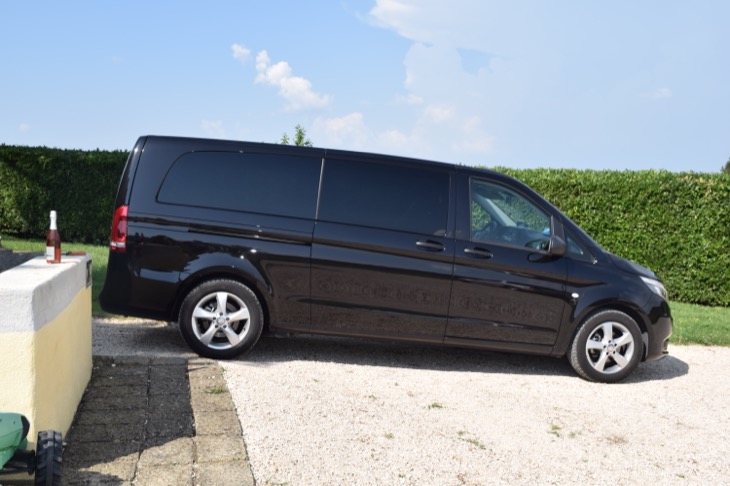 We spent a full day with a special driver from The Roman Guy and had a magnificent tour of Umbria. We were picked up at our apartment that morning in a luxuriously comfortable vehicle and whisked down the "Highway Of The Sun" in a luxury vehicle. The scenery was absolutely gorgeous, and the ride alone to and within Umbria was one of the highlights of our trip this year.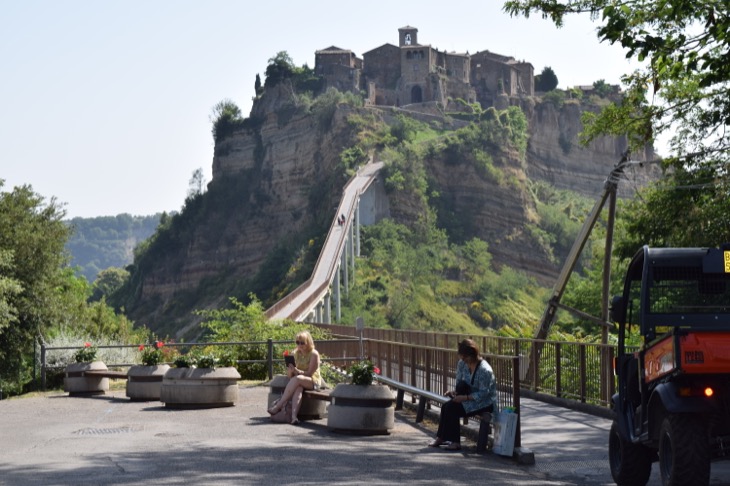 My husband and I arrived at the tour's first stop, Civita di Bagnoregio, and I was instantly in love with the magical ancient city. Pictures truly don't do this one-of-a-kind ancient place justice although they are outstanding. It's as if Civita di Bagnoregio is literally in the clouds and cut off a fairytale. Civita was built by the Etruscans thousands of years ago on the top of a volcano and subsequent erosion has left the town practically an island in the air, which is why it feels like you are in the clouds. The view from the city is of the enchanting Tiber River Valley and surrounding hills.
The only way to get to the city is by walking across a wooden bridge and we stopped while crossing to take many photos! Since you can only access the city via the walking bridge – the entire village is car-free, and there is not a vehicle in town.
Our driver from The Roman Guy explained that the Romans refer to Civita di Bagnoregio as "The Dying City," because there are literally less than 20 people that live there all the year round. During the summer and tourist season, the population still is less than a couple hundred. Honestly, I didn't mind the lack of cars or people, it was an amazing experience and so peaceful – there was a sense of calm and relaxation induced by spending time in Civita di Bagnoregio.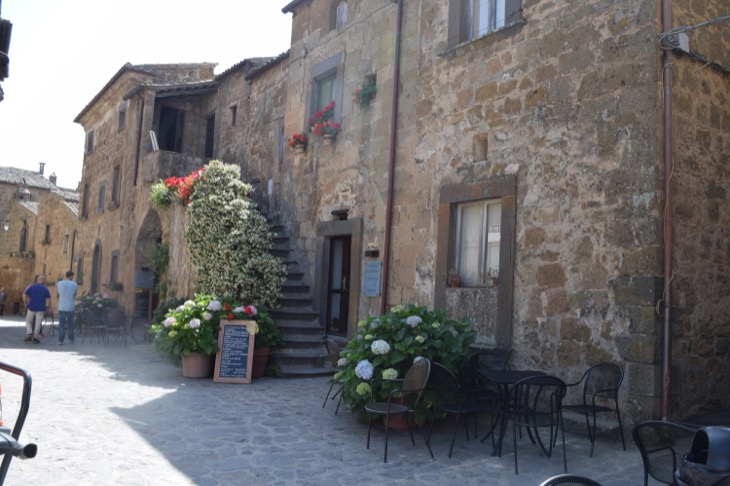 Like all of the other cities and villages in Italy, Civita di Bagnoregio has impeccable architecture and gorgeous buildings. However, they were in greater shape and preserved better than any other location that I have visited. That's a perk of having no vehicles and a minimal number of habitants – sparing the wear and tear of everyday city life leaving Civita di Bagnoregio in pristine condition.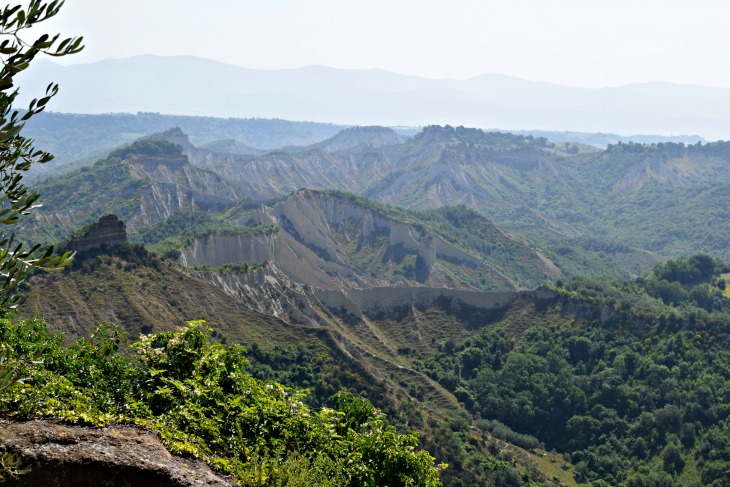 I honestly couldn't get enough of Civita di Bagnoregio, and I was sad to leave, but we had so much more planned for our day trip with The Roman Guy. If it weren't for our amazing driver, I probably never would have made it out to where Lazio borders Umbria and had such an amazing experience in "The Dying City," and that's exactly why you should definitely consider booking this unique tour the next time you're in Rome.
This full day tour next visits Orvieto for an exploration of it's impressive Duomo di Orvieto, shopping and walking around the town and then lunch at one of the town's remarkable restaurants. An entire separate article is devoted to our time in Orvieto with The Roman Guy. After lunch in Orvieto, we enjoyed a relaxing and most scenic ride to the Madonna del Latte Vineyard and Winery which I cover in detail in a separate article. This segment of our tour stands out  as we were treated to a private tour by the owner including extensive wine-tasting in his home!
This is the quality of experience that The Roman Guy exclusively provides to its guests which is why I can recommend them without reservation for any traveller who wants the best tours there are.
Once the Winery/Vinyard part of the tour ended we enjoyed a pleasant drive back to Rome where we were dropped of at our apartment. The entire tour takes about 10 hours and has you back at your hotel or apartment in plenty of time to relax and go out for dinner later in the evening where no doubt you will talking about the remarkable day you've had!
No matter how seasoned a traveller you are booking a tour with The Roman Guy takes all the chance and guesswork out of  sightseeing and adventuring. Plus, it's awesome to have an educated and experienced local by your side especially one as warm and friendly as are the staff at The Roman Guy!
Disclaimer: Compensation was not provided for this post, The Roman Guy kindly provide the tour for review purposes. All opinion are my own.