Travel Hacks for Parents – Family Trips Made Easier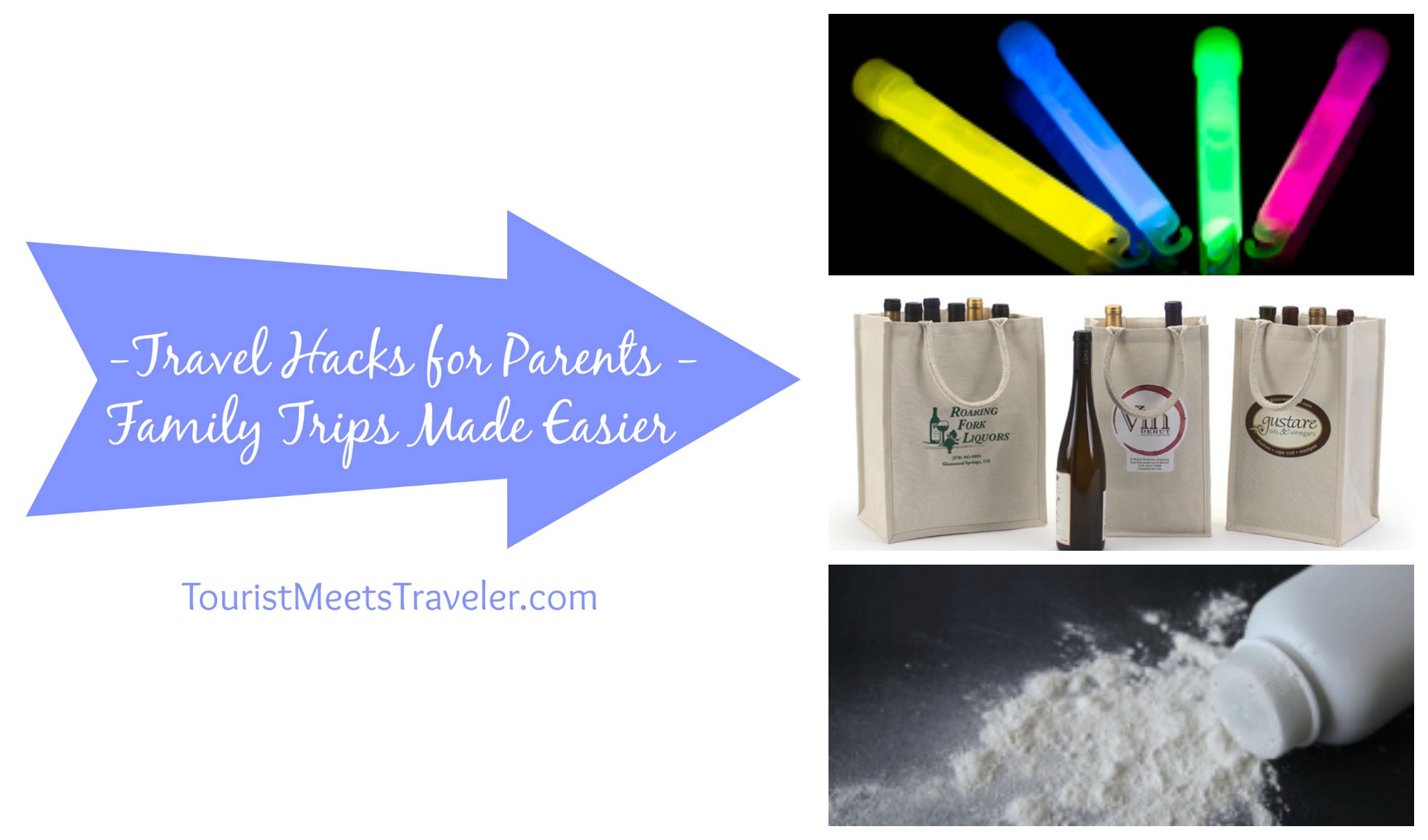 These travel hacks for parents will make family trips so much easier. From protecting your car on road trips to making use of that wine tote, Tourist Meets Traveler has a list of trips, tricks, and hacks that will make your family vacation a breeze.
Beach Towel Trick
Towels, as any fan of 'The Hitchhiker's Guide to the Galaxy' will know, is "the most massively useful thing an interstellar hitchhiker can have." Beyond the fictional world, towels are insanely use from travel. Drape a beach towel over your car seats to protect your skin from hot seat belts or your upholstery from messes with ice cream. Towels can also double as blankets, pillows, a picnic blanket, and clean up tool. Plus, it takes up very little space.
Related: Disney World Hacks – Magic Kingdom Vacation Tips to Save Time and Money
Wine Tote Organizer
Put that wine tote most stores give out complementary to wine buyers to organize toys, and snacks and other supplies. It will keep gadgets, games, and wires from getting lost. When you're not using it, the fabric totes easily collapse and can be stowed just about anywhere.
Clever Coloring Hack
You will inevitably end up at a restaurant. Keeping kids entertained isn't always an easy task. Try folding up the corners of their paper coloring menu or sheet to save yourself from playing a game of fetch the crayon. The makeshift tray will keep crayons from rolling away.
For Those Curious Wanderers
Write your cell phone number directly on your child's belly. Use a felt-tip pen to gently write down vital information directly on your child before going through busy airports or entering the bustling theme parks. If you fear the pen might wash or rub off, trying putting the info on a piece of first-aid tape and sticking it on the inside of their shirt.
Related: Family Travel – The Reality and How to Deal
Travel Night Lights
Pack glow sticks you can pick up affordably at your local dollar stores. Place them in the bathroom or next to your child's bed so nighttime at an unfamiliar location won't be as scary.
Easy Sandy Skin Solution
If you don't want to drag sand into your car or accommodations and there is no water nearby, try sprinkling the skin with a generous amount of baby powder or cornstarch. It will whisk away easily as the powder instantly dries the skin.