Universal Studios Hollywood Announces The Walking Dead PERMANENT Attraction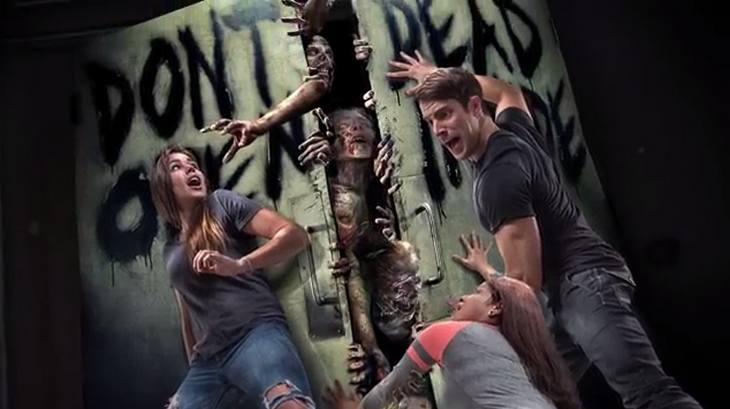 For 2 years, Universal Studios Hollywood has been quietly working on a secret project and Universal Hollywood has finally announced The Walking Dead PERMANENT attraction.TWD fans will be able to get their Walking Dead experience fix in just a few months!
Related: The Walking Dead Filming Locations You Can Visit, Season 5 – #TWD Road Trip
Universal Studios in California has upped their Halloween Horror Nights game. The Walking Dead mazes have been a part of the seasonal event for the last 3 years. Now, the draw will become a permanent fixture at the ultimate vacation destination.
There aren't too many confirmed details, but Universal Studios Hollywood Creative Director John Murdy did reveal a few teasers. Murdy told KPCC, "What we want to do with this experience is put our guests in the footsteps of the human survivors of the show to make them feel like they're reliving that experience by focusing on some of the most iconic scenes and environments, characters from The Walking Dead."
Sounds like the TWD experience will echo the mazes, but is described as a "walk-through attraction" that gives guests "a living version of the show." Murdy further elaborated saying, "I think there's a big difference between creating a permanent attraction, like the Walking Dead experience we're working on right now, versus something we would have created in the past for Halloween Horror Nights. No matter how elaborate those experiences are, they're temporary in nature."
Related: Harry Potter Yule Ball Coming to Universal Orlando – Wizarding World of Harry Potter Party Rumors
This is just another transformation Universal Studios has underwent. The addition of the Wizarding World of Harry Potter is just a piece of the transformation game. Typically, the Orlando location sees the first round of changes, but Hollywood will get the heads up the Florida park for The Walking Dead permanent attraction.
Parents take note – this attraction will NOT be kid-friendly. Murdy stated that the attraction will not be recommended for guests under the age of 13. It will also be located at the front of the park when you first walk in, so make plans to distract little ones when entering the park.